This Download Walks You Through Cloud Controlled Remote Monitoring Solutions
Cloud controlled remote monitoring and control management can significantly help integrators and their clients. Here's a free resource.
Leave a Comment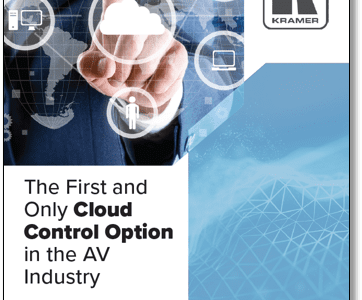 End users are requesting control & automation functions more and more these days. Cloud controlled remote monitoring in particular is more important than ever before in an era where clients are massively moving to the cloud.
With more end user clients requesting control and automation capabilities for their AV systems, integrators need to ensure they are utilizing a system that best suits customer needs, while allowing for integrators to easily and quickly set up and manage control.
Some integrators source out programming, and they're doing that because they don't have people that are capable of learning these advanced systems. With cloud control, these people will be able to put in way less time and be able to learn the system.
This new download "The First and Only Cloud Control Option in the AV Industry" provides an introduction to a new way of controlling AV solutions, including:
Ease of updating
Cybersecurity considerations
Remote monitoring
Download your copy today for insights into the benefits of cloud computing for the AV industry.