DiGiCo SD10B Consoles Enhance Boston College Broadcast Operations
The DiGiCo SD10B consoles and SD9B desk comprise a networked audio infrastructure, making Boston College one of the key nodes of the ACC sports network.
Leave a Comment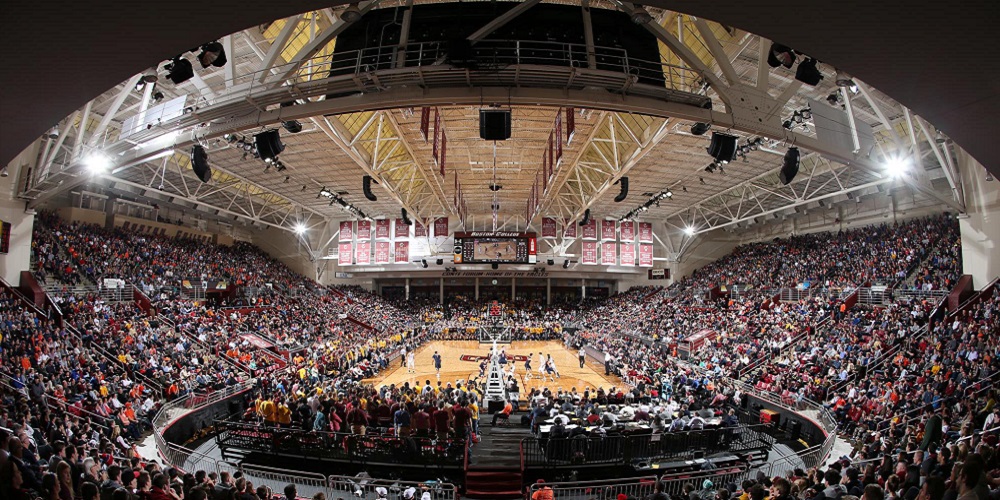 Photos & Slideshow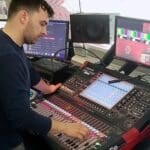 ---
As part of its ongoing upgrade process, Boston College (BC) recently installed two DiGiCo SD10B consoles. These SD10B desks are in the college's central media suite located between the school's 8,600-seat Conte Forum basketball/hockey arena and 44,500-seat Alumni Stadium football venue. According to a statement, the consoles replaced two earlier-installed SD9B consoles. Thus, they are now the main mixing and processing platforms for broadcasts of sports from those venues over the Atlantic Coast Conference (ACC) Network, a broadcast channel airing hundreds of league sporting events each year from its member schools.
Each 37-fader SD10B is the main console for each of the two matching main control rooms of the media suite, says DiGiCo. One of the earlier-installed 24-fader SD9B consoles is now in a separate control room, locally known as "The Eagles' Nest," a reference to BC's mascot, Baldwin the Eagle. This third control room typically helps produce the in-game experience in both venues, Alumni Stadium and Conte Forum. Here, content is produced for the Daktronics videoboards and for the PA systems. Local companies Fulcrum Acoustics for Alumni Stadium and Bose for Conte Forum helped manufacture these systems.
Outfitting the Control Rooms
"Despite having a smaller sized audio console, this control room is almost as capable as the other two, with only a few key differences, such as the audio console is not in a separate mixing room," says BC broadcast engineer Adam Ferguson. "The Eagles' Nest control room can still produce broadcasts; and has actually been used to produce both the broadcast and the in-venue show simultaneously." The remaining SD9B can be a rolling "hot" spare as needed, he adds.
In addition, there are two DiGiCo MADI-equipped MQ-Racks for the SD10Bs and a D-Rack for the SD9B. Here, systems design firm Idibri, a Salas O'Brien company, designed the media suite and its control rooms. Meanwhile, systems integrator Diversified carried out the installation. Boston College's technical team says it chose the DiGiCo desks from a very short list of consoles recommended by the ACC Network.
ACC Network is in fact, a partner with broadcast-sports powerhouse ESPN. Per a statement, the ACC Network is unique in broadcast sports. It is an association of 11 colleges and universities linked into a broadcast network that pool and share their individual media facilities. Founded in 2019 as part of $1 billion, 12-year media-rights deal with ESPN, the member schools carved out space in current structures. And in some cases, they built new ones to create and house state-of-the-art media facilities. These facilities feature multiple control rooms with display-covered walls and studios with green-screen backdrops. While designs varied, they follow one basic collective mission requirement which is to ensure the ability to handle a linear broadcast.
Choosing DiGiCo Consoles
As part of that undertaking, Boston College had to choose between two audio-console vendors. For Ferguson, the choice was clear: DiGiCo and its SD10B consoles. "We were basically tasked with building remote-broadcast trucks without wheels," he says. According to Ferguson, the idea behind the ACC Network was that instead of bringing huge numbers of third-party broadcast trucks to all of the games; the broadcasts could be local, utilizing staff employed by the universities and broadcast nationally. He thus notes it as an incredible project that created a seismic shift in the broadcast-sports industry.
The DiGiCo SD10B consoles and the SD9B are central to that success. All three desks are on a network on an Optocore loop. Thus, they enable seamless interoperability between control rooms, venues and the larger ACC network. Ferguson says, "There is a considerable amount of format conversion done within the media suite's infrastructure; for instance, the DiGiCo consoles are on a native Optocore network over single-mode fiber while the router natively uses MADI. And there are a number of Dante-enabled devices in between. That's due to a number of factors, such as the recommendation from the ACC Network to use Evertz baseband routers, which natively use SDI and MADI."
Extending Network Connectivity
Fegruson then adds, "On the other hand, the convenience of Dante-enabled network audio products is something we like to take advantage of in our workflow. With Dante devices like RTS intercom belt-packs, Studio Technology announcer consoles and Shure ANI22-XLR preamps; we [can] provide all the necessary power and signal to portable devices over just one Ethernet cable. Anywhere that we can connect a device to our Dante network via Ethernet, these smart network devices will power themselves up. And [they] automatically remember all their designated routes, both inputs and outputs. This greatly simplifies our workflow, significantly decreases the number of cables we need to connect to devices that travel frequently. And it has been instrumental for extending our connectivity across several remote campuses over fiber."
With all of the necessary conversion between MADI, Dante and Optocore, BC also relies on DiGiCo's Orange Boxes. These boxes, when equipped with a DMI-Opto card, become routable I/O at all of the consoles on the Optocore loop.
After the initial ACC Network control room build-out in the summer of 2018, BC has its own network of terrestrial fiber for ACC Network Broadcast Operations. This network spans several miles and connects the Alumni/Conte complex; the baseball/softball fields at the Brighton campus; and the soccer and field hockey fields at the Law School campus in Newton Center. Most recently, it includes the new Connell Recreation Center where volleyball and fencing coverage moved to starting this year.
Need for DiGiCo Consoles
"We had some flexibility when it came to choosing the audio consoles for our operation, and the SD desks were really the best choice," Ferguson says. "We can manage multiple games and events, and interface with the rest of the ACC Network seamlessly. I was already familiar with DiGiCo's SD9B console before this. And I knew that their flexible SD-Range consoles and their broadcast software would work perfectly for our complex demands. It was an easy decision for us to continue using DiGiCo consoles."
Per a statement, that's important, because the ACC Network today airs 450 live events annually alongside its original programming. Additionally, the event number hits 1,300 when factoring in the digital-only companion ACC Network Extra. The ACC Network control rooms at Boston College alone have produced over 120 events per year since their completion in 2018. They achieve this often times with multiple events and control rooms running concurrently. According to DiGiCo, they thus require the flexible routing the SD10B and SD9B consoles.
"Our audio consoles previously only connected via MADI ins and outs through our broadcast router," Ferguson explains. "Now, we still have discrete MADI connections to and from the broadcast router to each console. But, we also have an audio console network, which is something far more powerful. Now all of our audio operators have even more direct access to almost every audio channel in our complex system. This drastically reduces the amount of changes that need to be made from our broadcast router. [And] gives the audio operators a lot more flexibility to route audio and ultimately to solve problems themselves from their audio console; where they would previously have to coordinate all routing changes with the router [broadcast] engineer."
Increasing Broadcast Production
"This is a large part of why our in-house control rooms have been such a major change to the industry; because we can produce multiple broadcasts simultaneously from our in-house control rooms. And we have been able to dramatically increase the number of sports being broadcast at BC," Ferguson notes. "This is a transformative shift that includes covering many more games that previously could not have justified the expense of a broadcast truck. Because we have permanent infrastructure in place, we can produce broadcasts for a fraction of that cost and produce a lot more games than ever before."
There are a lot of growing platforms to stream the content BC produces over the internet, like ACC Network Extra. Thus, they do not have the  to when or if a linear TV channel can accommodate it into its schedule. "With live streaming available, we no longer necessarily need to find a time that works for TV in order to go live," Ferguson adds. "A growing number of people sign up for subscription services that allow them to stream whatever games they want, regardless of whether they make it to linear TV."
He continues, "This is creating a growing demand for more niche sporting events that might have smaller audience sizes relative to traditional TV. But with the growing investment in permanent broadcast infrastructure coming from the TV networks, the athletic conferences and the schools themselves; the sporting industry is producing much more content than ever before, and at a far lower cost. Producing this much content is a complex and ongoing challenge. And DiGiCo consoles are a critical component of the infrastructure we've put together to accomplish all of this at Boston College."
Click on "View Slideshow" for additional images of the consoles.
If you enjoyed this article and want to receive more valuable industry content like this, click here to sign up for our digital newsletters!