NAP Transforms Atlanta's Colony Square with Wayfinding Kiosks
North American Properties, known as NAP, used wayfinding and digital communications to help people navigate the renovated Colony Square.
Leave a Comment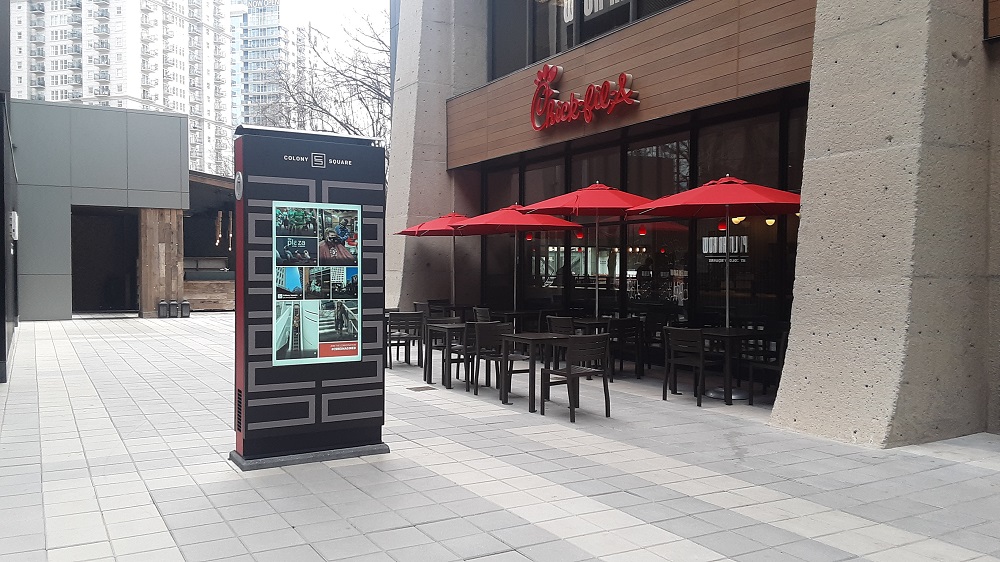 Photos & Slideshow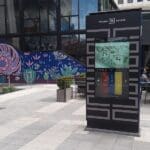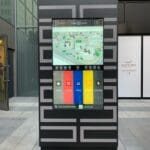 ---
At the corner of 14th and Peachtree Streets in Midtown Atlanta sits Colony Square. The destination was the first-ever mixed-use development to rise in the Southeast United States. Cincinnati, Ohio-based North American Properties (NAP) acquired Colony Square in late 2015. NAP set themselves an ambitious goal for the mixed-use destination. They wanted to bring "The Art of Modern Life," NAP's core concept, to a storied Atlanta district. This had to be done without interrupting bustling operations during construction.
Once the redevelopment was fully under way, NAP also needed to introduce thousands of residents and daily visitors to new businesses; retail, dining and entertainment options. They also need to introduce amenities and help them navigate the transformed streetscape.
For more than 50 years, Colony Square has anchored the 1.2-square-mile Midtown district. The district is currently home to three Fortune 1000 companies, three world-renowned universities and 1.2 million annual visitors. It also features cultural hotspots like Piedmont Park and the High Museum of Art.
NAP's Challenge: Introducing a New and Improved Colony Square
"Our biggest challenge during the redevelopment was navigating through the construction and wayfinding throughout the project site," says Jay Yu, digital and innovation manager for NAP. Yu and his team tried several high touch approaches to helping people find routes through Colony Square throughout redevelopment. They provided pop-up and mobile concierge services and personalized assistance via text message.
Finally, Yu reached out to Visual Image to install four digital signage and wayfinding kiosks in and around Colony Square. "It wasn't until we procured our kiosks that we really found the best solution," says Yu. The solution would go on to serve residents and visitors throughout the redevelopment project. It would also support and strengthen the community long-term.
The Solution: Visual Communications that Grow with the Community
Visual Image designed a wayfinding and visual communications solution including four customized Meridian VIC outdoor touchscreen kiosks. These were powered by 22Miles's cloud-based content management platform, Publisher Pro.AioT.
22Miles's 3D Interactive Wayfinding solution immediately simplified navigation for both guests and administrators. The software offers adaptive technology options for preferred routes, ADA wheelchair adjustments, hoteling map dynamics, and density-controlled traffic flows. These features allowed residents and visitors to quickly and easily map efficient routes without getting stymied by closures or construction. Dynamic map pop-ups also helped to introduce new retail and dining outlets as they joined the development.
Additionally, all kiosks were equipped with Touchless Touch technology, part of 22Miles's "Protection-as-a-Service" suite. This was crucial for a high-traffic area during the COVID-19 pandemic. The feature allows users to control interactive digital signage using their personal mobile device via a QR code scan. There's also no need to install an application first. The result was a technology solution that all users could feel comfortable interacting with.
Also Read: Evolis Introduces New Self-Service Kiosk Printers
The Results: Midtown Atlanta's New Living Room
The Colony Square development was completed in 2021 by NAP. It is now home to nearly one million square feet of class A office space. It has 160,000 square feet of retail, dining, and entertainment offerings along with 40,000 square feet of open-air greenspace. Besides this, it has 262 luxury condo residences and the 466-key Hotel Midtown.
"As we started to think about activating the property and working with the community, it was all about engagement and what happens between the buildings; not just the buildings themselves," says Yu. He adds that they've now hosted cumulatively over 200 events.
The visual communications and content management systems have been instrumental to this transformation. Residents and visitors eager to discover what's new at Colony Square have also embraced the systems. Since its installation in October 2020, the kiosks have seen more than 155,400 button clicks and 51,000 visits for wayfinding. These numbers surpassed NAP's expectations. According to a statement, the kiosks are not just a practical solution. They embody "The Art of Modern Life."
Feedback on Colony Square
"We're consistently receiving positive feedback about the kiosks from our guests, tenants and our team," says Yu. "They appreciate the look and feel and how they vibe with our brand. The solution has just been flawless in terms of the overall user experience." The hardware has also stood up to the test. Yu adds, "In Atlanta, you never know what you're going to get with the weather. [Our kiosks] have been withstanding the elements all this time."
The company underlines that the successful reimagining of Colony Square as a modern mixed-use urban district is a glimpse into the future for NAP. "Colony Square has been an incubator and testing ground for technology and innovation," adds Yu. "We are using this project to formulate a tech playbook for our other properties to enhance the guest experience. I expect us to invest more in technology, get more creative, and be more innovative with all our project sites."
Click on "View Slideshow" on the upper-right corner to view photos of the kiosks.
If you enjoyed this article and want to receive more valuable industry content like this, click here to sign up for our digital newsletters!