NoviSign Hand-Sanitizing Digital Kiosks Bring Healthy Habits and Compelling Messages Together
Novitzer hand-sanitizing digital kiosks feature digital signage screens attached to a hand sanitizer dispenser for use in gyms, hospitals, hotels and more.
Leave a Comment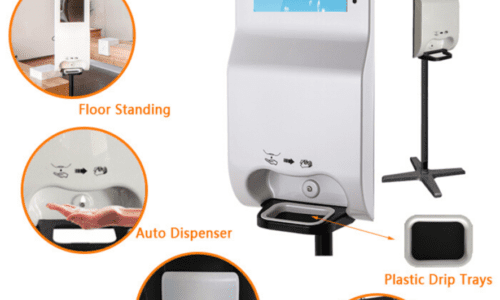 It's not quite as compelling of a combination as peanut butter and jelly but NoviSign has brought together hand sanitizer and digital signage in a way that limits the spread of the coronavirus while also delivering important messages to the person who's keeping clean.
Novitizer hand-sanitizing digital kiosks "are the next logical step for keeping the public safe," especially during the COVID-19 pandemic, according to the company announcement.
"From killing bacteria to being able to reach your audience with targeted messages better, the digital hand sanitizer kiosks offer organizations an all-in-one solution for getting their messages seen," the Novisign announcement says.
The new line of sleek free-standing and wall-mountable hand-sanitizing systems ship ready to be used, according to the company announcement.
Novitizer Digital Signage Hand-Sanitizing Kiosks come equipped with:
Built-in 21.5-inch digital signage display
1-Year NoviSign license
WiFi, Ethernet or 4G connection capabilities
One-gallon refillable container for hand sanitizer
Ability to use any gel, liquid or foam sanitizer
Replaceable parts as needed
Hand sanitizer is not included with Novitzer digital signage hand-sanitizing kiosks.
Remote management is another key aspect of the Novitzer digital signage hand-sanitizing kiosk. Users connect to NoviSign's cloud-based digital signage software to create, edit and manage all of the content of their displays remotely.
All it takes to update content remotely on the Novitzer digital signage hand-sanitizing kiosk is a computer with an internet connection.
Scheduling, Analytics, Monitoring and Reporting
Pre-schedule content to auto-update
Set recurring schedules and expiration dates
Update from anywhere in the world
Track analytics
Run a detailed proof-of-play reports
Refill email notifications when the dispenser needs more sanitizer
Novitizer fits high-traffic public locations such as:
Hospitals, medical clinics and dentist offices
Grocery and retail stores
Commercial buildings and malls
Gyms and health centers
Hotels and resorts
College campuses and schools
Local government buildings