Georgia Library System Connects with Patrons Using Carousel Cloud
Nancy Guinn Memorial Library enhances operations and patron communication with 10 live screens across departments.
Leave a Comment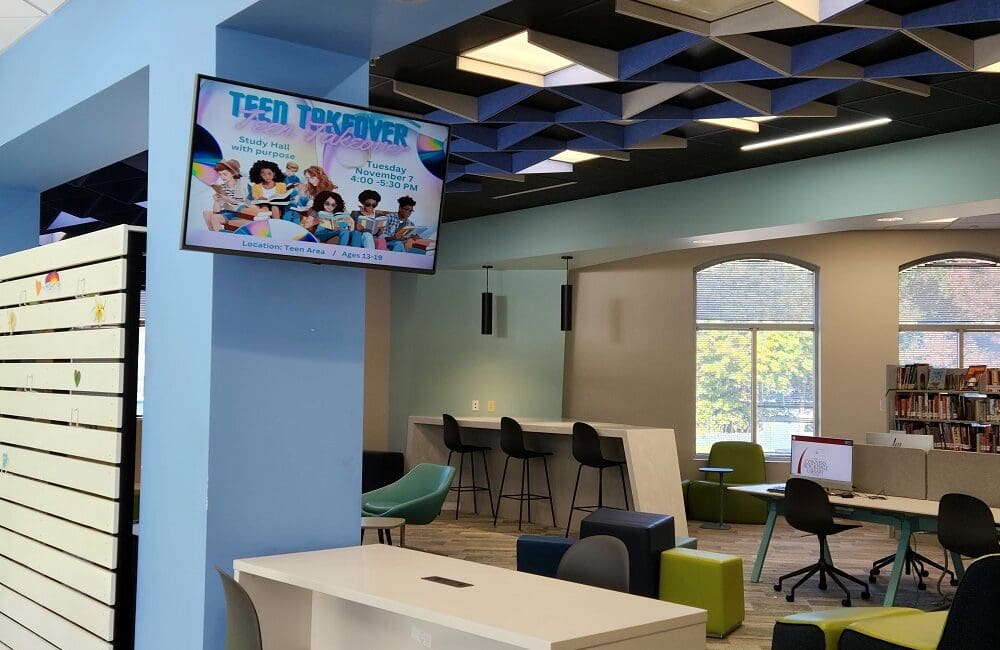 Carousel Digital Signage is making a difference with patrons of the Conyers-Rockdale Library System, a single-county library system located in Rockdale County north of Atlanta. The county's IT team, under the guidance of Director Brenda Poku, recently finished deploying a Carousel Cloud network inside the Nancy Guinn Memorial Library, where patrons are greeted with lively visual content and up-to-date news and information on ten screens as they move through the building.
Poku first raised the possibility of bringing digital signage into the library upon joining the organization in her current role more than five years ago. "When I came to the Conyers-Rockdale Library System, it was during a growth period that emphasized technology adoption," says Poku.
Poku adds, "We wanted to maximize our budget and use it in all the right places. My first request was a Carousel Digital Signage system, which I had used at the Newton County Library in Covington, Georgia nearly 20 years ago. That was a 19,000-square-foot library at the time, and we could run it with two people. Carousel played a role in that, in large part because we got rid of the paper."
The Nancy Guinn Memorial Library is more than twice that size, with 45,000 square feet spread over two floors. Poku saw an opportunity to bring similar efficiencies to her new team, and bring the same in-library experience to her new patrons. "We bought joy to people's lives by putting up digital signs that were very customized, from creating special graphics that recognized a life event such as a child's birthday to populating screens with details of our own programs and events. Now that we have it here, I feel like I have come home."
Download: 2023 Digital Signage Deep Dive
Efficient, Collaborative Workflow
For IT and other staff, what was first met with resistance has now been embraced. Carousel Cloud has established a collaborative workflow throughout the Conyers-Rockdale Library System operation, and has dramatically improved the library's marketing initiatives.
"You don't need paper when you can conceptualize your marketing goals," says Poku. "We can review content and make changes to colors and text in real time in the CMS, and upload the approved result for distribution to specific screens. We don't need to go through the editing process 100 times, and we don't need to collect and replace flyers across two floors. The efficiencies are abundantly clear."
The Carousel Cloud network reaches patrons at the main entrance, the adult section (the main area of the library) the circulation desk, the children's department and a café among other locations. Content and messages are customized to target age groups and other demographics. Content is generally created and managed in tandem with the library's programming calendar, which keeps track of reading programs and consortiums among other activities.
"It's not hard work with Carousel, because we are creating and managing everything digitally," says Poku. "Before, we had to do research online and look through voluminous manuals, make copies and then rebuild the programs. It was just a beast. Now, we use Carousel's design package and customize it with logos, colors and messages that target the right communities. It's ultimately like subliminal messaging where we say, 'Come to our program Saturday, or check out our upcoming book sale.' It just works."
If you enjoyed this article and want to receive more valuable industry content like this, click here to sign up for our digital newsletters!