Digital Signage: A Complete Guide
A digital signage guide for integrators all about the benefits, display technologies, software and top brands to know.
Leave a Comment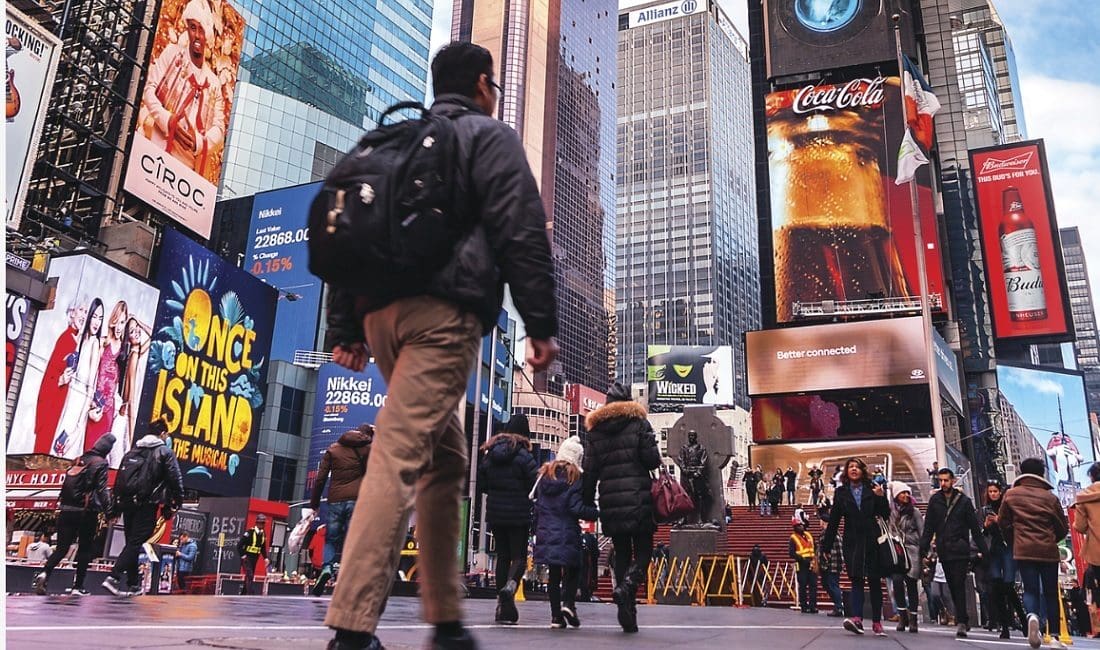 (Editor's Note: This Digital Signage Complete Guide is part of Commercial Integrator's ongoing series of informational guides of topics relevant to integrators. This page was originally published on May 12, 2023. It has been updated as of November 10, 2023.)
No mater the size or shape, digital signage has revolutionized the way businesses communicate with their audience. It can span from the glitzy DVLED displays in high-end retail, huge-scale projection mapping to showcase artists' work or eye-popping tiled-LCD videowalls that decorate walls in corporate lobbies. But digital signage and videowalls are about more than just wow! factor; much more importantly, they're about measurable ROI and concrete results.
According to the Audiovisual and Integrated Experience Association's (AVIXA) research, digital signage is expected to produce $35 billion in global revenue and achieve a 7% compound annual growth rate (CAGR) from 2021 to 2026. The LED marketplace, in the U.S. alone, is $1.08 billion dollar, with a projected 20.5% rate of year-over-year growth. Thus, it presents a lucrative opportunity for audiovisual integrators. Keith Yandell, AV practice director, AVI Systems, attests that AVI Systems completed more than 150 videowall projects in 2022. "Our videowall business more than doubled from the previous year," he says. "This is due in part to DVLED price reductions, but manufacturers have also simplified the process through all-in-one/kitted solutions." 
This complete guide will cover:
What is Digital Signage?
Digital signage is a term used to describe electronic displays that are used to broadcast multimedia content that can be composed of stunning images, vivid videos and informative text messages. These digital displays can be found in numerous public places that include but are not limited to restaurants, airports, hospitals and corporate offices.
The primary purpose of a digital sign is to communicate information, promote products and enhance communication. With features like real-time updates, engaging content and incredible attention-grabbing capabilities, digital signage has transformed the way businesses communicate with the public and continues to be an innovative way to draw in and retain customers.
Benefits of Digital Signs
Digital signs are rapidly gaining popularity due to their numerous benefits. Here are some of the advantages of using digital signs are as follows:
Increases brand awareness
Grabs customers, employees, company stakeholders' attention
Offers a dynamic, engaging visual experience
Helps improve sales. Commercial Integrator's sister-site Retail Touchpoints reports that, "When Nielsen tracked 120 grocers that use digital signage in their stores, it found that 80% of them saw up to a 33% boost in sales compared to print signs. A comparison in Walmart Supercenters found that motion displays installed versus traditional printed signage saw a 66% unit sales increase."
Enables easy modifications of content
Saves time and money
Types of Digital Signage
Standalone displays used for advertising
Videowalls in corporate lobbies
Interactive and wayfinding displays found in large campuses or shopping malls
Immersive displays for extended (XR) or virtual reality (VR) productions
Digital menu boards in quick-service restaurants
Digital Out-of-home (DOOH) displays — outdoor kiosks that are billboards that rent advertising space.
…anywhere you can place digital media with a power source —  grocery store endcap, top of taxi, mobile phone, etc.
Types of Display Technology
Direct-view light-emitting diode (DVLED)
Liquid Crystal Display (LCD)
Projection displays — a cost-effective tool for integrators to immerse audiences in large-format visuals,

especially when non-conventional surfaces and/or materials are involved.
Alan Brawn, renowned AV industry legend and columnist for CI, explains how DVLED is quite different from flatpanel LCD displays and projection, and it's critical for AV professionals to identify and understand the divergences in this article.
Emerging Technologies in Large-Format Displays
Organic light-emiting diode (OLED) and MicroLED are two emerging technologies whose benefits and limitations might shape the large-format display landscape. Eran Sharon, creative technology director/associate at Gensler, describes these emerging technologies as "…a fantastic technology, which offers form-factor flexibility and excellent color/image quality." He adds, "In fact, we are developing transparent OLED solutions — both physical and content — to seamlessly expand the digital canvas into the built environment, supporting some of the new demands of hybrid experience." Thus, Sharon predicts OLED will gain momentum, particularly as larger formats and bezel-free, tile-able OLED products come to market. 
Digital Signage Content
Content is the foundation of any successful campaign involving digital signs. Dalton Parker, chief technology officer, TVS Pro, says, "A truly great signage experience has both [content and environment] in mind. The content matches the physical environment, and the environment complements the content on display." Only when these elements align with and amplify each other, he declares, can a truly memorable and impactful experience emerge. The content should be visually appealing, engaging and provide clear communication.
Here are some tips for creating effective digital signage content:
Use high-quality images and videos – Avoid low-quality images or videos as they can negatively impact your brand image.
Keep it simple – Avoid cluttered and complicated displays. Keep the message simple and easy to understand.
Use correct font sizes and contrast – Ensure that the font size and contrast are readable from afar.
Call to action – Include a strong call to action to encourage the audience to take action.
Most commercial integrators fall on the side of partnership, rather than building out new core competencies in content. The costs of the displays have dropped dramatically, but content has grown to be quite expensive. According to Jeff Vinklarek, senior vice president, i.e. Smart Systems, "We did a corporate headquarters in 2016 that had $3 million in signage displays and $5 million in content creation." This means that, even as hardware costs come down, the barrier to entry can remain somewhat high for clients who want to create truly impactful display experiences.
Digital Signage Placement
Placing your digital signs in the right location is crucial to success. Here are some tips for effectively placing digital signs:
Analyze foot traffic – Identify the areas with high foot traffic to place your signage.
Eye level display – Place digital signage at eye level for maximum visibility.
Avoid clutter – Ensure that there are no obstructions or distractions that may hinder visibility.
Digital Signage Management
Management can be challenging without the right tools. Here are some tools that can help you manage your digital signs:
Content management system (CMS) – A CMS allows you to manage and schedule your content remotely.
Cloud-based content – Cloud-based content enables you to access your content from anywhere and update it in real-time.
Remote device management – Allows you to manage your displays remotely.
A digital signage player is a computer attached to or embedded within a display
Software/Platforms to Know
Brands To Know
Additional Resources
Conclusion
Digital signage is a powerful tool that can help clients engage with their audience, increase brand awareness and improve sales. Large-format displays represent the ideal category for integrators not merely to be resellers but, rather, to focus on selling knowledge, consultation, expertise and value. Nobody wants to buy just a screen, they want to buy a business result.
By following the tips outlined in this guide, you'll be well on your way to executing your next successful digital signage project.
We hope you've enjoyed this digital signage guide. If you have any feedback, please share it with alyssa.borelli@emeraldx.com.
If you enjoyed this article and want to receive more valuable industry content like this, click here to sign up for our digital newsletters!