Red Dot and TARC Enhance Transit System's Digital Signage Experience
Red Dot Digital Media and Transit Authority of River City, known as TARC, built interactive kiosks across 36 bus stations in Louisville, Ky.
Leave a Comment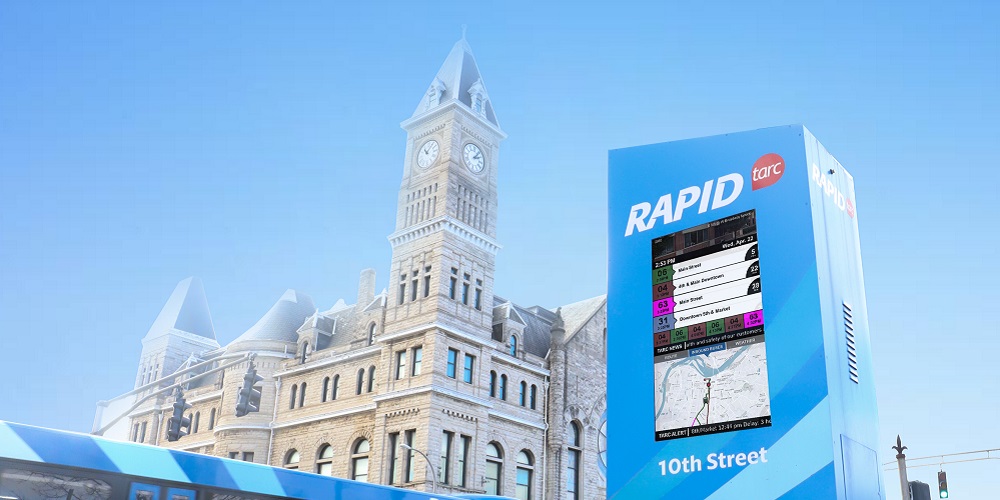 Photos & Slideshow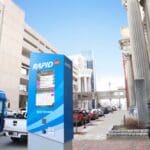 ---
Red Dot Digital Media, the Carlsbad, Calif.-based specialty integrator in the digital signage space, completed a Metro corridor rebuild project for the Transit Authority of River City (TARC). TARC is a major public transportation provider in Louisville, KY. The project encompassed several transit components. These included eight branded buses and 36 stations with informatics, fiber connectivity between the corridor components and traffic signal priority components along the corridor.
Per a statement, TARC selected Red Dot as the project's integrator primarily for the company's ability to perform the work. The transportation provider also cites Red Dot's proven history within the BrightSign ecosystem and willingness to provide a TARC-owned solution without requiring ongoing license fees.
Project Scope
The centerpiece of the project is a network of digital kiosks located at each of TARC's 36 transit stations. Here, buses continually feed their GPS coordinates to the network. Thus, the kiosks display bus locations in real time, with accurate stop times based on bus location, route and speed.
Red Dot says it helped with the station informatics. This includes designing and developing a 'next bus server' application feeding location-agnostic endpoints translated to visual and spoken information. This information is then provided to passengers waiting at the transit stations.
Goals
Several technical goals guided the scope of the deployment. First, Red Dot had to create a system whereby all code developed would be the property of TARC. This would eliminate any ongoing licensing costs. Second, it was important that all endpoint units be situated behind a local firewall. Additionally, each component had to be programmed with the same local IP address. This would thus enable plug-and-play component replacement. Finally, TARC wanted to create a scalable system to enable remote monitoring and administration. It also requested the ability to easily update content as needed.
Also Read: NAP Transforms Atlanta's Colony Square with Wayfinding Kiosks
Solution
Red Dot thus designed a system with endpoints utilizing GPS dongles interfacing with BrightSign media players to supply local LAT/LON coordinates used by the 'next bus server' application as required to identify the StopID of the nearest bus stop. This unique implementation meant that locations and stops aren't hard-coded into the device. Instead, the bus stop times are determined by local GPS coordinates and the nearest stops. Moreover, TARC's Google GTFS schedule feed pulls the arrival data. This then supplies arrival information to the endpoints in real time. The firm also developed an override mechanism to supersede the GPS dongle coordinates and assign a particular StopID for the player.
At each of the endpoints, a BrightSign-enabled display serves information to passengers at each transit stop. By simply pressing a button, the BrightSign player triggers audio prompts from a text-to-speech device informing passengers on the next bus arrival. Additionally, the kiosks display 'next bus information' for the next 10 arriving buses. Here, the top four also display estimated arrival times.
The kiosks also provide important information about TARC Service Alerts and other information about potential disruptions. A pair of informational tickers that pull Service Alert data from TARC's Google real-time feed display this content. One ticker displays stop-specific service alerts and the other displays general TARC news alerts.
The company also dedicated a large portion of each kiosk to a rotating feed of informative content. This comprises a complete route map, a detailed map of the local stop area with the locations of incoming buses and a weather forecast to help alert passengers to incoming weather systems.
Results
Per a statement, the TARC/Red Dot collaboration delivered on all points. From an aesthetic perspective, the content on the kiosks is attractive, bold and intuitive. From a technical standpoint, the network's backend footprint is small. It runs on a single-core Centos Linux VM with 2GB RAM and 16GB of drive space. According to TARC, the network has been running flawlessly for eight months in the DMZ network.
Furthermore, Red Dot and TARC implemented ADA best practices to ensure the kiosks are accessible to all. They thus provide text-to-speech functionality for verbally broadcast, on demand, service alerts to visually impaired passengers. Additionally, the text-to-speech service alerts are available in both English and Spanish.
In terms of security, SSL certificate-based encryption secures the cloud-based communication between the server and endpoints. Additionally, TARC now has its own private fiber network as well as a pair of cellular-based networks.
Feedback
As TARC now owns the system, it can grant permission for use to any transportation entity. The design is brand-agnostic. Thus, it only needs a few parameter changes to be utilized on any transit system that provides a GTFS and Google real-time feed.
David Herde, TARC ITS Engineer, commends Red Dot's partnership in the corridor informatics. He remarks, " They're wonderful to work with, proactive and on time. They provided a beautiful and functional solution that not only meets our vision and requirements, but soars above and beyond our expectations."
Herde hopes that peer transit agencies also pick up the system. "I'd love to see it go regional or even national," he says.
Dwight Maddox, director of IT at TARC, also echoes the sentiments. He touches upon the possible options for passenger information systems and emphasizes how Red Dot deployed Herde's vision effectively. "David envisioned a combination of hardware and software that was not only robust and scalable, but also used common technology and development tools. Red Dot understood our vision and needs, and was a committed partner from the very beginning. I am proud of the solution [we] developed, and happy to share the successful end result," he concludes.
Click on "View Slideshow" on the upper-right corner to view images of the interactive kiosks.
If you enjoyed this article and want to receive more valuable industry content like this, click here to sign up for our digital newsletters!