Saturn Visual Solutions to Show SaturnSelect, New Digital Signage Innovation at Retail Technology Show
Saturn will launch SaturnSelect, an app that gives businesses instant access to digital signage content, at the Retail Technology Show 22.
Leave a Comment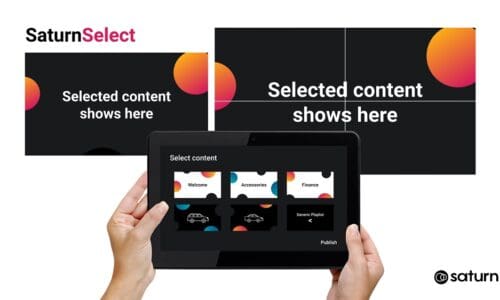 Saturn Visual Solutions will unveil a new application which makes digital signage a more responsive and effective tool for salespeople. The product will launch at the Retail Technology Show 22, says the company. Saturn is a digital signage consultancy based in Manchester U.K. The company offers a range of complementary design, build, content and support services. The new application, called SaturnSelect, enables a business's sales staff to use a tablet or mobile phone to interrupt the company's scheduled on-screen content. They can select and show the content they want and then revert to the scheduled content.
Businesses can also simply curate and upload content its staff might want to show on demand on the SaturnSelect app. The staff then downloads the application onto an internet-enabled device. They can then pick the content they want from a list displayed on the app and showcase it on the digital signage screens.
Improving Digital Signage Usage
Chris Welsh, CEO, at Saturn Visual Solutions opines that on-screen content publishing methods have restricted businesses' use of digital signage. He attributes this to the selection and scheduling of content in advance which doesn't allow businesses to be responsive.
Welsh continues, "SaturnSelect now allows sales professionals to show videos, images, graphs, charts, and diagrams on screens in line with the conversation they're having at the time. If a customer asks a question, sales staff can instantly switch the on-screen content to show information that will help answer it — something that wasn't possible in the past without having touchscreen digital signage."
With the SaturnSelect application, users can control an unlimited number of screens simultaneously. They can also use it with any size or format of digital signage screen. It also works with outdoor displays, where screens are housed in secure enclosures.
Welsh adds, "We're not aware of anything else on the market like SaturnSelect, which was developed during the lockdown. The Retail Technology Show will be the first time we demonstrate it publicly. We're aiming to add more functionality to it in the coming months. For example, enabling people to pick both the content and the screen they want to see it on, so we'll be keen to see what response it gets from retailers visiting the show."
Saturn will also showcase new functionality added to its content management software platform, SaturnVision. This enables enables businesses to show live social media content on screen, and a new technical product configurator. It will share the stand (Stand 6B28) with digital signage manufacturer, Vestel at the Retail Technology Show. The Retail Technology show takes place in London, U.K. on April 26-27 2022.