dvLED Technology Redefines Boutique Real Estate Property
Canadian-based Matrix Video Communications worked to redesign and modernize the Ampersand atrium with NEC's dvLED technology.
Leave a Comment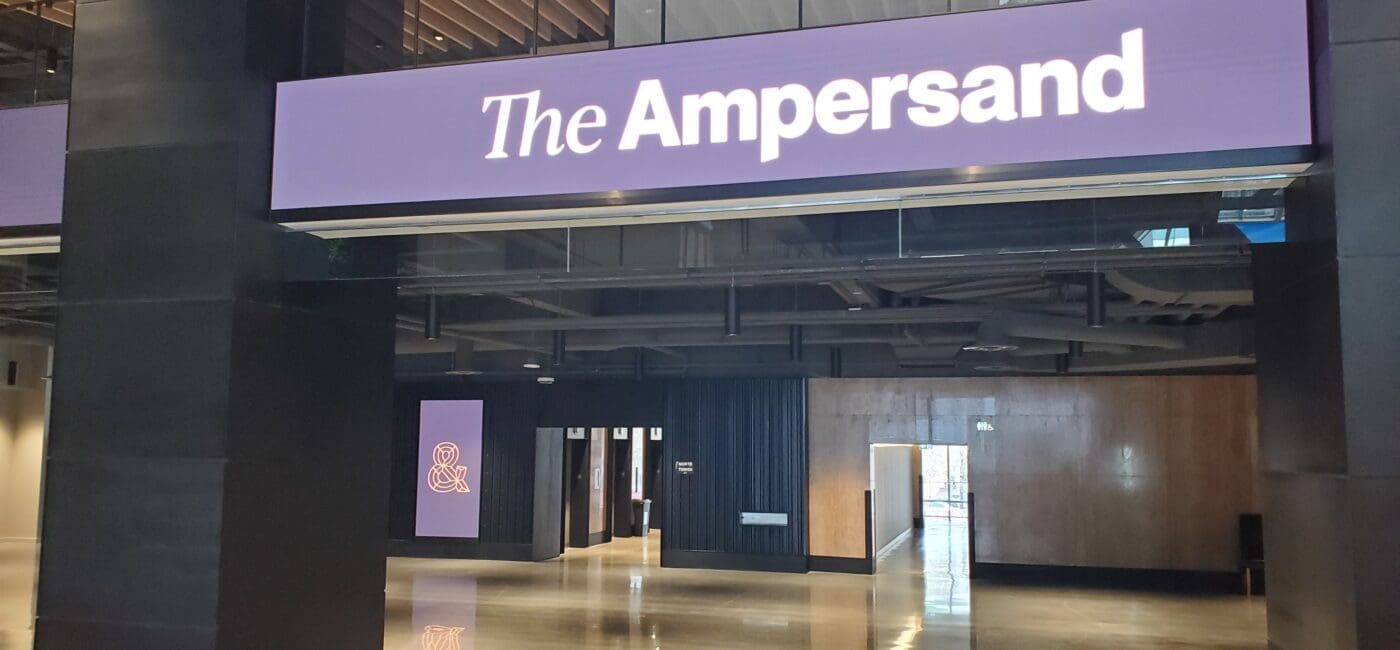 In 2018, boutique real estate company Aspen Properties purchased The Ampersand near downtown Calgary in Alberta. Composed of three identical office towers joined together by a glass-covered atrium, The Ampersand featured original design elements from the 1980s that hadn't been updated since its inception.
In order to bring the building into alignment with the company's commitment to be more than just an office space and provide an elevated experience for building tenants, Aspen's newest property needed a complete renovation. With the help of Canadian-based Matrix Video Communications, Aspen worked to redesign and modernize the space with digital signage technology.
Choosing dvLED
When determining which display technology would equip their updated lobby most effectively, Aspen Properties prioritized cost-efficiency, product longevity, and striking imagery – and a dvLED wall fit the bill. Aspen selected NEC's dvLED panels for its cost-effectiveness, and product longevity; the dvLED modules outshined large format displays. The dvLEDs have a typical lifetime range from 70,000 to 100,000 hours before they reach a brightness output 50 percent below the original value.
The Ampersand's lobby is flooded with natural light – meaning a typical image would be easily washed out during the peak workday hours. Because dvLED delivers a brighter image than LCD display and projection technologies, it works well in bright environments like the Ampersand atrium.
NEC's dvLED panels offer large, crisp and bright images ranging from 600 cd/m2 to 1,000 cd/m2 with a tight pixel pitch from as low as 1.2 mm, making them ideal for indoor use and accommodating the need for a variety of pixel pitch sizes. The design flexibility of dvLED panels also allowed Matrix to work through a 90 degree inside corner, customizing the size and ensuring a seamless image that didn't stop on the corner ribbon wall.
Watch Archive: Achieving the Wow Factor with Limitless dvLED Solutions
"We implemented NEC technology to not only refresh an outdated space, but to provide tenants with a convenient and quick way to stay up-to-date on relevant building information," says Dave Crisanti, account manager at Matrix Video Communications. "The result is a modern, aesthetically pleasing space that utilizes energy- and cost-efficient technology. NEC's dvLED panels were the easiest dvLED products to install, and the most seamless dvLED we had ever worked with. Even the packaging and mounting structure was top notch. NEC's dvLED panels will be our number one, go-to LED products moving forward."
The Result
Matrix Video Communications transformed The Ampersand's natural light-filled atrium with vibrant and seamless digital signage. Now a sensational modern space with state-of-the-art, crystal clear dvLED technology, The Ampersand atrium provides tenants from all three of its towers with relevant building information and visual art in a striking and visually impactful way.
Equipment List:
Four LED-FE038i2 modules of varying sizes, each with a 3.8 mm pixel pitch, were installed in four sections along the ribbon wall, providing a seamless image that doesn't stop on the corner and optimal viewing no matter the distance
One 220-inch LED-FE025i2 module was hung in front of the windows at the south end of the lobby for local presentations and videos
Three LED-FE025i2 modules with a 2.5 mm pixel pitch were installed vertically on three other walls which run alongside tower elevator banks