"I Can See Clearly Now…It's Going To Be a Bright, Sunshiny Day"
Direct-View LED Displays for Large Venues
Content from our Sponsor
Leave a Comment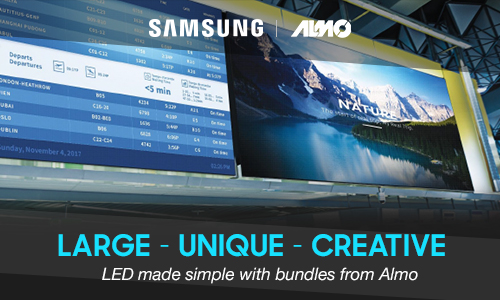 According to the Samsung White Paper "The New Digital Canvas: Ultimate Guide to Planning and Deploying LED Digital Signage," direct-view LED technology lets integrators create large digital canvases with unique configurations and no visible seams or gridlines, which has resulted in its booming popularity, competitiveness and adoption.
But what exactly is direct-view LED technology? White LEDs are the hidden light source that illuminates today's LCDs and are embedded inside the enclosure, behind the LCD layer or along the edges. In the case of direct-view LED displays, the LEDs both create the illumination and are the color source for the entire image. For full-color direct-view LED displays, each pixel of light is actually three LEDs – red, green and blue – dynamically lit and blended to generate millions of colors.
Based on the white paper, the fine pixel pitch of a direct-view LED display – meaning its ability to be seen both near and far from the viewer – and the technology's attributes are making it the preferred choice for professional AV integrators.
According to Chris Mcintyre-Brown of Futuresource Consulting, "Narrow pixel pitch LED…has been hugely disruptive in the commercial display space, challenging LCD and projection platforms."
Futuresource reports that the videowall industry is seeing double-digit growth as new technologies emerge and existing ones grow more sophisticated. In 2015, global sales of videowalls was $3.4 billion with forecasted annual sales growth of double this figure through 2020.
Here are three primary reasons why direct-view LED digital signage is seeing rapid adoption:
Bezel-Free. Direct-view LEDs displays do away with bezels so no seams are visible to viewers when they are combined into a single installation.
Glare-Proof. They have the ability to overpower natural light in outdoor or brightly-lit settings. In fact, they can generate twice the brightness, overpowering building lighting or even full daylight. At nighttime, they need only a fraction of daytime brightness to make the same visual impression.
Customization. Their building-block nature opens up design possibilities because the cabinets are much smaller than videowall displays and can therefore be grouped and tiled in different ways to match up the shape of a physical space. They can cover curved arches of an entryway or be suspended facing down to create virtual, digital ceilings.
In terms of cost, Futuresource Consulting tracks the fine pitch LED industry, and says prices are steadily dropping, but not as rapidly as 2-3 years ago. While more expensive than traditional LED technology, the advantages of direct-view LED displays can make it a worthwhile investment.
Almo Professional A/V Business Development Mangers (BDMs) offer expertise with Samsung direct-view LED products along with technical support, and sales and design assistance. BDMs work with integrators to help create the most ideal configuration for each and every large venue project, be it a sports stadium, mega church, digital billboard or indoor concert venue.
Almo and Samsung have partnered to offer a limited-time more affordable bundle promotion on the NEW Samsung SMART LED signage IF Series. It includes three separate bundles, for the IF-Series 110", 130", 174" and 217" LED direct view video walls and is available now. To view, click here.