Margaritaville Resort Orlando Makes Waves with Digital Display Technology
Margaritaville Resort Orlando digital signage implemented through wayfinding, pylon ID & more across 30 displays using LCD monitors, kiosks and LED screens.
Leave a Comment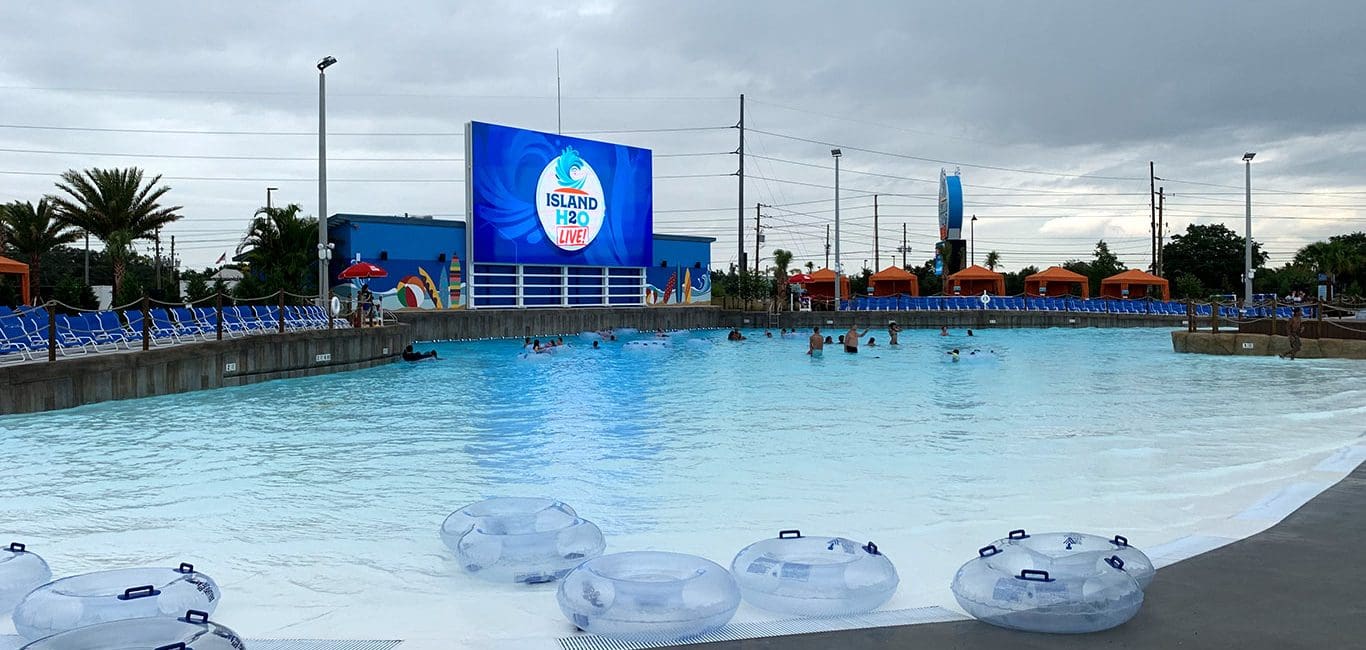 Jimmy Buffett's newest vacation attraction—Margaritaville Resort Orlando—celebrated its grand opening earlier this year, in no small part thanks to digital display technology from SNA Displays.
The destination resort located just south of Orlando in Kissimmee is the latest amusement park property to utilize digital displays as a way to attract and engage visitors.
The project incorporates an assortment of digital signage for various purposes, including digital wayfinding, pylon identification signage, and spectacular assets.
In total, there are more than 30 digital displays, including LCD monitors, free-standing kiosks and interior and exterior LED screens.
"With major accomplishments in various market segments like LED spectaculars and corporate interiors, it is very rewarding to be involved in such a prominent resort and amusement park project like this," said SNA Displays president Dennis Hickey in the company announcement about the installation.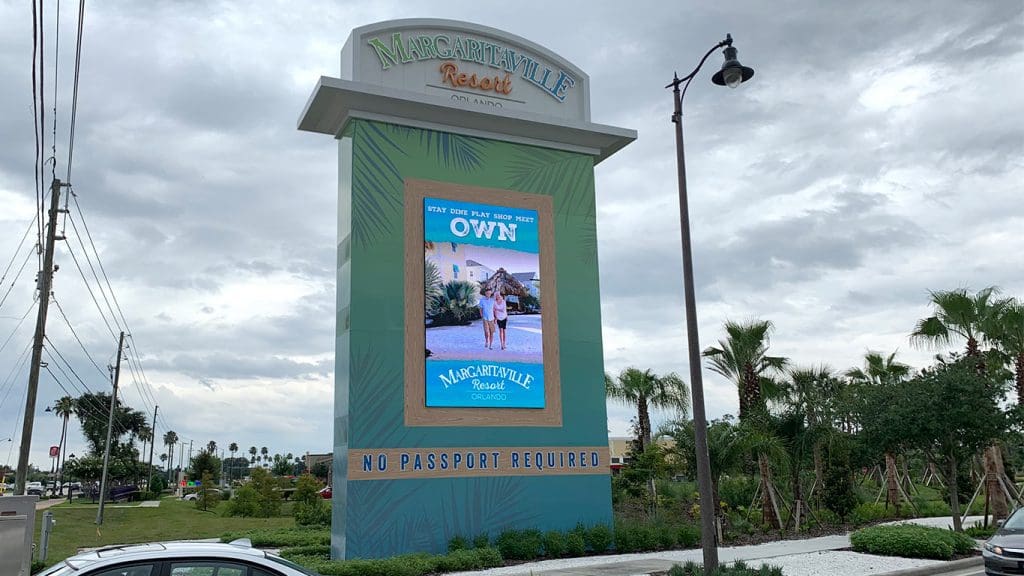 Wasted Away Again at Margaritaville Resort Orlando
The flagship signage for the new Margaritaville property is an LED display at the Island H2O Live! Water Park wave pool measuring 42 feet wide by 22 feet high. The screen has a resolution of 1,280 by 672 pixels.
Visitors are greeted by an LED display approximately 21 feet wide by 9 feet high just above the waterpark's turnstile awning. A twin LED screen, also installed above the awning, can be viewed as resort guests exit the waterpark. Both of these displays have a resolution of 480 pixels wide by 264 pixels high.
Across the 300-acre property in the retail area of Margaritaville are several additional LED installations by SNA Displays. An entrance pylon contains a mix of two-sided static and digital signage, including a 16-foot-wide-by-9-foot-high LED display.
There are also three LED screens placed around various roundabouts in the retail area of the resort, providing themed and directional messaging to resort traffic.
Another double-sided pylon display was installed close to the 184-room resort hotel. This vertically oriented LED screen measures 11.5 feet wide by 19 feet high with resolution of 352 pixels wide by 576 pixels high.
All exterior LED displays at the Margaritaville Resort Orlando were produced from SNA Displays' Empire product line and feature a 10-millimeter pixel pitch.
SNA Displays also supplied an interior video wall for the resort's hotel lobby. The 20-feet-wide, 9-feet-high screen from the SNA Displays' BOLD line of interior display products features a 2.5-milimeter pixel pitch. At 2,400 pixels wide by 1,080 it's the highest-resolution LED video display on the property.
The digital signage network will be promoting various events and activities throughout the resort in addition to displaying commercial content. Media sales are managed by Boldsite Media.
"We're very excited to be partnering with Encore and SNA Displays on this great project," said Boldsite Media president Bob Johns. "Margaritaville Resort Orlando just exudes a fun, lively environment, perfect for companies to reach and interact with people of all ages."