Inside the Minds of the Disney Tech Team: Behind the Scenes at Hollywood Studios' 'Wonderful World of Animation'
It's tough for the Disney tech team to top itself, but they've done it with the new nightly spectacular, 'Wonderful World of Animation.'
Leave a Comment
If the latest nightly video spectacular is at Disney's Hollywood Studios is…well, spectacular enough to even impress a 38-year park employee, imagine how much you'll enjoy the 12-minute romp through the history of Disney and Pixar animation, dubbed "Wonderful World of Animation," which opened May 1.
Bob Crummett, technical director of Disney Parks Live Entertainment, says the new nightly spectacular—which is broadcast on a canvas that stretched well beyond the façade of the Chinese Theater—"really re-sparked my pixie dust."
"It crosses every generation," says Crummett, part of a team of more than 20 Disney Parks Live Entertainment employees who put the show together. "It's just a very heart-warming show. There are so many fun elements to the show. All of the pieces really come together."
The Disney tech team includes experts in music production, video content creation, production and technical aspects.
Behind Disney's 'Wonderful World of Animation'
The visuals in Wonderful World of Animation are enhanced by pyrotechnics and lighting tricks. For example, at one point, the building is transformed into the Snow White and the Seven Dwarfs pipe organ.
It took the team about 150 programming and preparation hours to put the show together, says Aaron Counterman, principal video systems designer for Disney Parks Live Entertainment.
"We focus not only about topping ourselves from a creative standpoint, but also from a technology standpoint as well," he says. "We look at all of these shows [in other Disney parks] and look around at what new technology is around and try to integrate that into each part of our shows, whether that be lighting, audio, video, lasers, even effects. We try to implement all the new stuff we can.
"We do our best to have that collaborative effort of listening to everyone's opinions. There's always one that's going to win out. Our main goal is to deliver the show director's vision of the show by taking all that technology, production and music and molding it to that the best we can," he says.
Wonderful World of Animation incorporates every Disney animated theatrical release, including Toy Story 4, which was released shortly after CI's behind-the-scenes tour of the show and opportunity to watch it live with Counterman.
The show takes guests on a journey through more than 90 years of Disney animation, starting with Mickey Mouse in Fantasia, before launching into sequences filled with magic, family, adventure, romance, villainy and friendship. It debuted during Hollywood Studios' 30th anniversary celebration.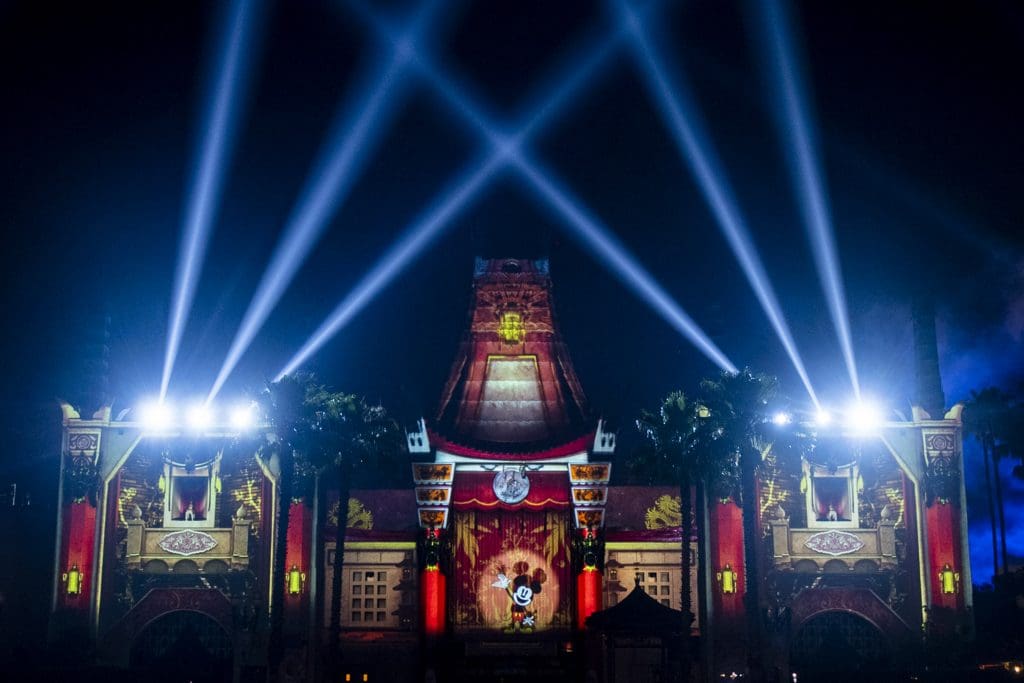 As with most Disney projection spectaculars, Wonderful World of Animation includes sections that can be updated as new movies are released or other updates are made to the park.
In one segment of the show focused on Beauty and the Beast, the Disney tech team created a window-like effect and "it looks like you could go through that window," says Crummett.
"The projection team, video team and content creators did an amazing job with the animation footage and the content they delivered," he says. "We layered in some laser stars to create a three-dimensional effect of a window on the façade of that building.
"You're going to see short clips from franchises that some of our younger generation may not even be familiar with at all. Some of these are films that were in theaters when I was growing up. As you're watching the show with our guests, you'll hear them make comments," says Crummett.
Wonderful World of Animation ends as it began, with different iterations of Mickey Mouse appearing side-by-side, including his current look in the center. Mickey moves up the building before the virtual curtains part and he walks off into the sunset.
"Guests are really going to see a lot more of that heart of Disney," says Counterman. "They took a lot of time with that animation, going back to Walt's original concepts of what Mickey Mouse was to the Mickey Mouse of today you see in the new animation style. It's a great way to mold them all together into one cohesive show.
"We utilized a lot more of the architecture [with this show than in the past]. We tried to take a lot of care to mold the content to the contours of the building and the elements that are surrounding it," he says.
Technology You've Never Seen Anywhere
Wonderful World of Animation uses up to 10 projectors in seven locations scattered around the center stage area of the park, most of them hidden expertly in plain sight or covertly in places guests would never expect, says Counterman.
In total, the Wonderful World of Animation's canvas measures 11,000-pixels wide and 2,000 pixels deep. As is often the case, the show features AV technology that's never been deployed anywhere, meaning the team is incorporating products that are the first of their kind, says Counterman.
"We try to keep things simple," he says. "Being on the forefront of technology can have its downside too."
Hollywood Studios is one of first Disney Parks to use 4K, says Counterman.
"We definitely dove into that and continue to try to work with that kind of mentality," he says. "Projection mapping is nothing new, but we try to take it and utilize the vast amount of content we have to create these new things."
The Disney tech team worked with the design team on video, lighting, effects, lasers to create the show, says Crummett.
"We gave them the same palette we've used, but asked them to make it something bigger, better and more spectacular," he says. "Given that challenge, all of our designers have really stepped up and created a masterpiece with this show.
"We're always finding inspiration in some of the new products we're putting out there, with some of our new animation features and some of our new live action. I think there's a little bit of a competition [with other Disney parks and teams] and that's good. It keeps everyone on their toes. We're always looking to one up ourselves. It's a good friendly competition," says Crummett.
Highlights and Opportunities
Crummett and Counterman agree the best part of unveiling a new show is watching guests' reactions.
"The best part of the show process for me is definitely that first night," says Counterman. The first time you have the paying park guests who see it and the look on their faces, especially for me seeing the children's reactions and even some of the older adults seeing some of the older animation, particularly for this show, looking back and seeing what they grew up with, is really cool for me.
"The final result is always such an amazing thing to see. After the long hours and lack of sleep when we do these projects, to see all that come into one creative and cohesive thought is just amazing," he says.
"It's satisfying to see our guests enjoy the show," says Crummett. "As we're programming the show, you sit there for hours and hours and hours to get something just perfect in alignment on the façade of the building and you're wondering, 'is this really worth it?' Then at that final moment, you see that product that we're about to deliver to our guests and it's absolutely worth every minute of it."
Like with any technology undertaking, there are always glitches the Disney tech team has to overcome.
"This is gear that lives out in the elements 24/7, 365 days a year," says Counterman. "There's a constant maintenance program that has to happen to make sure we're at our best for our guests. Also, while we're trying to put these new shows in, we're trying to maintain [existing] daily shows."
Crummett focuses on opportunities over obstacles.
"We work primarily overnight when most guests are back at our resorts asleep," he says. "That's when a lot of our other partners and maintenance take care of the park. I've got to be a good partner with our engineering services team. Our horticulture team likes to trim trees at night.
"We were putting some polish on the park for the 30th anniversary as we're trying to open a new show," he says.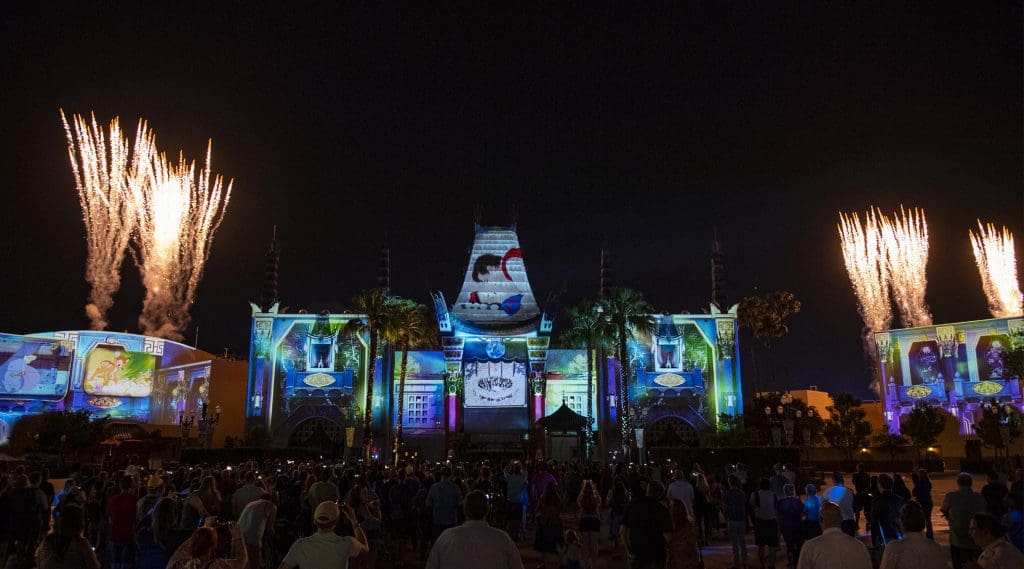 What Disney Tech is Next?
Although the Disney Parks Live Entertainment team just recently debuted Wonderful World of Animation, there's really no time to bask in the glory of the show.
"We're always looking at the next thing we're going to be able to do," says Counterman. "It doesn't really stop for us. We go from one open right into something else we're working on. It's about making that product and that experience even better for our guests each time we do it."
Crummett knows the next opportunity is just a phone call or email away.
"I'm excited every time," he says. "There's sometimes you wonder how we're going to pull it off from a technical perspective because our show directors are very creative and we have to bring their vision to reality. Sometimes you just sit there and scratch your head for a few minutes and then it'll come to you. I'm always looking forward to that next opportunity."