Smoothie King Moves Into 21st Century With Samsung Digital Displays
Thanks to Samsung, Smoothie King locations throughout the U.S. upgraded their visual presentation and helped support the drive-thru business.
Leave a Comment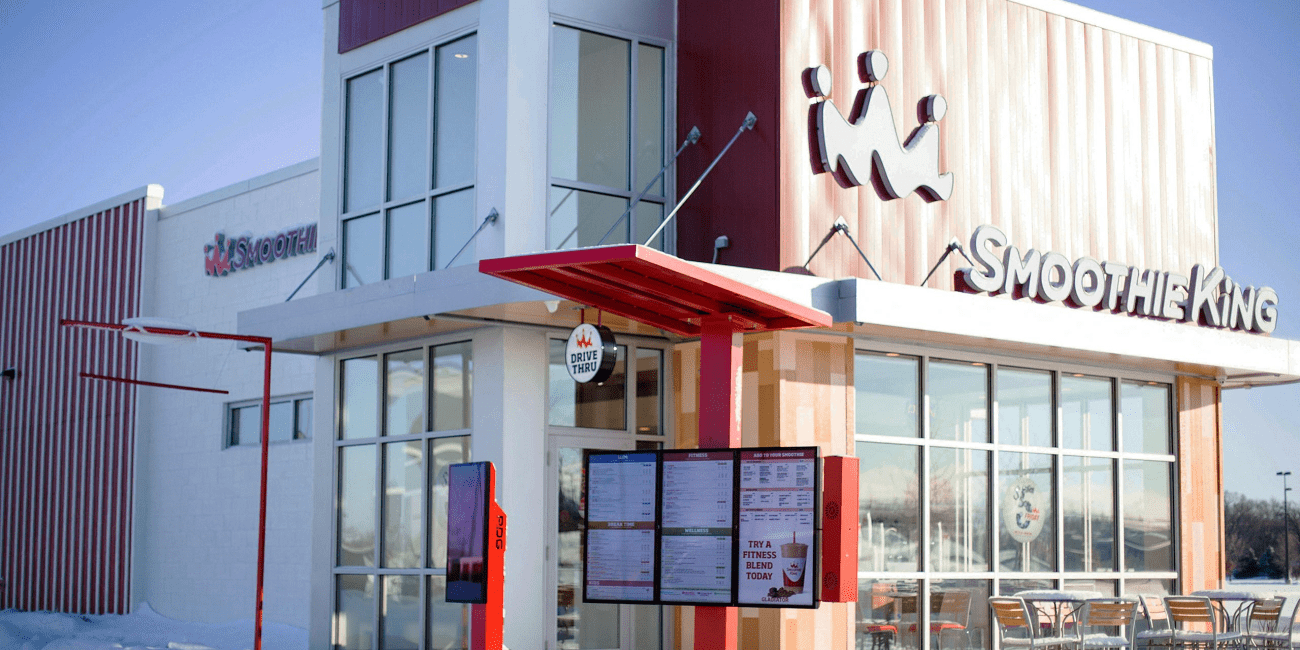 Thanks to Samsung's digital display technology, several Smoothie King locations in the Southern and Midwestern U.S. were able to optimize visual presentation and help support a drive-thru business that served the vast majority of customers during the pandemic.
According to Samsung, local owner-operators of Smoothie King franchises have typically used printed menus in lightbox displays both inside and at the drive-thru to present menu options and promotions to customers. However, changing those displays to update menus can be a lengthy process as menu revisions must be sent to corporate so they can make graphic design changes, and then they need to be printed and shipped.
According to Chris Mertens, vice president of sales for Samsung's U.S. display business, Smoothie King needed a digitized business solution that would eliminate those lengthy requirements and allow them to make real-time changes.
"This need was expedited by the COVID-19 pandemic as one-on-one sales interactions between employees & customers were largely interrupted, making effective drive-thru menu boards an essential component for revenue," Mertens said in a statement.
The project included indoor digital menu boards, an outdoor-ready multiscreen setup for drive-thru lanes and promotional displays in store windows at several locations in Florida, Texas, Chicago, Indiana and Missouri. According to Samsung, this led to a drive-thru business that jumped up from 70% to 90% of sales during the pandemic.
Samsung's digital displays were managed by Washington state-based digital signage solutions provider C3MS.
Read Next: Samsung Named Official Display Partner of Los Angeles Rams, SoFi Stadium
Here's a look at the displays and features provided to Smoothie Kin, all of which are rated for 24/7 use and include a three-year warranty:
Indoors
Behind the ordering counters are 49-inch narrow-bezel LCD displays in tiled ribbon arrays delivering UHD 4K visuals using a combination of upscaling, color optimization and anti-glare technology to optimize menus as customers order.
A dual-sided super-bright LCD OMN-D Display is set up on a window, with one side aimed at motorists and pedestrians with another side facing the inside of the store.
The drive-thru
Three outdoor-rated high-brightness displays are set up at the ordering part of the drive-thru and are designed to be visible in the brightest operating conditions.
A separate 46-inch display is positioned earlier in the drive-thru lane to promote new products and special offers.
The results
According to Yonas Hagas, an operator of seven Smoothie King locations, the chain has seem immediate benefits.
"If I want to do certain things, or do certain specials, it's just easy when you have digital." Hagos said, highlighting the attractiveness of the bright displays. "It's more attractive to the consumer," "It looks cleaner, and we're in the 21st century, you know; we've got to move with the times and not become a tired old brand."
Now, the entire Smoothie King company is considering rolling out digital displays at more of its locations.
We are strong believers in consistency in our stores, so widespread adoption is a long-term goal," says Kevin King, chief development officer at Smoothie King. "Samsung has also been a great partner. We love the quality of their products and the innovation they bring to having full digital capability in our stores."
If you enjoyed this article and want to receive more valuable industry content like this, click here to sign up for our digital newsletters!