RTI 4K Quad MultiViewer May Help Integrators Capitalize on Growing Video Wall Market
The RTI 4K Quad MultiViewer (VMS-741) combines switching and scaling to deliver four video sources simultaneously to one display.
Leave a Comment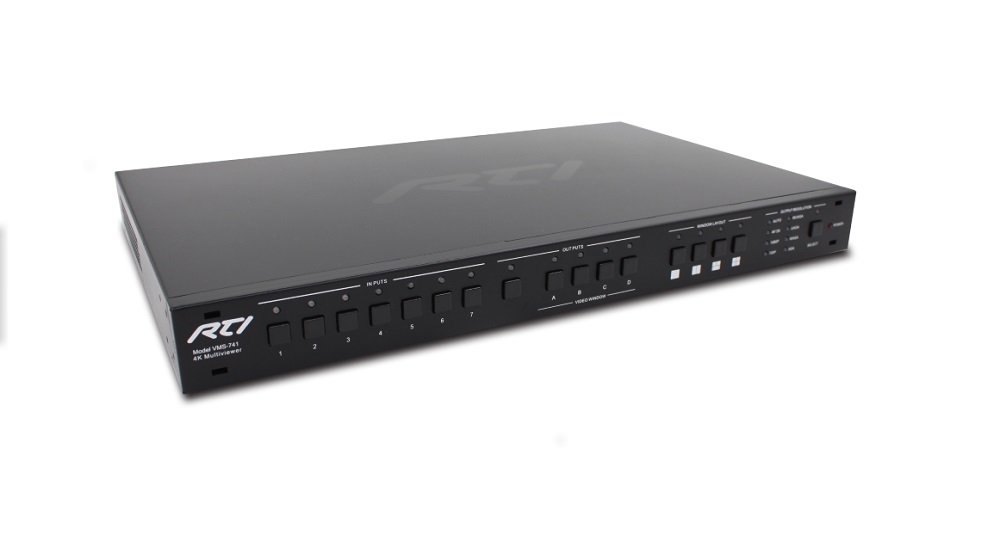 The videowall market is expected to grow exponentially in the next few years. With increasing demand for 4K, dealers need solutions to marry the two technologies.The RTI 4K VMS-742 7×1 quad multiviewer accomplishes this via an advanced switcher and scaler.
Whether it's a multimedia presentation in a house of worship or a screen showing multiple games in a sports bar, with 16 video window layout combinations, any 4K display is able to become a video wall alternative.
The VMS-741 also offers audio embedding and de-embedded audio outputs.
"Whether they are a commercial or residential dealer, everyone has a use case for which the VMS-741 is the perfect solution," says Ed McConaghay, CEO of RTI.
"Whether their clients are looking for easy content sharing, media-rich presentations, or the ability to watch four football games at once, the power and versatility of the VMS-741 makes it an excellent problem- solver."
Quad MultiViewer's Best Applications
The VMS-741 4K MultiViewer is ideally suited for conference rooms, lecture halls, worship spaces, and other installations requiring a wide range of video sources with differing resolutions and formats.
To meet the unique challenges of these environments, the unit combines AV switching with advanced scaling to display content from up to seven sources. Supported video input formats include HDMI, DisplayPort, and VGA.
The solution also offers an HDBaseT input to allow convenient video delivery from remote sources via a source plate or matrix.
The VMS-741 joins RTI's line of modular matrix switchers and presentation scaler switchers designed to meet the A/V requirements of corporate, education, and retail environments.
The RTI 4K VFX-124 and VFX-248 matrix switchers provide a blend of fixed outputs and open slots (12 and 24 respectively), each configurable as inputs or outputs depending on the application.
To handle different signal types, a wide variety of input and output cards is available for HDMI, HDBaseT, VGA, audio, and more.
Listen: Want Your Customers Buying Video Walls? Here's Some Advice from a PhD in Cognitive Development: Episode 50 of AV+
The VSS-51 Presentation Scaler Switcher Kit, meanwhile, combines switching and scaling to deliver the best picture possible regardless of the source.
This article premiered on our sister site, CE Pro
If you enjoyed this article and want to receive more valuable industry content like this, click here to sign up for our digital newsletters!