SNA Displays Upgrades Videowall Experience at Choctaw Casino & Resort
Choctaw Casinos & Resorts features SNA Displays' large LED videowall at its flagship location in Durant, Okla.
Leave a Comment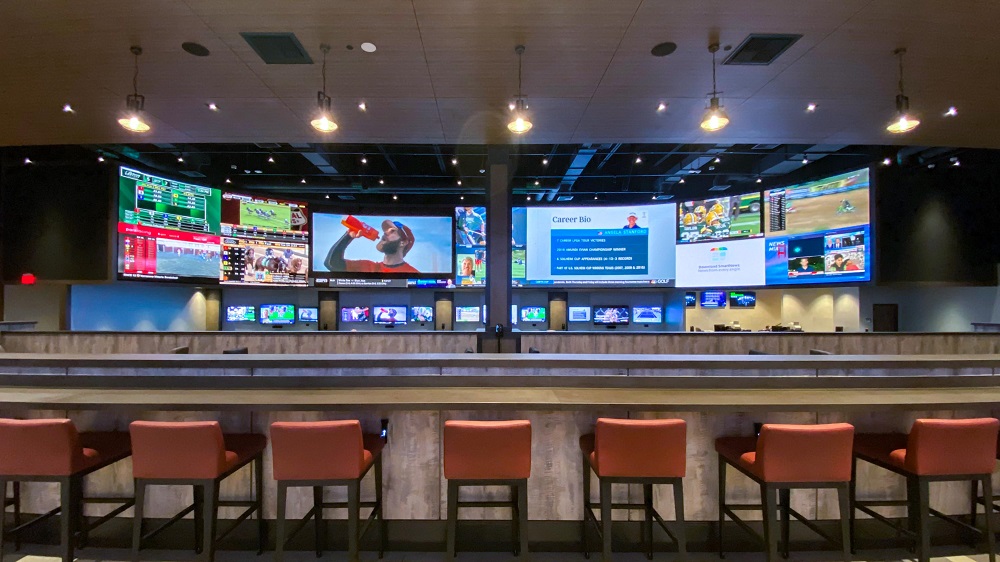 Photos & Slideshow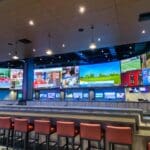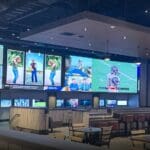 ---
N.Y.-based SNA Displays manufactured a 95-foot-wide LED videowall for The League sports bar at Choctaw Casino & Resort in Durant, Okla. The new display is a 1,116-square-foot video screen, curved at each end to provide a semi-immersive experience.
The new videowall is 11 feet 10 inches tall by 94 feet 6 inches long and curves around the casino's large sports bar, The League. According to SNA Displays, it provides information and entertainment for bar patrons and bettors. Content can span the entire canvas. It can also be segmented into several large screens or dozens of smaller ones.
The display was manufactured from SNA Displays' BOLD Interior product series and features a 2.5 mm pixel. It also has a resolution of 1,440 x 11,520 pixels. In all, the videowall includes 16,588,800 pixels. Its design comprises three large sections, each slightly more than 31 feet long. Bookends flank the flat middle section, each of which includes a 24-foot concave radius. This thus lends the large room an immersive, theater look and feel.
"It's the design and the sheer size of this videowall that strikes you," remarks Doug Fundator, director of sales for SNA Displays. "With such a high resolution and great viewing angles, the picture is crystal clear from anywhere in the sports bar."
Choctaw Casino & Resort–Durant is a three-level convention/entertainment venue. It has several amenities including swimming, shopping, dining, and spa. It also houses The District, an entertainment complex with dining, bowling lanes, a 70-game arcade, and a movie theater. The entertainment venue also underwent other recent upgrades. These include 3,300 additional slot machines, table games, a new poker room, new restaurants, bars, movie theaters and three acres of swimming pools.
Gaming and Hospitality
In environments with bright lights, noisy slot machines, whirling roulette tables, and action-happy players, owners and advertisers in the gaming and live-event industries know that it takes cutting-edge digital signage to stand out.
It's also important to grab and hold the attention of players and customers. LED display technology does just that. This can range from exterior screens with dynamic video displays that act as portals for pedestrians to state-of-the-art venues featuring indoor concerts, comedy shows, prize fighting and other live entertainment.
Also Read: Why CCCP Chooses SNA Displays for LED Videowall Projects
Many casinos have also evolved into multi-purpose destination venues containing not just gaming but also lodging, convention space, five-star restaurants and live shows. These venues are doubling down on LED technology with crisp, high-resolution digital displays featuring entertainment, digital art, and in-house advertising.
In addition, digital centerpieces enhance the mood with casino-themed content to engage guests and keep them fully immersed in the gaming experience. Other uses include showing live sports and other entertainment videos for guests at bars and lounges. The possibilities are endless.
About AVI Systems
Per a statement, AVI Systems delivers next-generation visual collaboration solutions built with a people-first approach. The employee-owners of AVI Systems thus leverage technical experience, talent and commitment in delivering customized solutions. For more information, visit avisystems.com.
Click on "View Slideshow" on upper-right corner for images of SNA Displays at Choctaw Casino & Resort. All the images are courtesy of SNA Displays.
If you enjoyed this article and want to receive more valuable industry content like this, click here to sign up for our digital newsletters!