The Video Walls Market in 2019
CI Research shows impressive revenue growth from an opportunity to sell video walls to expanding customer group. Here are the important insights.
Leave a Comment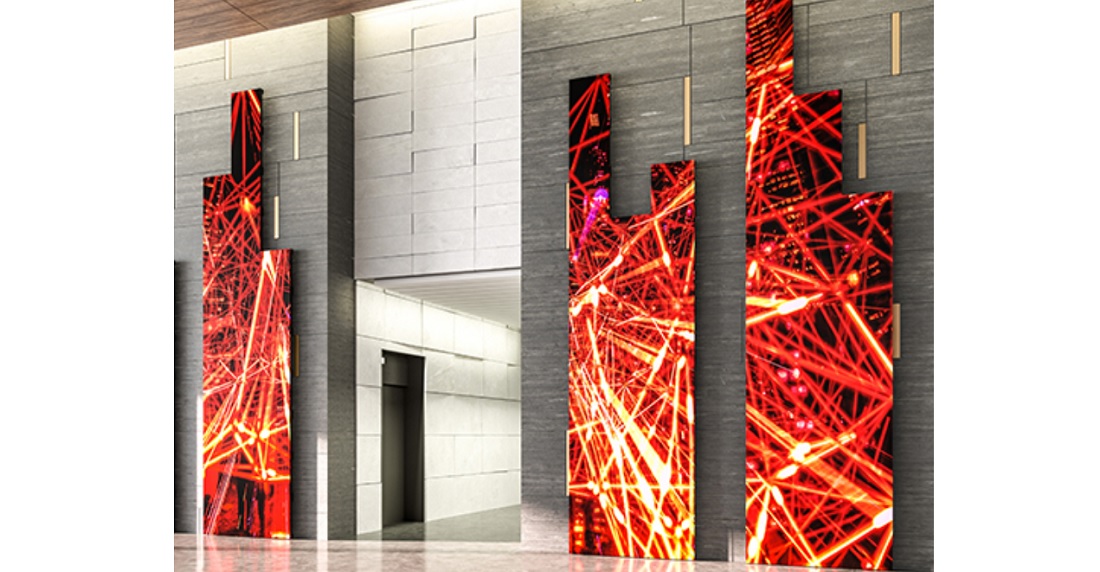 If there is one thing a salesperson loves, it's a new solution to sell — one that their customers actually want. If those customers are commercial technology-purchasing decision-makers, that new solution they desire might very well be a video wall.
That scenario, in itself, would have been difficult to picture a few years ago.
Even in 2019 it's hard to wrap one's head around the reality that video walls are no longer just for glitzy environments such as high-end retail or museums and purchased by customers with seemingly bottomless budgets.
They're no longer just demanded in mission-critical monitoring environments.
The opportunity to sell and install more video walls in 2019 stems from an expansion of the market.
A CI Research survey of 126 integrators and AV consultants reveals that demand for video walls by corporate customers has risen sharply over the past couple of years.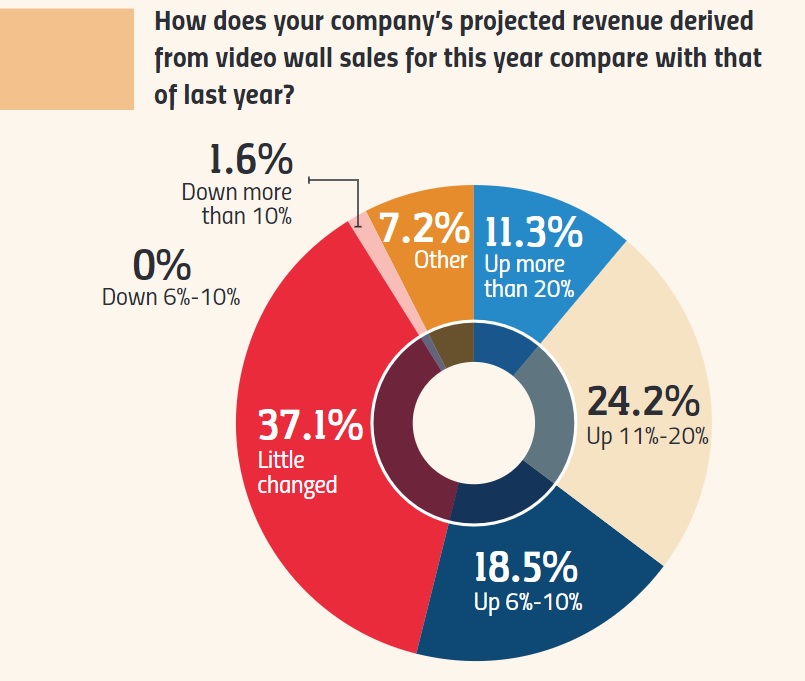 They're putting video wall solutions in office lobbies, board rooms, executive briefing centers and customer experience centers.
The market seeing the second most video wall demand growth over the past couple of years, behind corporate, is education.
Meanwhile, corporate and higher education are the two markets most tied to integration firms' revenue, according to CI's annual State of the Industry Report.
As a result of expanded video wall opportunities among a wider customer base, revenue related to video wall sales is tracking to be up significantly in 2019 among survey respondents.
More than half, 54 percent, report at least 5 percent revenue growth from video wall related sales.
More than a third expect their video wall related sales to be up by more than 10 percent this year. Very few indicate that their video wall sales are actually down.
Meanwhile, these aren't typically small installations.
More than a quarter, 27 percent of respondents, say a typical video wall project is priced at over $100,000.
Integration firms and AV consultants should be extremely focused on their video walls business in 2019 — and beyond, since there's little reason to expect demand to slow.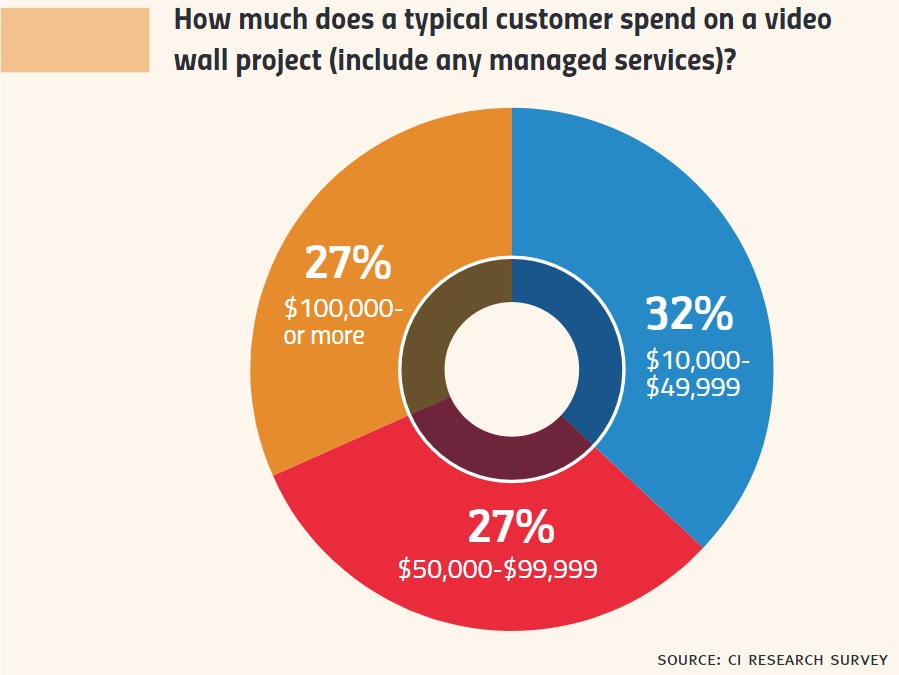 What Customers Are Video Wall Prospects?
CI Research asked our audience of integrators and AV consultants to rank several vertical markets in terms of the likelihood that those customers would purchase a video wall.
Right at the top is not retail, not restaurants/bars, not entertainment but education — followed by health care.
All the aforementioned markets are strong candidates for video walls, according to respondents, but the strong showing by education, health care and also corporate show a shift in demand for video walls toward practical applications.
"It's been a dramatic shift," says Jonathan Brawn, principal of Brawn Consulting.
"Back in the day when video walls first started emerging and even as they got more mature they were still predominantly the domain of command-and-control and network operations centers and those kinds of very specific targeted applications."
It sort of had to be that way, Brawn points out.
"Those are typically the ones that had the budget, because they were pretty expensive, but also they were the ones that really had the use case."
Those use cases evolved, especially in recent years. Brawn points to video walls being deployed for digital signage, as projector replacements and in lobbies.
Video walls as lobby statements
Many customers seem to embrace video walls to make a statement in their lobbies, says Jay Saret, business development manager for distributor Almo Professional A/V.
"Because the cost of the panels has continued to come down, putting up a video wall can create the dramatic impact at a much more affordable cost."
The cost factor, particularly with the onset of LED panels, is a big reason why demand for video walls is expanding, but the technology has also opened up more design possibilities.
"We've seen video walls develop from the early approaches of using CRT monitors that were bulky, hard to set up and very sensitive to the more sophisticated approaches that we have today," says Richard Daugherty, service product manager, AVI-SPL.
"Slim design, small bezel, 4K, 8K and beyond — we can now deliver beautiful content at high resolution and capture the interest and imagination of the passersby."
However, Daugherty does reiterate the price factor.
"Today,we install video walls in corporate lobbies, elevator lobbies, innovation centers, schools, airports, retail, restaurants, sports venues, and areas where there's a lot of foot traffic and the space to accommodate a video wall."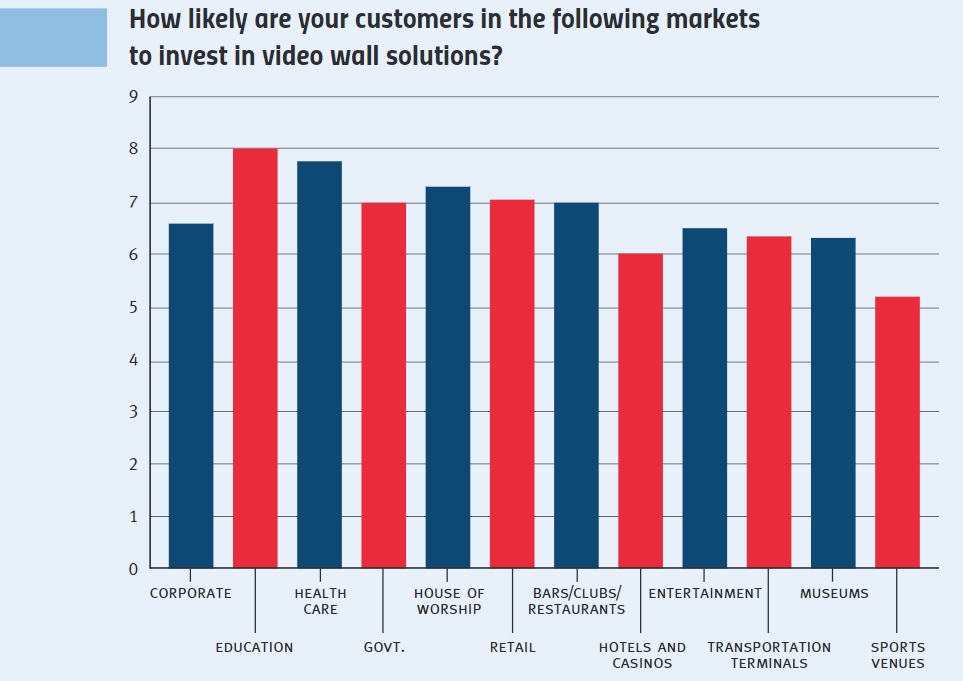 What Are Customers' Video Wall Goals?
As the cost of panels and overall video wall prices have come down, customers more so than video wall providers have redefined their purposes.
Generally speaking, in the early days the purpose of video walls was pretty clear, says Rich Ventura, VP of strategic management at NEC Display Solutions of America and chairman of the Digital Signage Federation. It was "to get the 'ooh-ahh' effect."
As prices have decreased and technology has evolved, he adds, "customers want to continue to push the envelope."
In the CI Research survey, integrators and consultants were asked about typical objectives that customers have for their video walls. Here are some responses:
Displaying digital signage
Ability watch multiple things at once
Displaying of call-to-action information
In houses of worship, displaying lyrics
Large presentations
"Wow factor"
Platform for real-time updates and critical information
Menu boards
Room assignments
Daily agendas
Video conferencing
Marketing messages
Security messaging
The diverse applications demonstrate that video walls are now a platform for whatever the customer determines.
For the companies selling video walls, however, the challenge may be in helping the customers to hone their objectives.
"It's really understanding what the customer really wants to do," Ventura says.
"Too many times we as technologists jump immediately to what I can sell you and not what you want. Unless you understand fully what the customer wants to do and their goals, you can't really deliver the right solution."
Stephanie Stilson, PhD, is very specifically tasked with defining customers' goals for Indianapolis-based Sensory Technologies where she's an EMBRACE strategist — a position you won't find at most integration firms.
She's a cognitive development psychologist that Sensory relies on to work with customers to mutually understand the goal for the technology they're purchasing.
"The 'embrace' word comes from this notion that unless people embrace the technology it's not going to achieve what it was intended to achieve," she says.
"We spend a lot of time trying to figure out what the business objective is for the new technology."
So what are typical customers' business objective when it comes to video walls? "Typically a video wall is used in one of two ways," Stilson says.
"You're either trying to empower people that want to use the content on the video wall —look at the wall, learn from the wall — or it's intended to share messaging or content with people that are not necessarily inclined or intrinsically motivated to approach the wall, look at the wall, learn from the wall, interact with the wall. It's one of those two bodies of individuals that you're trying to impact their behavior through the use of the video wall or exposure to it."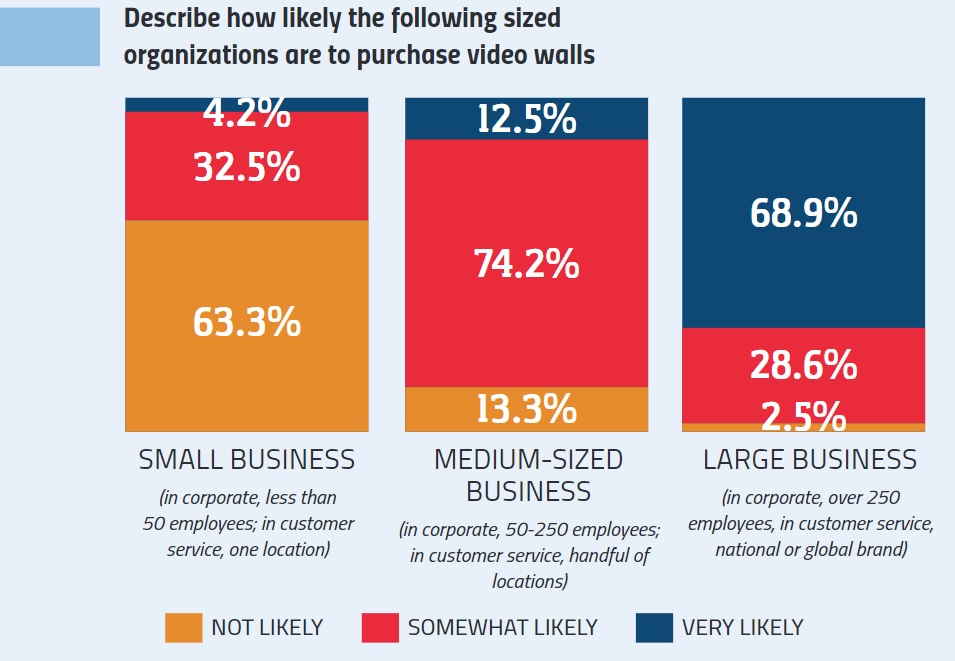 What Video Wall Tech Specs Are Important?
The good news about rapidly evolving video wall technology and the meteoric rise of LED displays is that prices are down and design options are limitless.
The less-good news is that the video wall market has become flooded with tech terms, often written by marketing professionals, and few technology decision-makers actually have a clear understanding of what specs are important to consider.
Even worse, they believe they understand the specs, says Brawn.
"We have a populous of customers that think they're experts because they have Google, but just because you can read up on it doesn't necessarily mean you truly understand itand there is a lot of confusion in videos especially."
So what are the most important technical specs that integrators should emphasize to their customers?
The initial mistake most customers make, Brawn says, is focusing on the display first.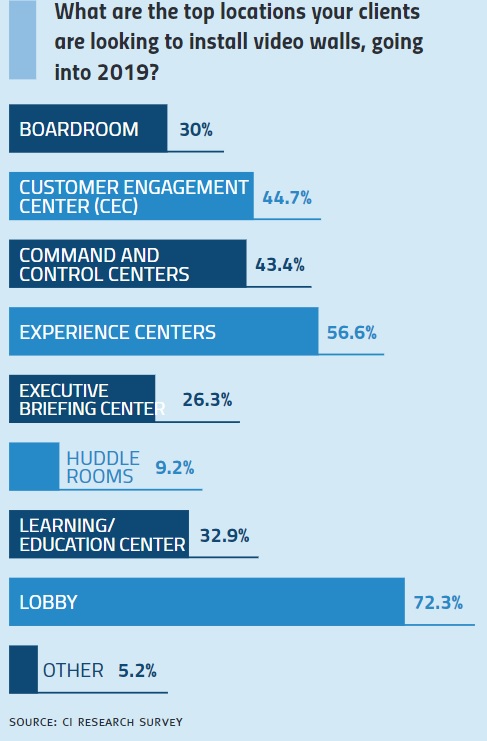 "I don't think that's correct. My display vendor customers that [Brawn Consulting] works with don't like when I say this, but the reality is that you've got to start with your objective. What are you going to use the wall for?"
So even the process of prioritizing technical specs comes back to clearly identifying the customer's objective.
From that point, Brawn suggests several exploratory questions:
How many pieces of content need to be shown?
What types of content?
How do you envision interacting with this technology?
What kind of management do you want?
"Get them thinking about how it's going to work for them because that can lead you to what the processing should be, which should always be the first decision when it comes to a video wall," Brawn says. "Not the screens—that part is easy."
Brawn also places a lot of emphasis on features that simplify installation and make the video wall easy to service.
A byproduct of video walls' exploding popularity is that a lot of types of integration firms are installing them. Some might not bring the experience and expertise to the table.
"They think, 'How hard can this be?' Well, harder than you expect," Brawn quips.
"You've got to get good quality mounts, you've got to take the time to install them correctly. It's easy to damage a lot of displays, particularly LEDs and that's something that gets radically underestimated."
Should Integrators Sell Video Wall Content, Managed Services?
"I see a tremendous amount of lost opportunity," says Almo Pro A/V's Saret, referring to integration firms and video walls.
More than half of those surveyed by CI Research indicate acknowledge that they don't even offer their video wall customers any sort of managed services contract related to maintenance, updates or content creation.
Right off the bat, that's a majority of integrators that aren't offering soup-to-nuts video wall solutions to customers, effectively leaving part of the video wall solution up for grabs.
"The ability to deliver a digital signage solution for your client shouldn't end when the displays are hung on the wall," says AVI-SPL's Daugherty.
"There is a lot to consider here. Communication is very important. If something fails—a server, a player, network issues, a display goes back—these factors can impact the strategy and timing for content delivery."
Speaking of content delivery, our survey shows that only 19 percent of the time the integrator becomes the customer's source for content creation services (whether the integrator offers it in-house or via a partner service).
That leaves 28 percent of the time when the customer engages with a third-party provider to get the content they need and 53 percent of the time when they create it themselves, according to the survey responses.
This is more than a lost revenue opportunity.
Not being part of the content solution leaves integration firms out of what is almost always what the customer sees as the most important element of a video wall solution.
"With the exception of these uniquely designed video walls, all the customer is concerned about is the content. That's it," Saret says.
"No integrator is getting a phone call from an end user asking if they carry fill-in-the-blank manufacturer for a display panel. They should be providing content. There's no reason not to today. There are only reasons to do so."
The most obvious reason not to, however, is that traditional AV integration firms don't have the in-house expertise to provide content creation. AVI-SPL is an exception.
"We offer content design services through AVI-SPL-owned VideoLink's VL Creative solution," Daugherty explains.
Most integration firms, of course, don't have AVI-SPL's deep resources. Saret suggests that integrators partner with a content creation services provider — and yes, Almo Professional A/V offers that service to its dealers — so that even companies that don't have in-house content creators can act as a single point of contact for videowalls customers.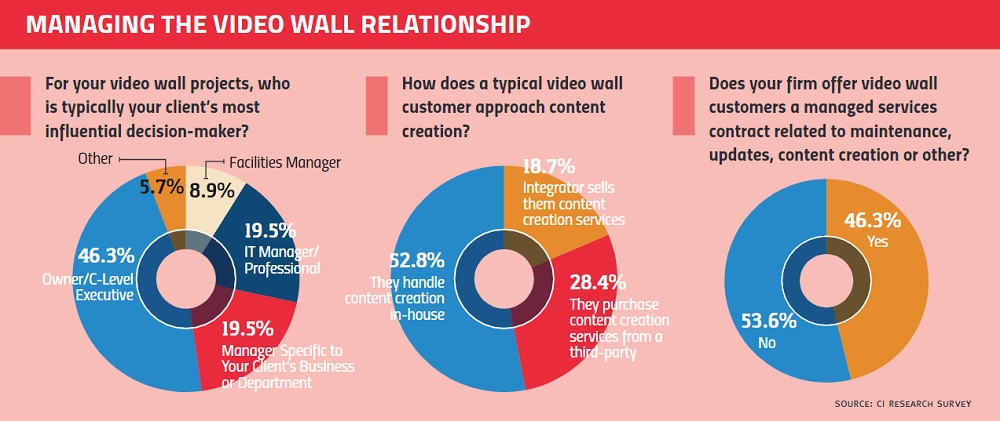 Is the Video Wall Opportunity Passing By Integrators?
If there's a negative spin to put on the evolving video wall opportunities reflected in surveyed integrators' revenue projections, it's those "lost opportunities" that Saret refers to and the potential for competitors from adjacent industries to capitalize.
It's already happening, according to Saret, who says advertising agencies are among those poised to grab more video market share — and it ties back to how important content creation is to a video wall solution. "They can create the content," he says.
However, Saret also suggests that there are ways for integrators to leverage advertising companies'interest in video walls.
"They'd have an opportunity to collaborate and work with clients, because the ad agency doesn't have anybody to provide the hardware."
It's not just advertising agencies, of course.
Brawn suggests that integration firms can improve their digital signage and video walls businesses by focusing on it more.
"Every AV integrator is going to say we do digital signage. Well, you do, but it's not your core business and there are others who are dedicated to doing just that that perhaps understand it better because too many integrators — still to this day —have a technology-focused approach, and it's not about the technology anymore. We've moved past that."
Brawn isn't talking about all integration firms. And, indeed, "to put a broad scope on AV integrators" doesn't work, Ventura says, "because there are some AV integrators that are doing an unbelievable job around digital signage."
Those, it's probably safe to assume, are the ones that most appreciate the opportunities around video walls.
It goes beyond the fact that demand is stretching across the markets and customer types that integration firms already serve. It's more than the missed recurring revenue opportunities to provide the managed services and content creation that is needed by video wall customers.
The more important point is that, as the integration industry jockeys for position in an evolving technology provider space and seeks to amplify the value of its custom solutions, video walls provide a perfect platform.
"It's a complete system," Brawn says. "You don't have to sell it as component parts necessarily.
"You're pitching your system to the business outcome. It's much more difficult for the end user to go out and shop that, which is something we all appreciate. It lets integrators use more of their core competencies — design, installation, training, things they're good at that an online reseller can't provide. That gives us a natural advantage."
Brawn says AV integrators should embrace the video wall market.
"It pains me when I see people who are kind of scared of designing and selling video walls," he says.
"Is it more complicated than putting up a single projector in a conference room? Yeah, but it's worth it because it allows us to actually go back to making better money and it can be a real differentiator against your competitors."
The ceiling is high for video walls. The challenge for many integration firms, however, is to put themselves in a better position to scale the opportunities.