State of the Industry 2019: Your Impending Pro AV Profit Problems
Even as most AV integration companies predict significant growth, profitability challenges loom over the market in our State of the Industry 2019 report.
Leave a Comment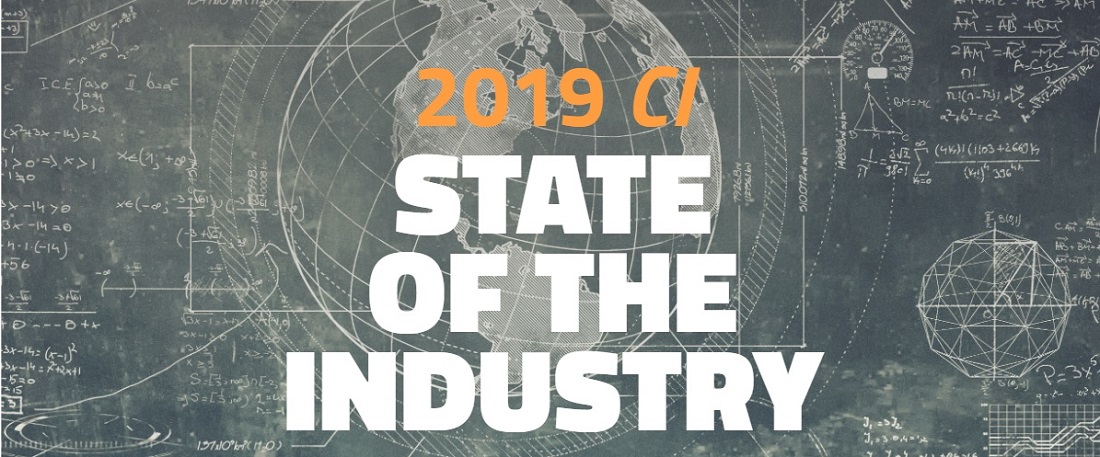 It must be difficult for the companies that make up the AV integration market — the ones still standing, not having been acquired by larger, faster-growing firms and those managing to avoid obsolescence by evolving networking capabilities while stubborn competitors went extinct — to resist the urge to believe they're unbreakable.
The companies that make up the 2019 commercial AV integration market are, indeed, resilient.
Many fought through the "great recession." They've survived convergence.
As the chasm between the AV industry's largest and mid-sized companies widened, they've adjusted to those market challenges by learning to play to their strengths.
This year's biggest paradox…
Our State of the Industry 2019, based on a survey of 137 integrators and consultants conducted in conjunction with NSCA, shows that the resiliency continues.
About one third of surveyed companies report that their 2018 revenues grew at least 10 percent over that of the previous year.
A strong majority of the market, 59 percent of those surveyed, report 2018 growth of at least 5 percent, and only 10 percent of companies dipped during the past year.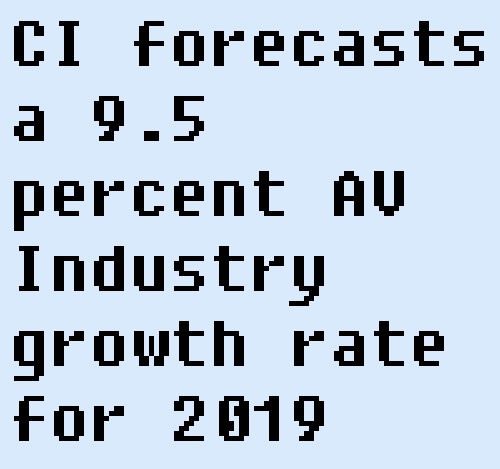 The outlook for 2019, meanwhile, is extremely optimistic:
Over a third expect growth of at least 10 percent in 2019
Three-quarters of the AV market expects to be up at least 5 percent
Only four percent anticipate a drop in the next year
The industry experienced 8.6 percent growth in 2018 and 7.6 percent growth in 2017
We forecast a 9.5 percent growth rate for 2019. And yet….
These numbers are undeniably positive. The state of the AV integration industry is strong. But don't be misled. The vulnerability that might break many AV integration firms is hiding in plain sight.
Inside the Profitability Problem
It's not easy to recognize a problem when other positive trends mask the issues.
Think of it like football…
In football, a coach early in the season might overlook defensive deficiencies if a high-powered offense scores more than enough points.
When competition gets tougher in the playoffs, however, that coach might wish he had paid closer attention to or had addressed the issue.
An extremely positive trend in the AV integration industry is the number of projects that seem to be available.
Free Webcast: Watch NSCA's Chuck Wilson break down the state of the industry
Over two-thirds, 68 percent, of companies surveyed for CI's State of the Industry 2019 report say that their in-house backlog is up compared to its level a year ago. This, of course, is excellent news for AV integration firms, but it doesn't tell the whole story.
"What seems weird is there is such a demand for what we do and our members are as busy as can be," says NSCA executive director Chuck Wilson.
"I worry about how sustainable [many integration firms'] plan is because their gross profits are very lean compared to the overhead." — Chuck Wilson, NSCA
"But when we look at our financial analysis and all the numbers, I worry about how sustainable their plan is because their gross profits are very lean compared to the overhead."
It's not news that margins on products and projects have been dwindling over the years.
When asked about typical hardware margin on projects, the number of surveyed integrators citing "between 1 and 10 percent," in other words, miniscule, rose to nearly a fifth of the market this year. That's up from only 11 percent last year.
"The rising cost of labor, the reduced margins and all that — I just worry that with so little margin for error anymore, do we have the right benchmarks in place?" Wilson asks.
"Do we utilize the research, the financial analysis, the labor standards to make sure that we have all of the details right about running our business in such a lean financial environment right now?"
Th at lean financial environment may put to the test many of the AV integration firms that are enjoying a backlog of projects.
Major Acquisitions Playing a Role
The calculated 8.6 percent growth is most certainly boosted by consolidation. The past year saw several headline-grabbing acquisitions:
Plus, there were countless lower-profile mergers and acquisitions. Wilson says he continues to see a steady stream of NSCA members absorbed by other members.
The result of these mergers, of course, is that one company reports a windfall of revenue increases while another firm no longer reports numbers, negative or otherwise.
"We're in a very enthusiastic period," says Sean Wargo, AVIXA senior director of market research. "There's a lot of optimism out there."
AVIXA's research is predicting slightly lower growth in the 5 to 6 percent range, Wargo says, adding that 2018 revenue growth trends reflect some significant variables.
"You're going to have outliers who are seeing a great year, more than 20 percent growth. Perhaps some did business expansion."
Will there be an economic downturn?
Beyond the next couple of years, however, "that's when economists start to say, 'Let's be cautious,'" Wargo says. "There is some suggestion of a few things, a few metrics that may look a little less positive as we go out."
It's under those circumstances, in a less positive market, when companies' profitability challenges will be more exposed.
The challenge for AV integration firms is not to get lost in the windfall of project backlog and revenue growth but to prepare for tougher times.
You'll Need Networked AV & Service Contracts
One way to prepare for tougher times and to mitigate project profitability challenges is to migrate to a business model that relies more on service revenue.
CI has beaten that drum pretty consistently over the past several years. So has NSCA. So has AVIXA.
The numbers reflected in the State of the Industry 2019 survey, however, show that the messages haven't resonated enough to move the needle very significantly:
More than a quarter of those surveyed, 26 percent, earned $0 via service in 2018
One-third of the market earned between 1 and 5 percent of their revenue from service in 2018
Only 4 percent of the market can say that over one-third of their revenue stems from service
A disappointing 24 percent of companies even have a goal to earn at least a third of their revenue stemming from service by 2025
So why aren't AV integrators earning more service contracts?
The reality is that not all AV integration firms are cut out for service — rather, some are extremely cut out for the project-based revenue model, according to NSCA's Wilson.
"Some companies excel at being a systems contractor. They're an integrator that chooses to go from project to project, and that is really just what they do. They've done it well enough in both the bid-spec and design-build worlds that they really don't have to think about creating the lifelong clients. They want a backlog of projects, not a series of service calls. That's not who they feel they are."
Again, however, the risk is falling into that trap. That determined approach may work for one integration firm, but several others may falter due to microscopic profitability combined with lack of service revenue.
Figuring out
HOW

to do it

One of the challenges, Wargo points out, is making managed services profitable.

Indeed, 52 percent of State of the Industry 2019 survey respondents say their biggest obstacle to moving to more of an as-as-service or managed services model is figuring out how to create the necessary support infrastructure.

"As we move from hardware-based solutions to cloud-based and software-based solutions, it's become increasingly necessary for an integrator to build that in some way, shape or form," Wargo adds.
How AVI-SPL, the largest integrator, does it
AVI-SPL, the AV industry's largest integration firm, is an example of a company that has figured out the managed services model.
CEO John Zettel told CI in 2018 that it's a matter of adapting to what its enterprise customers need. Service, he says, is step two in the process. Step one is delivering consistent solutions across an enterprise platform.
"Then, on day two [it's] serviceability and helping them to manage and drive utilization of their systems."
In that regard, being able to offer customers a service model isn't an option for forward-focused AV companies — it's necessary for serving that enterprise clientele that, according to the 2019 survey results, 92 percent of integration firms serve.
Using these tips to talk to IT
The other component to this — and another drum continually beaten by CI — is the importance of networked AV.
The most influential technology purchasing decision maker within customers' organizations, according to survey respondents, is an IT professional.
AV integrators putting products on a company's network or creating gateways to their networks need to be network-savvy and armed with cybersecurity knowledge.
However, more than half of respondents say their teams are either "marginally" or "not prepared" to discuss cybersecurity with customers.
It's not likely that integration firms will be able to build those long relationships, service or otherwise, with companies — and their IT departments — without that network readiness.
"If you're not strong in networking, it's probably going to fail on the systems you're installing," says Jim Ford of Ford AV, CI's 2018 Integrator of the Year.
However, Wilson maintains that the majority of the AV industry — at least the companies still standing — has done a good job focusing on networked AV and adjusting to selling to IT professionals.
"As a whole, the AV industry has responded well," he says. "Certainly, the manufacturers jumped all over this and their products are very IT-enabled."
State of the AV Industry in 2019
It's accurate and purposeful to point out AV integration industry's profitability challenges that could escalate as the economy changes and project backlogs diminish — but it's also, admittedly, kind of a buzzkill.
Consider the positive growth numbers for the market — nearly two-thirds of surveyed companies saw growth in 2018 and three-quarters of the market forecasts growth for their firms in 2019.
That's complemented by a general state of optimism.
Asked about the overall current business climate, 59 percent of surveyed companies describe it as "very good" or "excellent."
NSCA, which in its Financial Analysis of the AV Industry Report and its quarterly Electronics Systems Outlook papers projects AV integration industry trends, shares the optimism — at least in the short term.
The profitability problems, which may be academic in a healthy 2019 integration market, could hit integration companies hard if the economy turns.
Ask yourself these questions this year:
Do we grow?
Do we stay niche?
Do we look at acquisition?
Do we become a target for acquisition ourselves?
Where do we fit in the security space?
How do we fit into the maturing of the AV industry?
Where are the risks?
Where do we put up blocking maneuvers to keep competition from adjacent industries out of our space?
"The IT industry isn't sitting there, content with just doing the network," Wilson says. "They're looking at AV. They're looking at security. They're looking at digital signage."
In 2019, the AV integration industry can't sit back. If the economy slows or adjacent industries do a full-court press on traditional AV offerings — or both — what happens to companies that choose not to play in the IT environment?
What happens to those that aren't able to offer the ongoing service their customers require? What happens to companies that fail to address profitability problems?
The good news is, like that mid-season football coach, there is time to identify and address deficiencies before crunch-time.
"There's a lot going through my mind right now," Wilson says of the integration market entering 2019, "but overall there's no shortage of opportunity and there won't be until 2021, in my estimation."
Now is the time to work on your companies — not when the season is on the line.