VITEC EZ TV Platform Lets You Build on Existing Video Walls: See How it Works at Their InfoComm 2018 Booth
The VITEC InfoComm 2018 booth offered integrators a look at powerful video wall management products, including the VITEC EZ TV platform and MGW Diamond.
Leave a Comment
The VITEC InfoComm 2018 booth highlighted a video wall solution focused on ease of management and scalability. The VITEC EZ TV platform allows integrators to use one processor to manage 4 different video walls — each of which may include over 50 screens.
Here's a rundown of what the VITEC EZ TV platform offers:
IPTV Portal – an admin interface for configuring IPTV (live TV channels, programming guides, uploading VOD content, managing users etc.)
Browser Player – browser-based IPTV player for playback of all content generated locally or by a third party
Set-Top Boxes/Signage Endpoints – VITEC AES encryption, two 1080p streams decoded simultaneously
Mobile Player – for iOS and Android devices
Sign Creator – design app
IP Monitoring
On the encoding side, VITEC also offered a glimpse at the MGW Diamond, a 4-channel HEVC & H.264 encoder with the abilty to output up to eight streams simultaneously.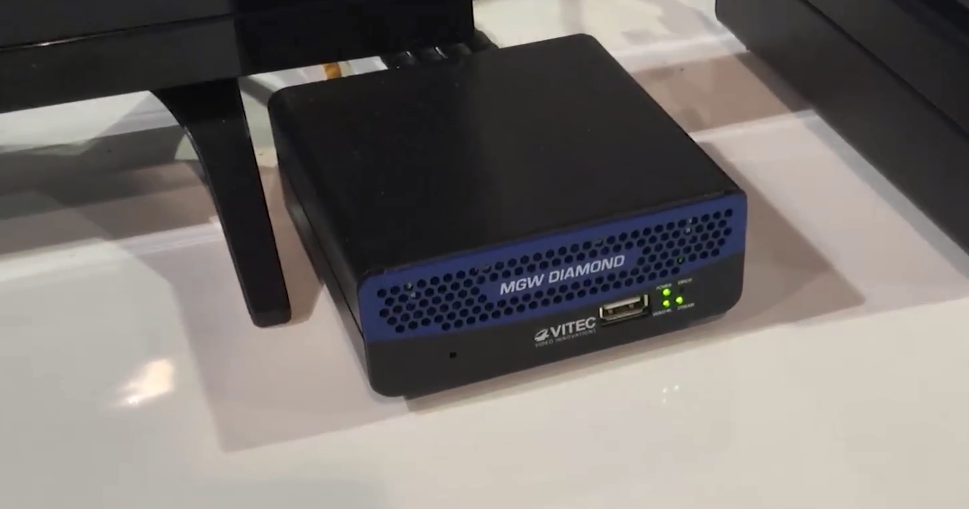 The MGW Diamond offers:
Muti-site/Multi-channel IP Video distribution
HD 1080p60 monitoring and Command and Control of multiple sources
IP Video dissemination
Streaming Intelligence, Surveillance and Reconnaissance (ISR) video feeds from ground and airborne vehicles over RF/satellite
Streaming Situational Awareness and FMV content across LANs and WANs with KLV / STANAG metadata
Streaming video to desktop/laptop, TV and mobile devices
More on VITEC InfoComm 2018 products from Peer Jambor, marketing director:
"We really wanted to make it a platform you can build on; you can expand. In collegiate sports, they might start off smaller, but add on signage and another platform to complete the experience [later].

"We encounter all the time that our main competitor's system for management is very complicated. They have to call support or have someone on-site which is very costly and time consuming.

"That's one of the main advantages we have: it's really an easy management to change signs at venues like the Sacramento Kings where they have over 200 events per year and need to constantly change their setup."