Watch This 'Waterfall' Cascade Down Into Times Square
The public art display is another from Samsung and design firm d'strict that features digital display technology.
Leave a Comment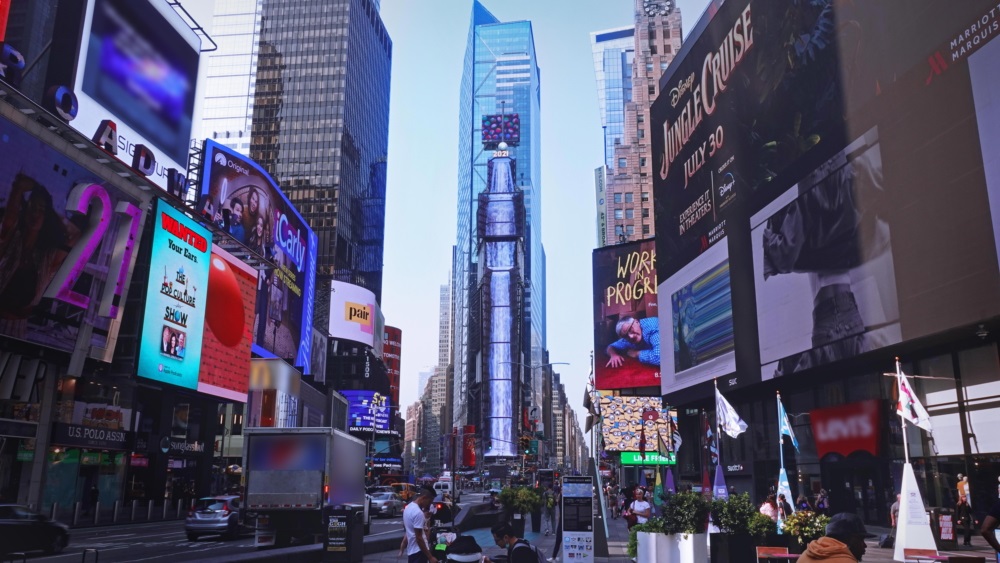 With people out and about once again, we're starting to see some truly immersive AV installations and eye-catching visuals being deployed in the public.
From installations in sports stadiums and building facades, the innovative technology and creativity of the industry is being showcased once again, including a recently unveiled public art display in New York City's Times Square.
Samsung, in partnership with Seoul-based design firm d'strict, unveiled a massive digital art installation featuring waterfall and ocean visuals. The screening went from July 27 to Aug. 2.
"The cascading water takes full advantage of the signage's vertical structure, delivering an immersive and compelling visual experience," a Samsung news release said. "Images are displayed at the industry's highest peak brightness, 9,000 nits, ensuring that the artwork remains vivid even in direct sunlight."
Watch the installation in action:
The installation is truly massive – it's composed of four vertical screens and measures more than 11,600 square feet. The LED displays, however, aren't new.
According to Samsung, the installation was completed at 25-story One Times Square in May 2019 with the help of its subsidiary PRISMVIEW.
Samsung and d'strict last September announced a partnership to showcase the art potential of digital signage, specifically using Samsung's SMART signage platform.
The initiative includes creating cutting edge digital displays and public media projects at global landmarks, like Times Square and the Duomo Cathedral in Milan.
The companies in May 2020 unveiled a giant 3D wave design on Samsung's SMART LED signage and the largest curved screen in Korea on the SMTown COEX building in Seoul's Gangnam district, the city's main business district.
The screen – four times the size of a basketball court with a total surface area of 1620 square meters, took seven months to install in 2017 and 2018. It was the first digital signage display in Korea that utilizes two sides of an outdoor advertisement space. D'strict's 3D wave design appeared on the display in May 2020.
If you enjoyed this article and want to receive more valuable industry content like this, click here to sign up for our digital newsletters!