Soundmasking Expertise is Powering Commercial Acoustics' Growth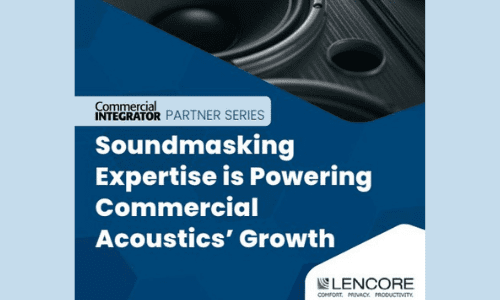 These days, all technology providers are laser focused on creating outstanding client outcomes. That requires various trades to come together: audiovisual systems integration, control systems programming, structured cabling and network management, just to name a few. An equally important, but sometimes overlooked, component of delivering outstanding experiences is ensuring proper acoustics and implementing soundproofing. These considerations are particularly critical in corporate environments, office buildings, houses of worship and hospitality venues.
In this download, we get firsthand perspective from Walker Peek, CEO of Tampa, Fla.-based Commercial Acoustics. Focusing on commercial verticals since 2015, Commercial Acoustics has found the recipe for solid growth, expanding to 25 full-time employees and doubling in size in recent years. This download explains how the firm leverages its own expertise, as well as its powerful alliance with Lencore, to thrive, grow rapidly in tough economic times and please dozens of demanding clients along the way.
Download now!