AMETEK Powervar Announces New Power Center
The new local area power center is engineered to provide Total Site Protection from a single UPS.
Leave a Comment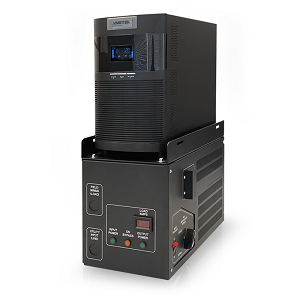 AMETEK Powervar, a supplier of power conditioning and uninterruptible power supplies designed to maximize the performance of mission-critical equipment across multiple industries, announced the launch the new Powervar LAPC PROTM to provide Quick Service Restaurants (QSRs) and Convenience Store customers with single-source power protection for an entire site. The Powervar LAPC PRO features AMETEK Powervar's iSite PRO Network Management Card, which integrates the single-point solution for battery backup and power conditioning with secure monitoring and control capabilities.
The AMETEK Powervar LAPC PRO eliminates the need to spread multiple UPSs and power conditioners throughout a building. A singular breaker enables the seamless attachment of all on-site peripherals, simplifying both site preparation and installation. Robust, site-wide power conditioning and protection from one unit reduces service calls and mitigates disruptive downtime in QSR and Convenience Store environments.
Related: Pro AV Business Opportunities in 2021
Beyond the on-site value of the LAPC PRO, the integrated iSite PRO Network Management Card enables site managers to monitor power sources, load, battery runtime, and battery life from the Power Network Interface.
It also provides alerts via email about potentially disruptive power events including loss of power, low battery/UPS shutdown, over and under voltage, battery replacement, wiring faults, overloading/underloading, and temperatures above safe operation thresholds. Additionally, site managers can take corrective action in the form of programmable outlets and remote reboots, thereby reducing potential downtime and total time to service.
Available in two sizes (2kVA and 3kVA), the AMETEK Powervar LAPC PRO is lightweight and features an easily accessible design for simplified installations. As a site-wide, single-source power solution, the LAPC PRO provides continuous power conditioning to connected peripherals on- and off-line.
Featuring battery backup and power options for critical electronic systems, the AMETEK Powervar LAPC PRO has been designed to safeguard QSR and Convenience Store sites against the detrimental side effects of unconditioned power while keeping these environments — as well as the sensitive electronic systems within — online, even in the event of power loss.
With network security top of mind, the AMETEK Powervar LAPC PRO with iSite PRO Network Management card was engineered with stringent security protocols. It only permits secure access from an authorized networked computer and features a secure, central sign-on with configurable user permissions.
For more information on AMETEK Powervar, please visit www.powervar.com