ELCO™-ADA36: A Refreshing and Innovative Take on ADA Furniture
With its low price, multiple wheelchair accessible features and fast lead time, the ELCO™-ADA36 provides users with the ideal ADA solution.
Content from our Sponsor
Leave a Comment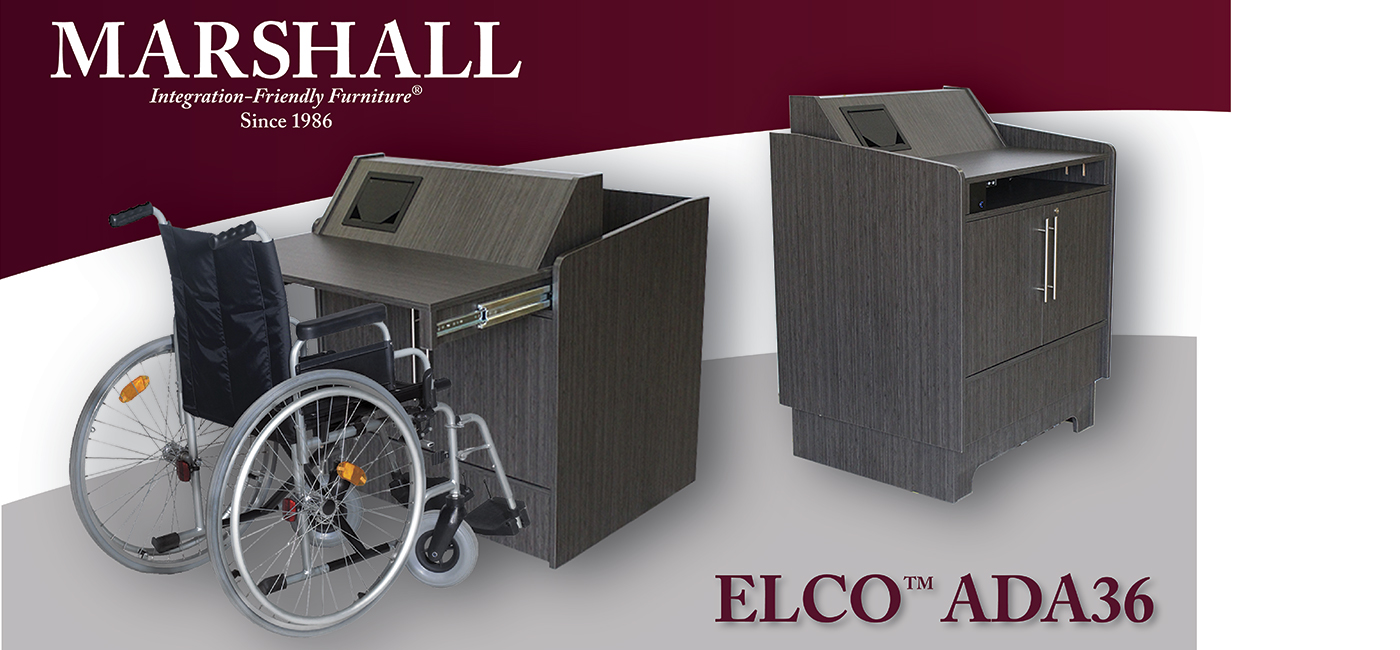 Marshall Furniture's new Quick Ship lectern, the ELCO™-ADA36, incorporates essential elements of ADA wheelchair accessibility. To maintain equal access among both seated and standing presenters, ADA guidelines dictate that proper reach ranges be supported along with adequate knee space. To facilitate this, the ELCO™-ADA36 not only utilizes height adjust but also includes an electronically-controlled pullout work surface to place all items within a seated user's reach.
This unit's lift feature has an 8" range, perfect for meeting ADA wheelchair-accessible work surface criteria and a spectrum of standing heights. The pullout work surface is engaged via the push of a button on the front of the lectern. The speed at which the surface moves can be adjusted to better suit each individual user. Once completely open or closed, the pullout work surface locks into place, meaning that it will not slip back in or out while being used.
Other than its ADA wheelchair accessibility options, the ELCO™-ADA36 also features storage, ventilation, mobility and cable passage. As a standard, this lectern comes with swivel casters, an internal vent for passive air intake, top exhaust vent slots, a floor hole and surface grommet for cable management, presenter locking doors, a locking service panel and an internal adjustable height shelf with storage space.
From there, this product has a variety of popular add-ons to better fit each project's requirements. Rack rails, a top wedge for small component cut outs and a keyboard shelf are just some of the available options to personalize this piece. Users can also add a custom logo to individualize their piece.
What's more, all these product offerings come at a low-cost thanks to this lectern's pre-engineered nature. As a part of the Quick Ship line, the ELCO™-ADA36 has a fast lead time of only 30 days, ideal for projects with a tight timeline that require an ADA wheelchair furniture solution. The ELCO™-ADA36 is available in any of our 13 standard melamine finishes, which include both wood simulations and solid colors. This unit comes fully assembled and has a 10-year warranty.
For more questions or to receive additional information about this product, please contact our sales team to speak with one of our knowledgeable designers.