Draper® Foundation® Mount is the Bedrock for Your Next LED Installation
Precision and ease of installation are key factors for a successful LED video wall installation. The mounting structure plays a vital role in creating the perfect seamless image.
Content from our Sponsor
Leave a Comment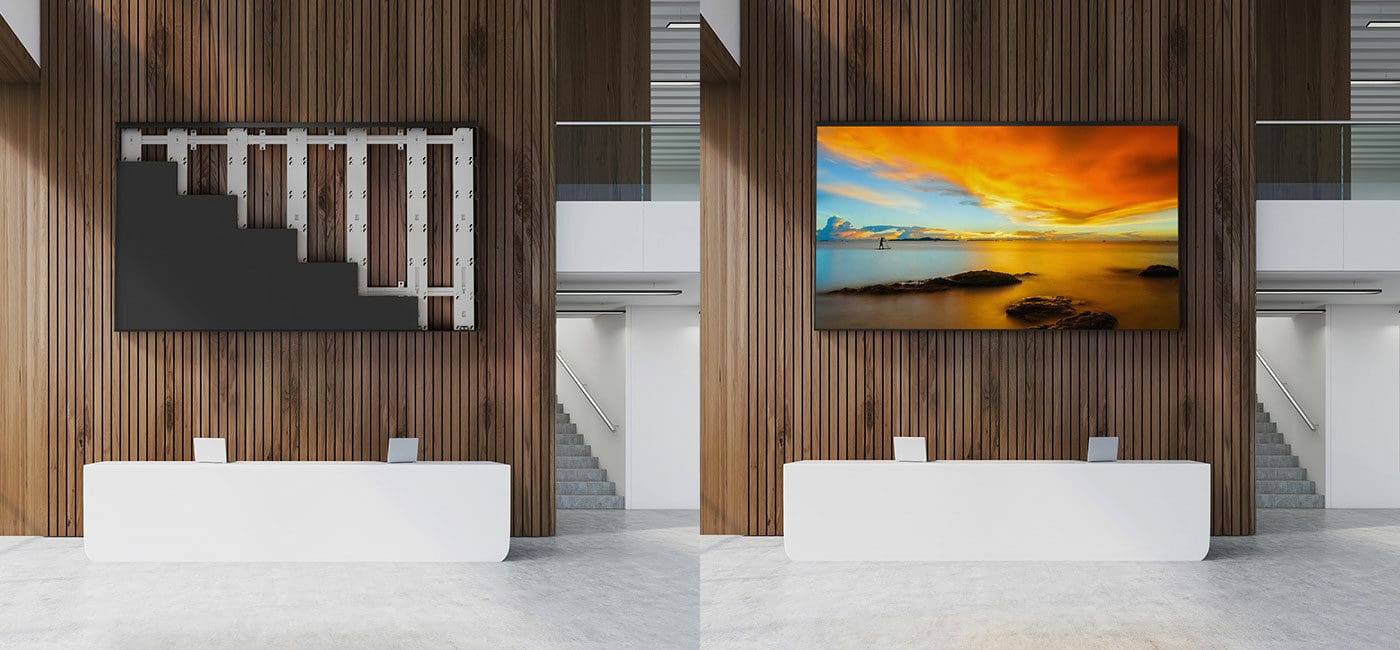 Walls that aren't flat, floors that are uneven, and tight installation deadlines are just a few of the headaches that installers face. That is why Draper® designed and built the Foundation® Mount System for LED with installers specifically in mind.
Combining precision and alignment.

One of the greatest advantages of LED is the ability to create a seamless, immersive experience. To assess a support structure's ability to help create the seamless look, consider precision vs adjustability.
Having a structure with the adjustability to achieve precise alignment is a good start. However, if the structure isn't adjusted properly using exactly the right process, alignment can take a lot of time and still not provide a seamless image.
A high level of precision in design and manufacturing is required of any LED video wall structure. This is especially true when the wall is made up of narrow pixel pitch (NPP) displays. Very tight pixel spacings—2.5 mm and below—create a higher quality image, so tighter tolerances on the structure are imperative.
Take imperfect walls and floors out of the equation.

A mount needs to be able to adjust to absorb inconsistent wall flatness. Walls may look flat but may not be flat enough to accommodate LED. Foundation's extreme depth adjustment capability creates that flat attachment surface.
Floors can also be a problem, which is why Foundation helps quickly get the system plumb and the bottom row of cabinets aligned and level even when dealing with non-flat surfaces.
Foundation is both precise and adjustable.

Draper designed and manufactures Foundation with great precision in its Spiceland, Indiana facility. We are one of the industry's most trusted brands. You can always be confident that Foundation will place the LED panels exactly where they need to be.
The "universal" myth.

There are mounts being sold using the term "universal." However, each LED brand has its own unique mounting pattern and hole location. So while technically a "universal" product SKU can be purchased, the installer may be left with cutting and modifications on-site to adapt the mount to the LED being used.
Foundation takes a different approach. Draper® partners with leading LED manufacturers to develop mounting solutions specific to their products. Draper provides the same structure, but with brand-specific interfaces to attach LED panels to the structure. That means no additional cutting or modifications are needed.
Getting into the building.

Even though LED mounts ship unassembled, it can be difficult to get the various pieces into the building. Larger video walls may not even fit in a service elevator. Foundation is designed to avoid this issue. All components are sized so that even on very large video walls, you'll have no problem getting them into the building.
Foundation is available for all dvLED brands.
Find out more at https://www.draperinc.com/mountsstructures/foundation/
If you enjoyed this article and want to receive more valuable industry content like this, click here to sign up for our digital newsletters!