Metal TV Wall Mounting Made Easy
Let's accept it, mounting a large TV on a steel stud is not a simple task. Kanto's TV wall mount for metal studs will help you make this task a breeze.
Content from our Sponsor
Leave a Comment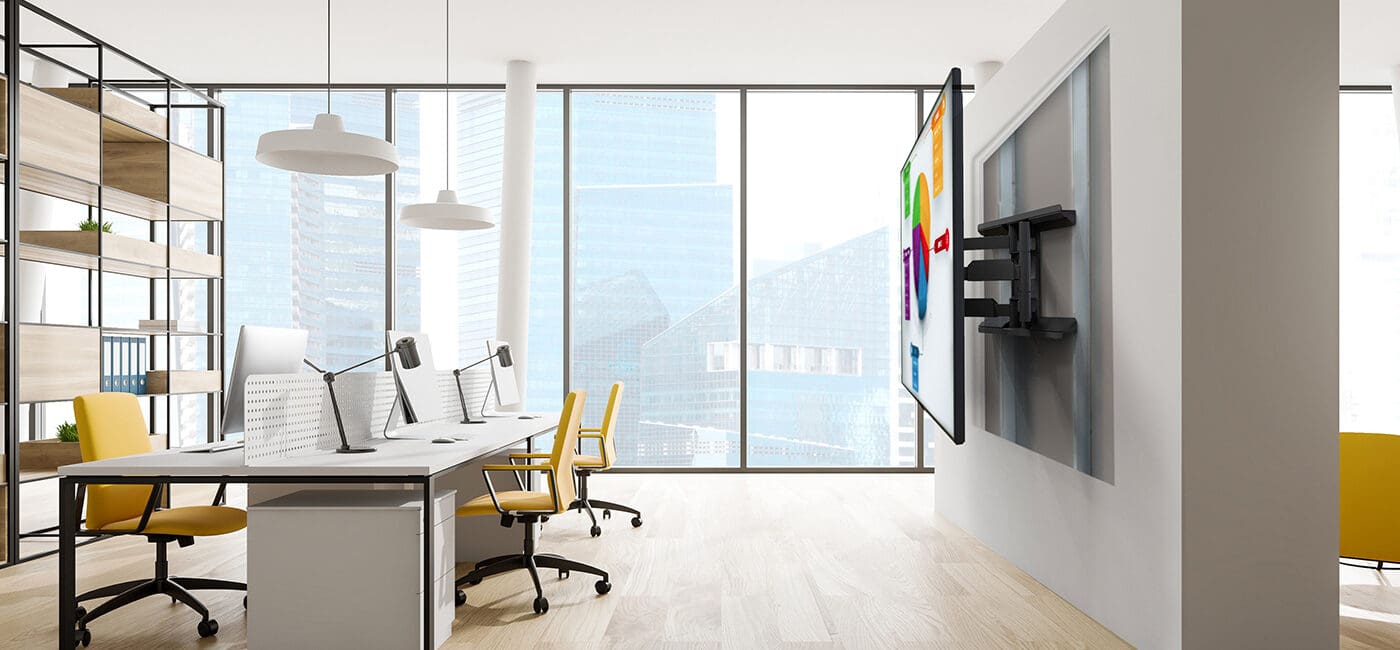 The LX600SW wall mount ensures a hassle-free and secure installation for TVs weighing up to 100 pounds into metal studs with the included toggle bolts. Its dual articulating arms extend 17 inches to pan and swivel your TV for angled viewing and sit 2.2 inches from the wall when fully retracted.
Many real estate developments are opting for mixed-use residential, office, and retail buildings. These spaces empower people to live, work, and play in the same dwelling. Most of these buildings have steel studs for fire safety. Tackle AV installations in these locations with confidence: the LX600SW Full-Motion Steel Stud TV Mount is UL-rated and includes four SNAPTOGGLE® Heavy-Duty Toggle Bolts ensuring peace of mind when mounting your TV into metal studs.
How does LX600SW make it easy to mount a TV into metal studs? Click to learn more about Kanto's LX600SW Full-Motion Steel Stud TV Mount and its benefits for custom AV integration projects.
What is the advantage of Kanto's LX600SW as a solution for mounting to metal studs?
All hardware needed for installation is included. Kanto LX600SW is UL-rated, and provides you with a steel stud TV mounting kit that includes a labeled hardware bag with all the SNAPTOGGLE® Heavy-Duty Toggle Bolts, hardware, washers, and spacers you need to safely mount your TV into metal studs. Save time purchasing separate hardware and focus on moving on to the next project!
How does Kanto's Metal TV Wall Mount give you a head start in your AV installation?
Kanto has designed a full-motion TV mount that covers all the bases for a successful installation: safety, simplicity, professional look, and sleek performance.
Enhanced Appearance: Cable management clips are provided to conveniently route your cables, while plastic wall plate covers hide any sign of installation.
Improved Viewing: Heavy-duty articulating arms on this full motion wall mount for 65-inch TVs allow you to swivel your TV 45° in either direction and tilt it -3° to +15° to achieve the best viewing angle.
Low-Profile Design: The low-profile design of the Kanto LX600SW full motion wall mount for metal studs allows your TV to sit 2.2" from the wall when fully retracted.
SNAPTOGGLE® Bolts Provided: LX600SW comes with 4 SNAPTOGGLE® heavy-duty toggle bolts to ensure a safe and secure install into metal studs.
Five-Year Warranty: The LX600SW Steel Stud TV Mount inspires confidence with its UL rating. Know you are covered for years to come.
Click to learn more about how to install a TV Mount into Metal Studs