SurgeX Gets Serious about Connectivity, Mobile, Data
This year at InfoComm, SurgeX is focused on bringing connectivity, mobility, diagnostics, and new features galore to AV integrators.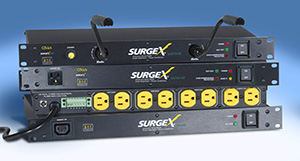 SurgeX is no newcomer to InfoComm, but this year it's aiming to shake things up.
On the scene since 1995, the power conditioning and surge elimination manufacturer introduced its first energy intelligent product at the InfoComm show four years ago.
Now, you can find SurgeX products in Yankee Stadium, Carnegie Hall, the newly renovated San Diego airport, even in the space station that manages the Hubble telescope. And space with high-powered equipment has a need for surge protection.
But recently SurgeX has struggled with how to improve its products but remain true to its core technology. The company also struggles with how to bring awareness to everything it can do.
"It's like Excel," SurgeX President Shannon Townley says, drawing an analogy to the Microsoft computer program. "You use maybe 20 features. But that's only 15 percent, maybe 20 percent of the product's capability. We are trying to educate the marketplace on everything we can do."
So what can they do? Over the last few years, the company has focused on technology from the "other side" of the business, with attention to value for the AV integrator. These are some of the products and solutions you can expect to see from SurgeX at InfoComm. For example, connectivity.
"There is an expectation from the marketplace that everything built into a rack will have some level of connectivity," Townley explains. "We've focused on this trend and transition of all products becoming connected."
Another trend, mobility, plays into this. Requirements of the integrator today include the possibility to go mobile—the ability to access a network or system from a remote location. The days of the truck roll may be history as newer technology makes remote management not only possible, but easier.
SurgeX is introducing new global smart energy management apps, both for desktop and mobile, at InfoComm this year. Called Axess Manager and Axess Manager Mobile, these apps let users monitor power conditions and control power functions of multiple installations from a single, remote location. Now you can use your mobile phone to see a directory of jobs and drill down to specific racks of products at all levels of management.
Another recent focus of Townley and the team has been the amount of data SurgeX provides to integrators about their power. Having access to, and truly understanding, the diagnostics can greatly effect your business. To this end, SurgeX introduces the enVision (also to be at InfoComm).
The ESP (Electronic Systems Protection) enVision is an energy intelligence solution, a power conditioning system that measures and records power conditions, presenting data in real-time and ordered records. This small device provides immediate and long-term energy health diagnoses for IT, digital signage, AV, office, even medical spaces.
"It is different core surge technology, but it really creates the ability to get integrated reporting on the different equipment within a space," adds Townley. "In this way, we are able to create value for the integrator on saving their customer money. You can certainly create an ROI argument for using this product over time."
Other products featured at the SurgeX InfoCoom booth ( (#C8725) this year are focused on different segments of the marketplace, like digital signage. As displays get more complex, they require power in different ways, and SurgeX says it has solutions for all different types of displays. For example, when installing a large-scale display, you don't want a power protection unit that has to be bound to it. SurgeX boasts commitment to creating smart energy products that work with these types of new technologies; they protect them and also remain out of the way.
Besides expanding across different segments of the market, SurgeX has expanded across the globe. The company's final focus in recent months has been consistency, particularly between parts of the world. In April 2014, the company finalized the acquiring of SurgeX International.
"We aim to set up a global footprint of distributors," says Townley. "And now this is all possible because of the Axess Elite. We went to our development team and said, 'Guys, we have to have a complimentary international product. We want to have consistency across the globe.' The Elite completes the circle."
SurgeX will have the only surge demonstration at the InfoComm show at their booth (#C8725). The company will also be hosting a reception at the Las Vegas High Roller, a 550 foot ferris wheel, with Cambridge Sound Management at 8:30 PM on June 17th.