This Museum Project Proves How Important Signage is to Museums Right Now
Museum officials say their recent tech makeover has enabled greater flexibility to manage and schedule content.
Leave a Comment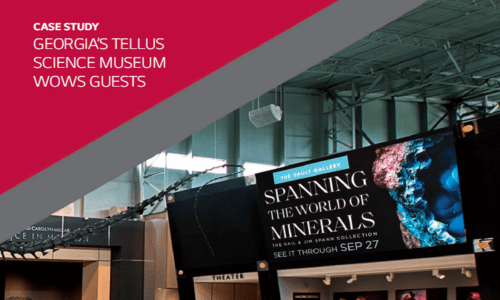 Museum spaces are beginning to reopen, and they need a little flash to attract visitors. Some of that comes in the form of LED video walls and other digital display technologies.
For the museum technology integration vertical, these visual systems will become critically important in 2021.
Though museums tend to be frequented attractions in many cities, visitors will need extra incentive to safely return when they already have access to 4K, QLED, and tons of streaming services.
Check out a recent example at the Tellus Science Museum in Georgia. They went with LG Business Solutions to install a massive video wall at the center of the facility for school-age visitors.
This new download "Georgia's Tellus Science Museum Wows Guests" walks you through how LG worked with a local integration firm to install eye-catching, vibrant webOS-based digital displays. Download this resource to learn about:
How LG and partners helped upgrade the museum's digital technology
Strategies for planning and managing content
Tips for creating lost-cost digital display solutions with high impact
Download your copy today to learn about this project and how you can bring immersive digital display technologies to your museum clients.