Avocor WorkSpace Intelligence Leverages Integrated Display Sensors
Avocor Aquarius WorkSpace Intelligence solution leverages provides a cost-effective way to gather meeting room data analytics, company says.
Leave a Comment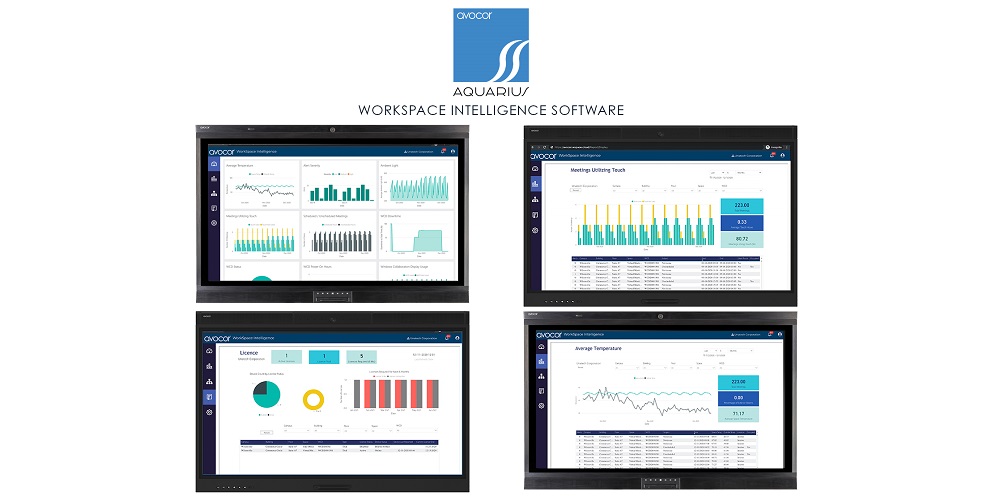 The new Avocor Aquarius WorkSpace Intelligence software is a turnkey, subscription-based service that works with the company's Windows collaboration display and the AVW-5555 interactive display, according to the company.
Avocor Aquarius provides real-time business intelligence of meeting spaces usage and environmental data, such as presence detection, attendee impact on room temperature, humidity, and light conditions.
This data all contributes to meeting room well-being and can be leveraged by enterprise IT and facility management to make critical decisions about current space management, find real-time cost savings in heating and cooling, and future hardware and software purchases.
Aquarius WorkSpace Intelligence does not require extensive sensor deployment, custom development, or service contracts.
Instead, Avocor Aquarius is a subscription-based service that automatically pulls data from an Avocor W-Series display, which features integrated Azure IoT sensors, and creates a real-time dashboard with information that will support data-driven decision-making, according to the company.
Avocor Aquarius software provides intelligence for more than 30 room and product elements, including the number of meetings and attendees, to average temperature change during a meeting, to W-series display power usage and unit status.
"Commercial real estate and office space is a premium, from the basic cost per-square-foot to the amount it costs to manage those spaces. And now, with the rise of remote and hybrid teams, companies are looking to invest in the most prudent tools that enable communication and collaboration from anywhere and CEO's, CTO's and CFO's are looking for data to support their return-to-work plan," said Scott Hix, CEO, Avocor.
"By adding built-in support for WorkSpace Intelligence to Avocor's W-Series display portfolio, we're making it easy for management teams to access valuable intelligence about meeting room utilization and make data-driven decisions to support their company's return to work strategy."
WorkSpace Intelligence is now available for all Avocor W-Series displays for $39 per month and $399 per year. Learn more here.
Additional business data resources for integrators:
Do your clients know when their meeting rooms are being used? Do they know how many people are in them when they are used? Do they know which systems in the meeting rooms they're using? This information could prove invaluable to your clients.
Many technology managers today use room utilization analytics to decide how to set up an expanded office or restructure an existing office.
As a technology integrator, giving clients access to this information can be the difference between winning or losing a bid. Here's some further reading:
If you enjoyed this article and want to receive more valuable industry content like this, click here to sign up for our digital newsletters!