Ayrton MagicBlade LEDs Give New Life to Maroon 5 Performance
Lighting up Maroon5's New Year Eve shows at the Mandalay Bay Hotel in Las Vegas was a large array of Ayrton MagicBlade LEDs.
Leave a Comment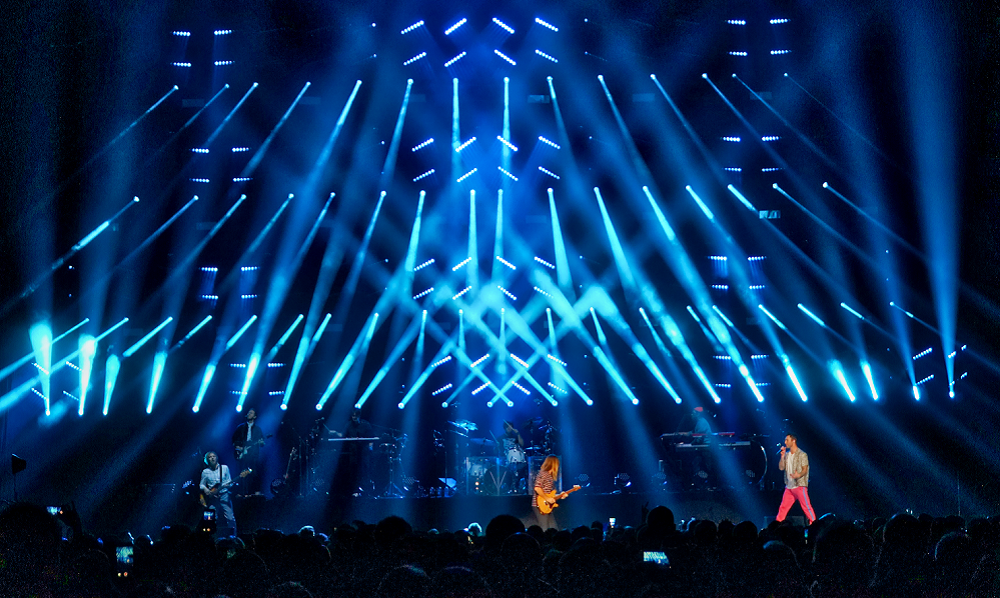 Ayrton MagicBlade LEDs lit up the pop band Maroon 5 during a their performance at Mandalay Bay Hotel in Las Vegas for New Year's Eve.
Brian Jenkins of Flicker Designs designed and programmed the band's lighting. Supporting his lighting design he selected a large array of Aytron MagicBlade LEDs.
"It's a push to come up with something new and creative when you have programmed the same songs off and on for a few years. How do I give new life and feeling to this song?" comments Jenkins.
"The MagicBlades provided the anchor for the rig, although it was fun to keep them dormant for the first five or six songs, then have them come alive slowly throughout the rest of the set.
"I leaned on them to provide a base look for the rig, to give it a foundation for the songs and later on all the fun pixel-dancing tricks that we all know and program. I didn't plan to use them for a truss toner, but for one song it actually worked out well."
Maroon 5 Lighting Features Nearly 200 Ayrton MagicBlade LEDs
Jenkins' design placed 176 MagicBlades on horizontal trusses. Jenkins also specified two grandMA2 full-size consoles and five NPUs for lighting control.
"I didn't necessarily need the MagicBlades for their infinite pan/tilt—although that came in handy in a few tasteful moments—but for linear looks and to work well in large numbers in close proximity. I wanted a linear product that could accent the width and height of the lighting rig.
Read Next: Electronic Duo ODESZA Deploys Unique L-Acoustics L-ISA Live System
"With the direction I was envisioning I figured the MagicBlades would set nicely in between the rows of trusses," notes Jenkins.
"As most programmers would say the flexibility of the grandMA's layout views makes life a little easier when dealing with multi-instance fixtures."