Zytronic's Custom-Touch Technology Enables a Fun New Facet to Socializing
Litemax interactive circular 33-inch display is a resized LCD for use in bar tables installed in cafes and restaurants.
Leave a Comment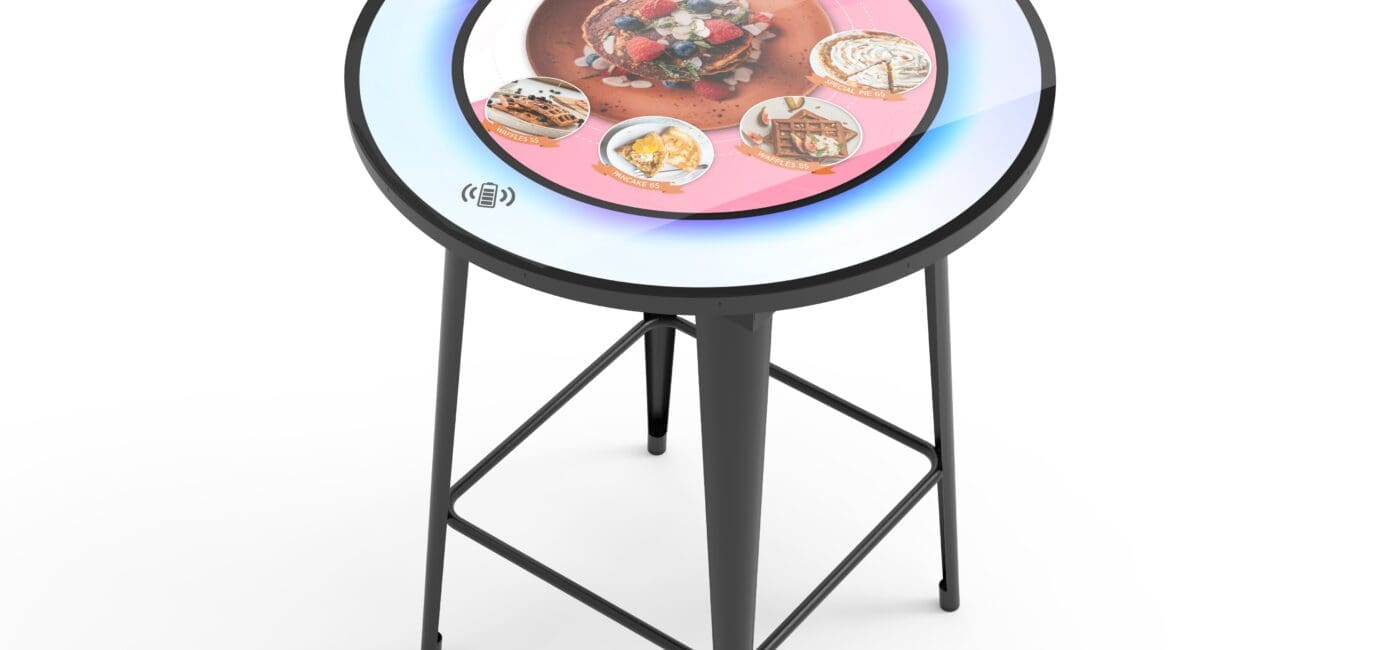 The fast-moving hospitality industry is always looking for novel ways to differentiate their brands while increasing ROI and loyalty based on enhanced customer experiences.
Litemax's latest interactive circular 33-inch display is a resized LCD ideal for use in bar tables installed in cafes and restaurants.
It integrates a custom-made Zytronic multitouch projected capacitive technology (MPCT) sensor, combined with object recognition capability built into the associated Zytronic ZXY500 multitouch controller's firmware.
The interactive surface is a specially designed, round ZyBrid multitouch sensor capable of detecting up to 100 simultaneous touches. Manufactured in Zytronic's facilities, it features a printed border and machine polished edges for aesthetics and safety.
Related: Zytronic Multitouch Sensors Help Gizmo Bar Deliver Premium Lounge Experience
Litemax mounts this on top of a 32-inch LCD panel that they have resized to a round shape. Together, the two elements create a practical, all-glass-fronted design, free of bezels or frames.
The durability of the touch sensor's 4mm thick thermally toughened, anti-glare glass protects the underlying display making the solution ideal for public use and self-service deployments, such as in the hospitality and leisure sectors.
The Zytronic touch sensor offers resistance with a responsive touch performance, which is unaffected by scratches, liquid spillages and harsh cleaning chemicals.
More About Litemax and Zytronic Touch Sensor
Litemax has integrated an LED 'halo' around the display's perimeter with two convenient induction phone charging pads concealed underneath. The pads operate through the halo and overlaying touch sensor glass, adding functionality for patrons seated around the table.
Litemax has also integrated an Intel smart display module (SDM). The credit card sized computer plugs directly into the display to deliver all the WIFI communication as an all-in-one turnkey solution.
The module gives local operators the freedom to tailor the display's software to, for example, reduce the waiter's workload or deliver promotions that increase sales and customer engagement.
"The bar table is the next generation of bar or restaurant artificial IoT (AIoT) engagement and can be used for guests to play games and the like or, even, interact with other tables to buy a round of drinks," said Litemax president David King.
"The lighting halo can be programmed to the venue's music to create a lively atmosphere or set to a romantic mood or brand color," he said.
When combined with the round 33-inch multitouch ZyBrid sensor, Zytronic's object recognition technology provides an enhanced way of engaging with users. Physical conductive 'markers' can be applied to the base of a limitless range of objects.
When installed with the ZXY500 touch controller using Zytronic's proprietary firmware, it enables restaurant and bar owners to deliver additional tailored content to customers seated around the table.
"In a chic bar or winery, for example, a marker can be attached to a specific glass or bottle, enabling the user to engage with their chosen wine – perhaps find out more information about its aroma and taste or vintage," said King.
"This application would also work well in specialist whiskey or gin bars. Conversely, in a quick-service restaurant, object recognition can enable users to engage with interactive menus or discover new special offers," he said.
A key advantage of the Zytronic projected capacitive (PCAP) solution in touch table systems is that although the sensor continues to respond to multitouch events from fingers or conductive styli, any inanimate objects placed on the surface without the necessary conductive markers at the bottom are ignored.
Furthermore, the sophisticated 'palm rejection' algorithms within the ZXY500 touch controller's firmware minimize the risk of accidental or 'false' touches created by a guest leaning across or resting an arm on the table.
"Zytronic's ZyBrid sensor technology gives a rapid touch response and excellent touch accuracy," said King. "The integrated object recognition technology allows our customers to deliver a new dimension to their brand identity for a unique user experience."