COVID-19 Is Forcing Education to Online Learning. AV Integrators Can Help.
Colleges and universities are keeping students off campus and moving classes to online models due to the coronavirus. AV integrators can help.
Leave a Comment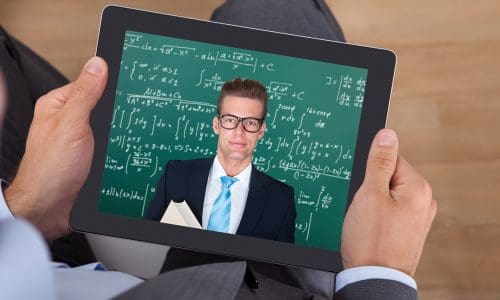 In case you've been living under a rock, some of the country's most prestigious higher education institutions are telling students to not return to campus after spring break. This, of course, is because of COVID-19, the novel coronavirus that is now spreading in the U.S.
The list of colleges and universities asking students, faculty and staff to attend and hold classes virtually to avoid spreading the virus is growing.
According to Inside Higher Ed, that list of institutions rolling out online instruction in place of physical classes — to varying degrees — includes Harvard University, Massachusetts Institute of Technology, Cornell University, Duke University, California State University, University of California, Los Angeles, Stanford University, John Hopkins University, Syracuse University, Rutgers University, Smith College, Bucknell University, Colorado College and many others.
To do remote teaching and virtual classes, those institutions will need the help of AV integrator to design and install audio and videoconferencing technologies so traditional classroom educators and students don't miss a beat.
While we aren't completely sure of it, at least some of those renowned institutions are probably more well equipped to handle this transition than others.
The response of those educators has been different. Some have told students to stay home for the remainder of the spring semester, some are instituting virtual classes for just a given time period and some have suggested a transition to virtual classes.
Many K-12 schools in Asia and Europe — areas more affected by the virus — have also closed temporarily. As the virus now spreads in the U.S., the same thing is happening here in pockets of the country. For most public schools, that could mean a lot of lost instruction time.
Read Next: Like Videoconferencing Service Providers, AV Integrators Can Help Organizations Impacted By Coronavirus
The virtual learning market
While COVID-19 certainly is forcing educators to look at virtual classroom technology, they should already be looking at it. Remote working and videoconferencing tools for the enterprise market get all of the buzz, but learning is increasingly becoming a conferencing tech market.
According to the Brookings Institution, enrollment in online courses in the U.S. has more than quadrupled in the last 15 years.
Now, a third of all students take at least one online course, according to a January 2019 report from the U.S. Department of Education.
Officials aren't quite certain when the virus will be under control, so there's no telling when this rush to online classes, travel restrictions and large-scale event cancellations will end.
However, it's a good idea to market your higher education offerings now to help those colleges and universities that weren't technologically prepared for the transition to virtual teaching for the future.
If you enjoyed this article and want to receive more valuable industry content like this, click here to sign up for our digital newsletters!