Curved LED Display Helps UNLV Communicate with Students Amid Vegas Distractions
NanoLumens AWARE software platform anchors a curved LED display with a content messaging system in UNLV hospitality building.
Leave a Comment
When you're trying to attract the attention of college students with content on a display screen in a city overflowing with video screens like Las Vegas, you better have a solid plan—and an even more solid LED display.
The University of Nevada Las Vegas faced exactly this challenge with a recent on-campus LED display installation in the school's main lobby, dubbed Hospitality Hall.
UNLV's classroom technology team also had to deal with installing this display in a tricky corner location in Hospitality Hall.
"We needed a concave curved LED display solution, as the spot we were given to work with was in a corner and…we wanted to do something a bit different that would really stand out," said UNLV A/V systems specialist Frank Alaimo.
Shane Snell of National Technology Associates was tasked with performing this install and knew the 2.5mm NanoLumens curved LED display would be the perfect solution.
NanoLumens will custom-match other products to work with their displays, a bonus in this type on job, says Snell. There's also a custom made-to-match soundbar across the top of the wall made by James Loudspeaker.
NanoLumens fabricated the mounting points for the soundbar and they lined it up with the speaker enclosure.
"It made for a nice integrated look," says Snell. "It would be hard to tell that two different manufacturers actually took part in this build."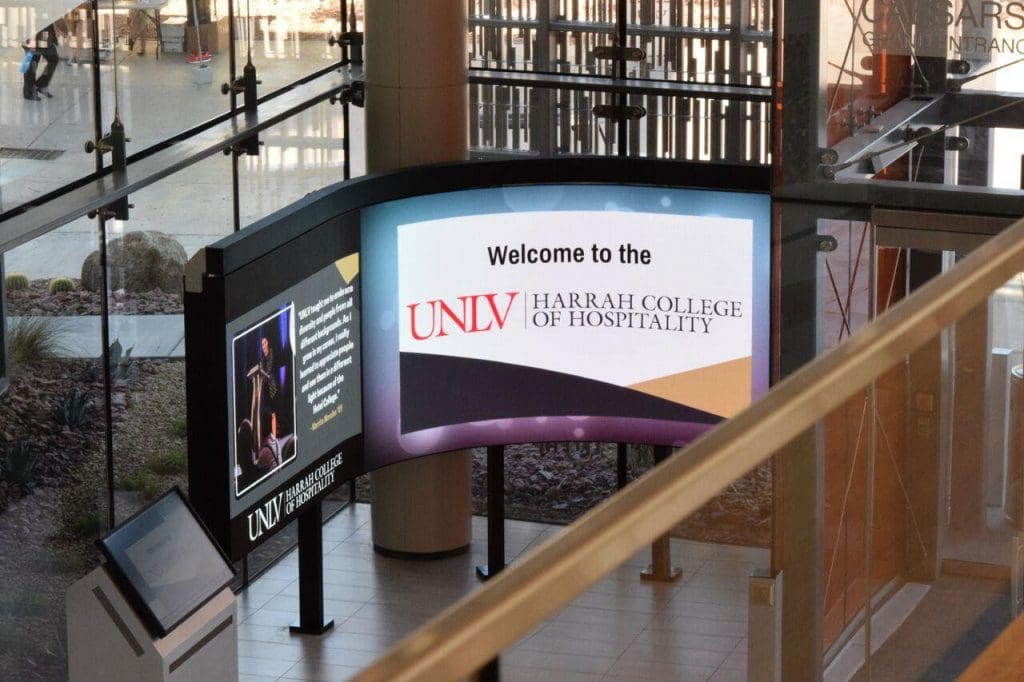 UNLV Hospitality Hall Adds Vegas Glitz
Trevor Brown, assistant director of technology operations at UNLV Hospitality College, runs promotional videos for the university, playing on two-thirds of the display along with a slideshow of testimonials from alumni on the other third. Brown uses the NanoLumens AWARE platform software to update and push content to the display.
The content runs about 12 hours a day and AWARE combines UNLV's diagnostics and support functions with the ability to choose a variety of apps, services, and content sources.
NanoLumens also provides training to the end users on the operation of the curved display as well as the uploading of content, said Brown. The plan is to include more entertainment/news content such as various UNLV game highlights and additional school-related activities.
"The finished product looks great. Lots of people stop to watch the presentations," says Snell. "It seems to be getting a lot of attention from visitors."
The NanoLumens team was also excited to be able to help UNLV.
"Las Vegas is a city renowned for offering the world an extraordinary range of gaming and entertainment experiences that depend upon LED displays to stand out," said Dave Merlino, NanoLumens VP of sales for U.S. West.
"The city is equally renowned for being the home of a world-class university that understands the importance of standing out in a city of dazzling displays. We're thrilled to have been able to create a stunning visualization solution, custom formed to meet the requirements of the space."