Troxell Assists Va. School District's Much-Needed Interactive Displays Upgrade
Portsmouth Public Schools had a litany of issues with aging projectors — and solved them with a Troxell deployment of 675 BenQ 4K 70-inch displays.
Leave a Comment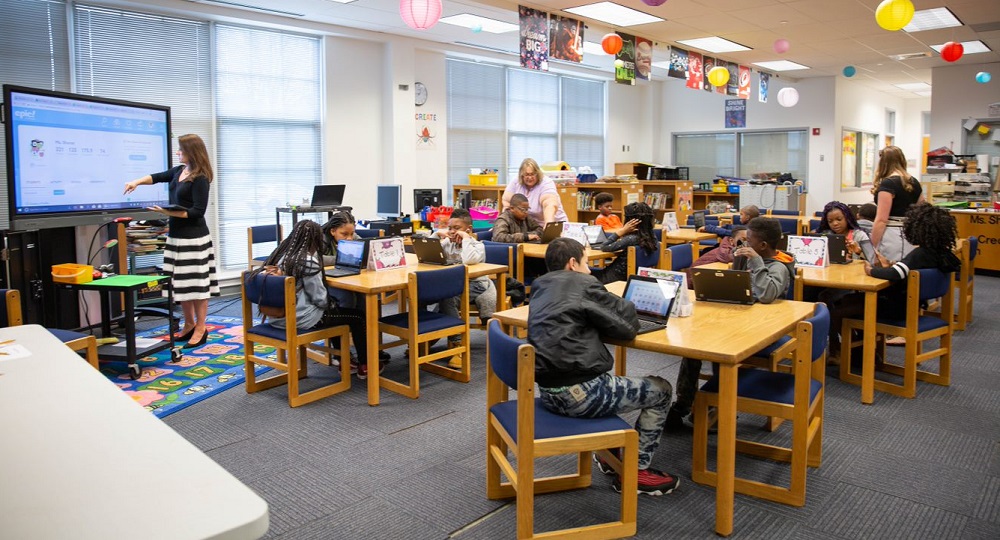 Projectors have their place and, even as the cost of interactive flat panels drops, some applications seem to rely on projection. That argument, however, probably won't land well with Portsmouth (Va.) Public Schools, which suffered through a litany of challenges related to the aging, lamp-based projectors deployed across the district's classrooms.
Maintenance Cost: One problem with lamp-based projectors is that it costs a lot of money, especially when multiplied across a K-12 school district.
Maintenance Inconvenience: Downtime may be a good thing during the weekends, but not for teachers in a classroom, and whenever the projector lamps had to be replaced it meant that the valuable teaching technology was out of commission.
Annoying Upkeep: The projectors needed to be calibrated every now and again, which led to more technology downtime.
Boot-Up Time: Teachers were increasingly frustrated with the long time it takes for the lamp-based projectors to turn on. Timing is everything when running a classroom.
Noisiness: Again, teachers have enough noise to deal with without adding loud fans into the mix.
Cumbersome Tools: The interactive pens that were used to interact with the projection screens in Portsmouth were glitchy, expensive to replace and limited to one user at a time.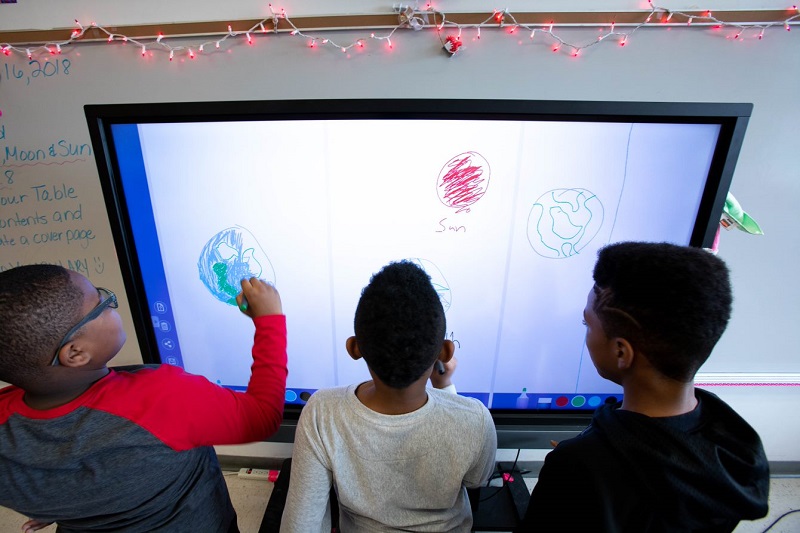 Adding up all these challenges pointed to a clear answer — it was time for a change in interactive display technology.
Portsmouth Public Schools, realizing that interactive flat panels were becoming a more affordable option, started to do research, led by Dean Schlaepfer, director of IT, and Jennifer Thomas, the district's supervisor of instructional technology.
They focused, in part, on learning what types of solutions were used by neighboring districts. They also leaned on K-12 technology solutions provider Troxell with whom the district had worked on previous projects.
Troxell assisted in the design and specified a subcontractor on the project.
The Troxell Solution
Portsmouth Public Schools ended up deploying 675 BenQ RP704 70-inch 4K displays across the district, targeting classrooms with older projectors.
Each interactive display was integrated with a Lenovo Tiny desktop on the back of the panel to provide teachers with a seamless and rich interactive experience that opened additional learning opportunities.
In the elementary schools, the panels were mounted onto vertical lifts for reach adjustability in the elementary schools and standard carts. The installation was completed within six weeks during the school's summer break session.
The biggest hurdle was hardwiring the Lenovo Tiny devices, which required accessible network inputs at every panel.
A nice feature of the BenQ RP704is BenQ's ClassroomCare Solution with safeguard against germs and protection for eyes against damaging onslaught of blue light emissions and flicker that may cause adverse health effects.
The interactive display features tempered glass that is covered with a bacteria-resistant coating to help reduce the spread of germs.
Its TUV-certified Low Blue Light and ZeroFlicker backlight technologies help reduce eye fatigue during long hours of content viewing and instruction as well as anti-glare glass to minimize light reflections and improve readability.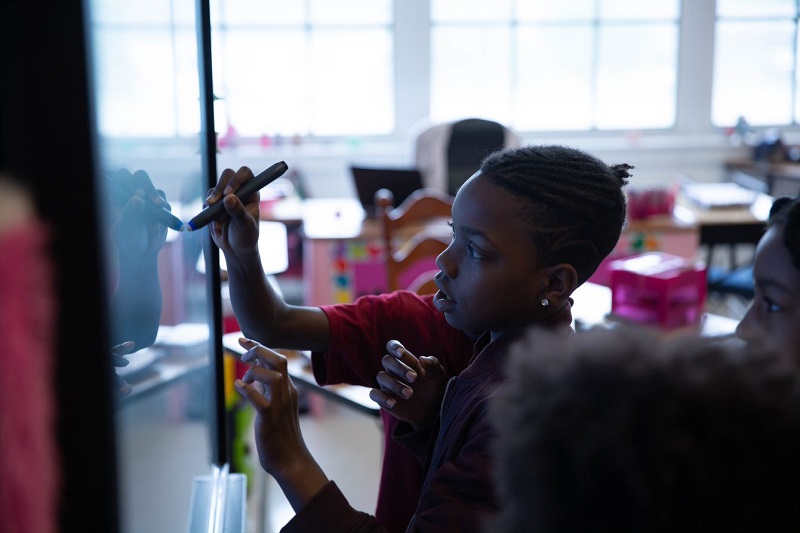 Meanwhile, the interactive displays come equipped with a built-in Android operating system that's packed with a suite of apps and educational games for classroom instruction. It can also be easily connected to a standalone PC or laptop.
The Impact
Teachers reported the positive impact of the BenQ interactive displays versus the lamp-based projectors right away. They were able to turn on the screen and start teaching immediately and without connecting their laptop or waiting for the projector to boot up.
Students work together at the screen simultaneously without a pen and without casting shadows on the screen, which had been a source of frustration in the classrooms.
The panels have also been instrumental for expanding the district's Google Classroom opportunities.
The high school art program is using the panels to bring unexpected life to sketches and drawings.
Another benefit is being able to more fully accommodate students with visual impairments. "In the past, students with special visual needs had to take state-required tests on a large, printed booklet and then wait to get their results back," says Thomas.
Read Next: Sandy Hook Mother Michele Gay Implores Technology Professionals to Help Make Schools Safe
"With BenQ panels, everything is large enough for them to see and they can even zoom in as needed. We saw their faces light up with excitement this year. That kind of engagement helps all children achieve success."
Troxell Equipment Highlights
BenQ RP704 70-inch 4K Displays
Lenovo Tiny Desktops
Google Classroom
If you enjoyed this article and want to receive more valuable industry content like this, click here to sign up for our digital newsletters!