University of Waterloo Combines Creativity with Tech to Solve Business Issues
Stratford School takes students out of comfort zones to help them think in new ways and solve problems with people they wouldn't otherwise meet.
Leave a Comment
We're always on the lookout for the brightest young talent—and the efforts people in the AV integration world are making to find it.
Little did I know I'd have to go north of the U.S. border to find one of the most innovative programs out there to make the wonderful world of technology a little more approachable for today's young people.
During my visit to Christie's worldwide headquarters in Ontario this week, I heard a dynamic presentation by Christine McWebb, director and professor at the University of Waterloo's Stratford School of Interaction Design and Business about a program that's mushrooming seemingly by the day.
The initiative launched a few years ago with only 16 students pursuing degrees in Global Business and Digital Arts (GBDA) and the Master of Digital Experience Innovation (MDEI) and has grown to more than 800 students from diverse backgrounds and upbringings.
That diversity is what's helping the program to thrive, says McWebb.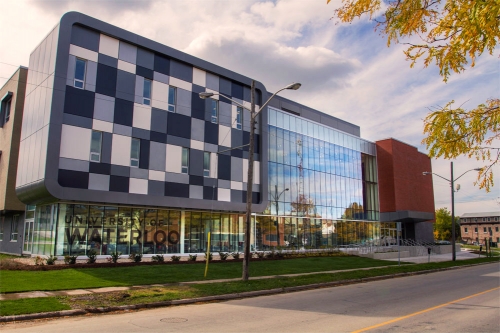 Inside Stratford School Strategy
"When you put people together who don't speak the same 'language,' creativity goes up," she says, dubbing it "collaboration by difference."
McWebb pairs prospective engineers with arts majors and others whose career paths are likely to take them to different places with impressive results.
This interdisciplinary education method brings in multiple perspectives to solve complex issues.
"What we see is what we know," says McWebb. "We won't see what we're not used to. I don't think it's possible to teach creativity, but it is possible to create an environment where creativity can grow."
Among the award-winning initiatives launched by students of the Stratford School program are an app that pairs long-haul truckers with someone who'll shop for their groceries so they can eat healthier while on the road and an effort that creates plastic from seaweed.
These kinds of creative solutions are in plain sight all around us—if you just learn how to have attention blindness by working with someone whose perspective is entirely different. Aren't these exactly the kind of innovative minds you want working for you?
If you enjoyed this article and want to receive more valuable industry content like this, click here to sign up for our digital newsletters!