Almo Pro A/V, MuxLab Announce Partnership For Live Events, Production Streaming Tech
Almo Pro A/V partners with connectivity, distribution manufacturer MuxLab to provide integrators and resellers with live streaming tech.
Leave a Comment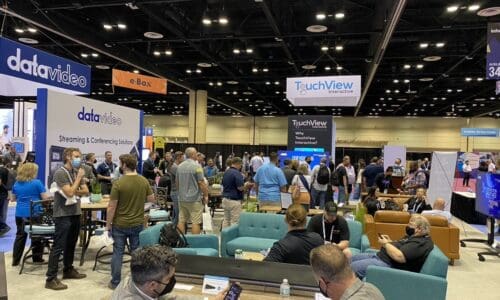 Audiovisual distributor Almo Pro A/V has announced a new partnership with connectivity and distribution manufacturer MuxLab to provide integrators and resellers with a range of equipment for live events and productions.
The partnership comes as the live events industry eyes a rebound with the COVID-19 pandemic showing signs of declining as vaccination rises.
However, the makeshift virtual events that became popular during the pandemic are not going away, and MuxLab hopes to capitalize on that with its products available through Almo Pro A/V.
Some MuxLab products available through the distributor include:
Multi-Camera Streaming Solution. According to the announcement, this package includes the main components needed to broadcast live content to mass recipients spread out across the globe. Allows live presentations to effectively be streamed over the Internet at up to 4K and works with streaming services including YouTube, Facebook and Wowza to name a few. Also works with popular AV content production software tools such as OBS, Wirecast and others.
HDMI 2.0 Extender Kit. Allows HDMI equipment supporting uncompressed video up to 4K/60 resolutions to be connected over Cat6a/7 unshielded twisted pair cable in a point-to-point configuration, the companies say.
3G-SDI/ST21110 over IP Uncompressed Gateway Converter. Allows HD-SDI and 3G-SDI equipment to be extended up to 100 feet in a point-to-point configuration, per the press release.
In a statement, Almo Professional A/V Vice President of Business Development and Strategy Rob Ziv said live streaming remains critical to the live events industry.
"This distribution alignment expands Almo's ability to provide accessible broadcast-quality products at various price points that are suitable for a wide range of markets," Ziv said. "Muxlab's expertise and capabilities with ST-2110 support Almo partners in the production space by offering the latest technologies in high end signal distribution."
MuxLab President Daniel Assaraf said in a statement that the partnership allows the company to better serve dealers and customers.
"The symbiotic partnership between Almo and MuxLab is one that will bring new benefits to customers in the Pro AV and Broadcast industries," Assaraf said.
Muxlab is exhibiting a suite of multi-camera streaming kits, signal distribution and AVoIP solutions this month at Almo's first Hybrid E4 Experience, taking place in Dallas on Nov. 30, 2021.