The Fluffy Cloud Represents Necessary Reinvention of Live Experience
The Fluffy Cloud is a 360-degree live performance space that includes a concert stage with more than 30,000 LEDs and 60,000-watt sound system.
Leave a Comment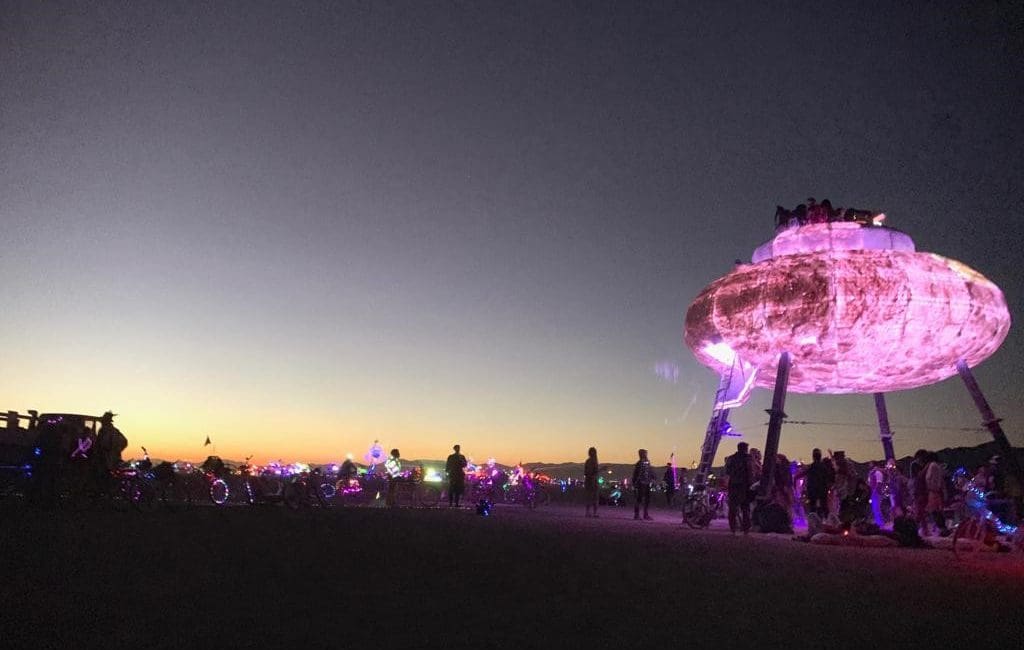 What do modern presentations of music, theater and film all have in common? They're all structurally identical.
Whether it be Coachella or your friend's warehouse, guests are essentially getting the same experience, one where people who are meant to be sharing experiences and connecting with one another, are instead simply staring at the backs of each other's heads.
The Fluffy Cloud is "a radical strike against the repetitive formats found in live entertainment today," according to the company announcement.
Towering 30 ft high and equally wide, The Fluffy Cloud is "a UFO-like art installation which creates the world's first 360-degree live performance space, designed to enhance interpersonal connections during live performances," the announcement says.
The Cloud is "not only a feat of artistic engineering, but also the world's first full-fledged concert stage sporting a 'flying,' 60,000 watt circular sound system, all hidden behind an acoustically-transparent fluffy exterior peppered with over 30,000 LEDs," the announcement says.
The Cloud made its debut at Burning Man 2019 with artists such as Diplo, Flume, Adana Twins and more on stage for the event.
During the months following Burning Man, Fluffy Cloud creator Jorge Perdomo was "swarmed with collaboration and booking requests from festivals and venues all around the world," the company announcement says.
The Future of The Fluffy Cloud
The Fluffy Cloud reappeared by invitation at the Art Basel show in Miami and was scheduled to go on tour before the coronavirus pandemic swept across the U.S. and around the world.
"I believe that art reaches its full potential when it is re-interpreted and combined with other pieces of art," said Perdomo. "From that perspective, I think of the Cloud as a very special paintbrush which, if placed in the hands of other dedicated creatives, can create unmatched experiences.
"For this reason, I don't call it a 'touring club' because the Cloud can and has been used for everything from yoga sessions and sound baths, to dinners and corporate events," he said.
Perdomo and his Fluffy Cloud team are organizing a free post-quarantine event in San Francisco as a gift to the Burning Man community, as well as designing a series of new COVID-19-safe live entertainment designs.