Scottsdale Streets Come to Life During Canal Convergence Art Experience
MASARY Studios' "Massively Distributed" Installation Leverages Epson Pro L laser projectors, BrightSign media players,
Leave a Comment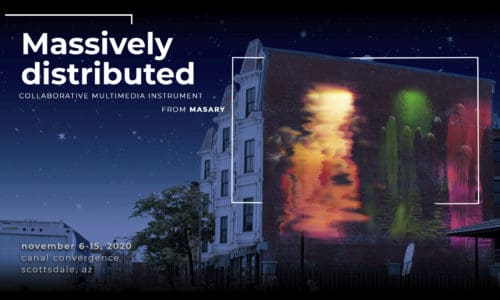 As cities, festivals and museums look for safe and exciting ways to foster community engagement, Canal Convergence | Water + Art + Light, Scottsdale Public Art's annual art experience, was at the forefront of reconnecting residents with the city.
Illuminating the streets of Scottsdale, Ariz. from Nov. 6-15, Canal Convergence alumni MASARY Studios brought its community-driven public art expression "Massively Distributed" (MD) to life with light-based artwork using Epson laser projectors.
MASARY Studios worked with the Scottsdale Public Art media team to capture audio and visual samples from Scottsdale for a creative palette that drives the web-based app instrument and public art installation.
Accessible across laptops, tablets and smartphones, MD encouraged the public to find joy in creativity by submitting compositions from the site-specific media instrument for inclusion in the large-scale projection mapped installations.
MD played back the "meta-compositions" through the video projections and professional sound systems, displaying the public's submissions alongside those of their neighbors, other community members and even others from across the world.
"Massively Distributed" was presented in three prominent locations throughout Old Town Scottsdale. Each location used two Epson Pro L1755U projectors along with a variety of compatible Epson lenses to display artwork onto a building facade.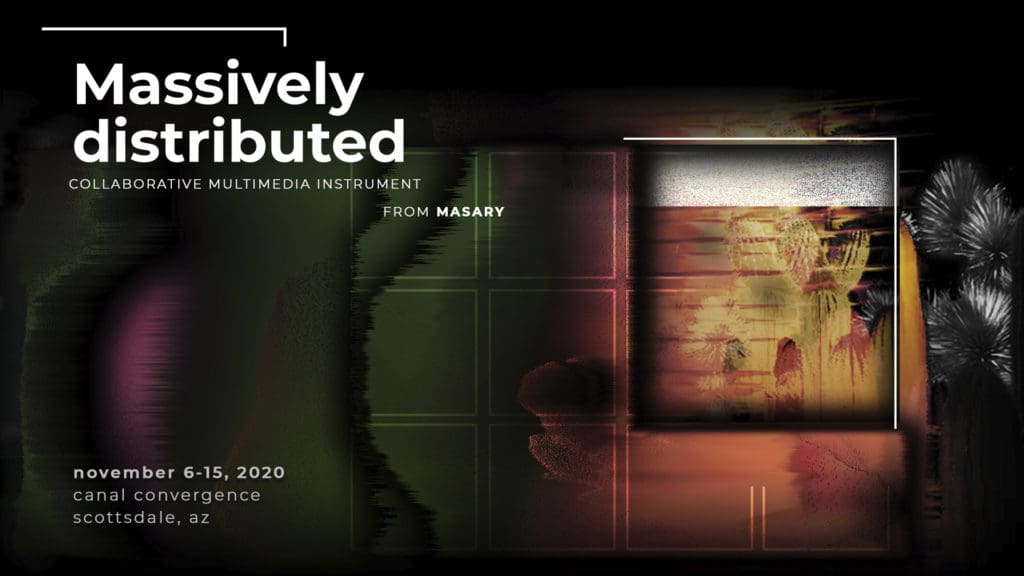 Inside the Canal Convergence Installation
MASARY Studios used LANG frames to stack the two 15,000 lumen Epson projectors to display double the light output. Using the Epson projectors' built-in tools, MASARY Studios blended images to create one seamless large-scale work of art.
"We hope to reconnect people with one another, as well as with the cities they live in, through our 'Massively Distributed' project at Canal Convergence this year," said Sam Okerstrom-Lang, media artist, founder and principal at MASARY Studios.
"MD expands from samples of the Arizona landscape, to the palm of your hand when interacting, and then ultimately the scale of buildings through public video projection," he said.
The annual Canal Convergence art experience is free for the public to attend and offers livestreamed performances as well as in-person events held at the Scottsdale Center for Performing Arts.
"We continue to be amazed by artists and their ability to unleash creativity using projection," said Ramzi Shakra, product manager for large-venue projectors at Epson America.
"At a time when people crave in-person experiences, 'Massively Distributed' offers a unique way for people to reconnect with their city and express creativity through safe interactions with the artwork they are viewing," he said.
BrightSign, LLC was also part of the community-driven public art project that brought people together safely outdoors during the pandemic, using technology to create art in public spaces.
"It's amazing that MASARY was able to produce such a collaborative, community-driven art event in the middle of a pandemic," said BrightSign CEO Jeff Hastings.
"In a time when many are feeling disconnected and uninspired, this installation gave a tremendous boost to Scottsdale's collective state of mind and stands as a great example of how technology can bring people together in very creative ways," he said.
During the event, three sites located throughout Old Town Scottsdale displayed a series of sound and video projections celebrating the community's creations.
Each of the three sites displayed the finished pieces via a pair BrightSign HD media players feeding video content to two 15,000-lumen EPSON projectors, synchronized to a sound system to complete the immersive experience.