One System by CCS Presentation Controls All the AV in Lenexa City Center
CCS Presentation Systems melds community with community government in this multi-faceted installation in hometown Lenexa City Center.
Leave a Comment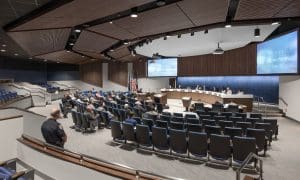 You might say the City of Lenexa, Kansas has 2020 vision — or, at least, "Vision 2020." That was the slogan first conceived in 1997 which recently resulted in the construction of a new Civic Campus and Recreation Center in Lenexa City Center, outfitted with AV by local integrator CCS Presentation Systems.
Vision 2020 means more to the city than a mere slogan, though. The idea was to create a mixed-use neighborhood in downtown that combines walkability, density, sustainability and community.
Joe Fandel with CCS, also a local, followed the progress of the center for 10 years before making a call to the city administration office. He and key project managers discussed the project's AV design vision and it wasn't long before CCS was officially offered the job.
Lenexa City Center Runs Through Centralized Control
Most projects focus on different spaces — recreation centers, civic buildings, meeting spaces, outdoor plazas — as separate entities, or even separate jobs. But the Lenexa City Center project opportunity required CCS Presentation Systems to combine all of those types of spaces into one unified system.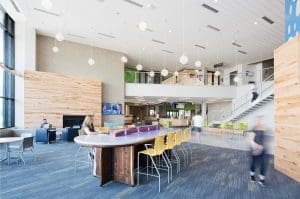 The result is a conglomeration of individual spaces tied together with a hybridized Crestron and QSC package.
Centralized management and remote support were the two most critical features to the city, so CCS' cloud-based Priority Support system was used for monitoring.
The entire campus is covered by 167 speakers powered by over 24000 Watts of power, allowing public safety monitoring to make voice announcements through a Q-SYS Audio System.
AtteroTech Bluetooth input plates throughout the facility allow fitness instructors to connect to a wireless system in each room for specialized instruction.
Over 67 connected displays offer the public information about upcoming events, classes, and promotions through a BrightSign Network interface.
This project won a 2018 CI Integration Award in the category "Best Higher Education Project." Click here to learn more!
CCS' Work as a Model
After the installation, CCS Presentation Systems trained each administration department and recreation staff with a walktrhough of every space. For the first few City Council Meetings, CCS stayed to ensure ease-of-use.
The integrator now regularly receives referral calls from local municipalities that toured Lenexa City Center and wish to replicate the experience.
Tech Highlights
Brightsign Network BSN‐1
Crestron 4K DigitalMedia 8G+ Receiver & Room Controller 100 DM‐RMC‐4K‐100‐C
QSC CORE 500i Kit Integrated Core with eight I/O card slots, 128 network I/O channels
QSC 7″ Tabletop Touchscreen Dialer for Core TSC‐7t
Shure Bodypack Transmitter with 4‐Pin Mini Connector MXW1/O=‐Z10