Innovox Building Face Shields for Local Senior Citizens During Coronavirus Outbreak While Still Crafting Loudspeakers
Innovox Audio production lines putting in some serious these days to help keep people in the Twin Cities safe during the COVID-19 pandemic.
Leave a Comment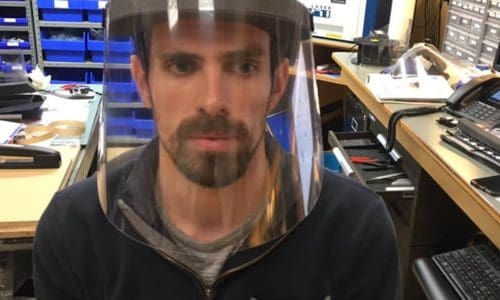 While still busy manufacturing loudspeakers, the crew at Innovox Audio is building face shields for local senior living communities around the greater Minneapolis/St. Paul area to give them an extra layer of protection in the fight against the spread of the coronavirus.
As you might imagine, CEO Chris Oswood and product design engineer are a bit skittish about taking any sort of victory lap for doing what they think is the right thing to protect people during the COVID-19 pandemic, but their neighbors certainly appreciate the gesture on their behalf.
"Today I picked up an order of face shields for Walker Methodist—750 shields crafted to protect the health care teams serving our seniors," said Mary Ryan, corporate director at Walker Methodist Senior Living Facility.
"I couldn't hug them, but I will when this whole crisis is over. Bless you Chris and Arnaud. Your hands have created a guard to keep our people safe. I am forever grateful and honored to know you. Look for the Helpers. They are Here," she said.
Why Innovox Is Making Face Shields
Due to material shortages, the Innovox team is still determining how many face shields they can assemble, but say they will continue as long as the need and supplies are there. Please understand, though, this isn't about grabbing headlines or good publicity. It's about people helping people.
"Arnaud asked how I'd feel about producing something outside our regular product line to help quickly battle the pandemic," says Oswood. "We agreed it would be a good idea in concept, but didn't really have anything in mind.
A day later he came back with a manufacturable design for face shields, and within three days, we shipped the first 750 pieces. We build a lot of speakers for telemedicine, but it's really nice to be able to do something that helps out immediately," he says.