NEC's Proven History of Delivering High Tech Healthcare Solutions
From telehealth offerings to patient room whiteboards that update themselves, NEC's place in the high tech healthcare market is well ahead of its peers.
Content from our Sponsor
Leave a Comment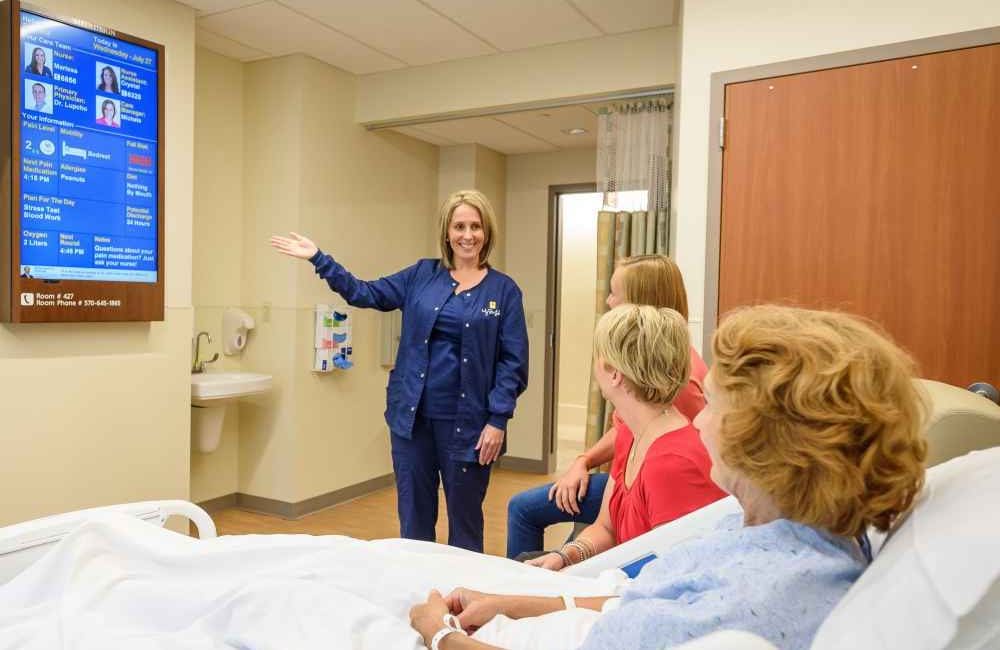 NEC Display Solutions is poised to be a major player in the ongoing high-tech transformation of the healthcare industry because of the prominent role it's played in the market for many years– and because of the unique high tech healthcare focused solutions it continues to roll out.
Integrators and end users both know NEC speaks the language of healthcare—and that they're a trusted partner when it comes to the critical applications that are often needed in this market.
The Evolution of NEC Healthcare Tech
NEC has focused most recently on digital signage in healthcare rather than its diagnostic products, and Stan Swiderski, national account manager for the high tech healthcare vertical at NEC Display Solutions, is proud of the position NEC finds itself in today.
About 71 million Baby Boomers, equal to about one-fifth of the U.S. population, will retire between 2011 and 2030, according to Swiderski, and about 10,000 people will reach age 65 every day in that time frame.
NEC works closely with their integrators to help determine the best solution for each application, including donor walls, telemedicine and collaborative solutions that utilize touchscreens and cameras.
An increasing retired population means increased medical considerations, forcing the healthcare market to grow as well. The IT spend for high tech healthcare in 2017 was $100 billion and continues on an upward trend.
Swiderski touted NEC's history in the healthcare market as a major selling point over some of its competitors.
"We already have a very large footprint in healthcare with our desktop displays and commercial displays," he says. "Some of the imaging companies use our displays on their healthcare systems. Our long life and product cycle is a good fit because a lot of times, especially in healthcare, once you standardize enough products, you don't want to change."
NEC's engineers and architects can design custom solutions for anything from your standard 17-inch display to a full on video wall that can be used in a variety of applications.
NEC works closely with their integrators to help determine the best solution for each application, including donor walls, telehealth and collaborative solutions that utilize touchscreens and cameras.
"We find ourselves to be a very good fit in this market due to our product and service offering," Swiderski says. "We're constantly changing as market needs change.
"Healthcare is becoming more consumer-focused and patient-focused, so high tech healthcare facilities are installing things like digital signage and video walls to give the hospital a high-tech look and give patients a sense of security," he says.
NEC constantly updates its solutions based on information they learn when talking to a customer. Working directly with integrators helps NEC determine specific market needs, allowing them to either create a new and unique solution or work alongside over 200 partners to provide everything from mounting to software.
Finding the Right Telehealth Partners
NEC prides itself on forming partnerships, and healthcare is no exception. They partner with companies that provide nursing stations, in-room signage and wayfinding.
One particular solution NEC recently partnered with is Medi+Sign, which replaces the traditional whiteboard and updates doctor and nurse contact information, among other vital statistics, automatically via the software, says Swiderski.
"It just makes everything smoother, not only for the patient but also for the providers," he says. "We're constantly looking at these new solutions and updating what we have to offer.
Another sector that benefits from digital signage is telehealth, which is becoming increasingly important in the high tech healthcare space due to specialization in the market and treatment of patients in remote areas.
While their offerings continue to grow, so does NEC's healthcare vertical sales team, who work closely with integrators, resellers and end users. The team also publishes articles and brochures along with other marketing materials for the market.
"It's a full, end-to-end solution," Swiderski emphasized.