Vistacom's Legacy of Philanthropy Started with Its Founder 65 Years Ago
Vistacom donation of projector and speaker system to Geisinger Health Network children's lobby the latest example of a philosophy of giving back.
Leave a Comment
Vistacom's installation of a new NEC projector, screen, digital processing systems and loudspeakers in the children's lobby of the Geisinger Health System facility in Danville, Pa., wasn't the only example of the company's philanthropy, but it's certainly one of its most impressive.
Vistacom senior account executive Rich Mullen was surprised when COO Angela Nolan told him not to charge Geisinger for the work, which replaced an old projector setup with some of the newest tech and allows young patients to have a modern, comfortable place to enjoy the latest movies and shows.
The children's lobby has several couches set up permanently and most children who gather there for movies bring their own blankets and pillows to have a truly enjoyable experience, says Mullen. The NEC projector, Crestron digital processing system and QSC ceiling speakers take that up another level.
"It sounds great, it looks great and the kids love it," says Mullen.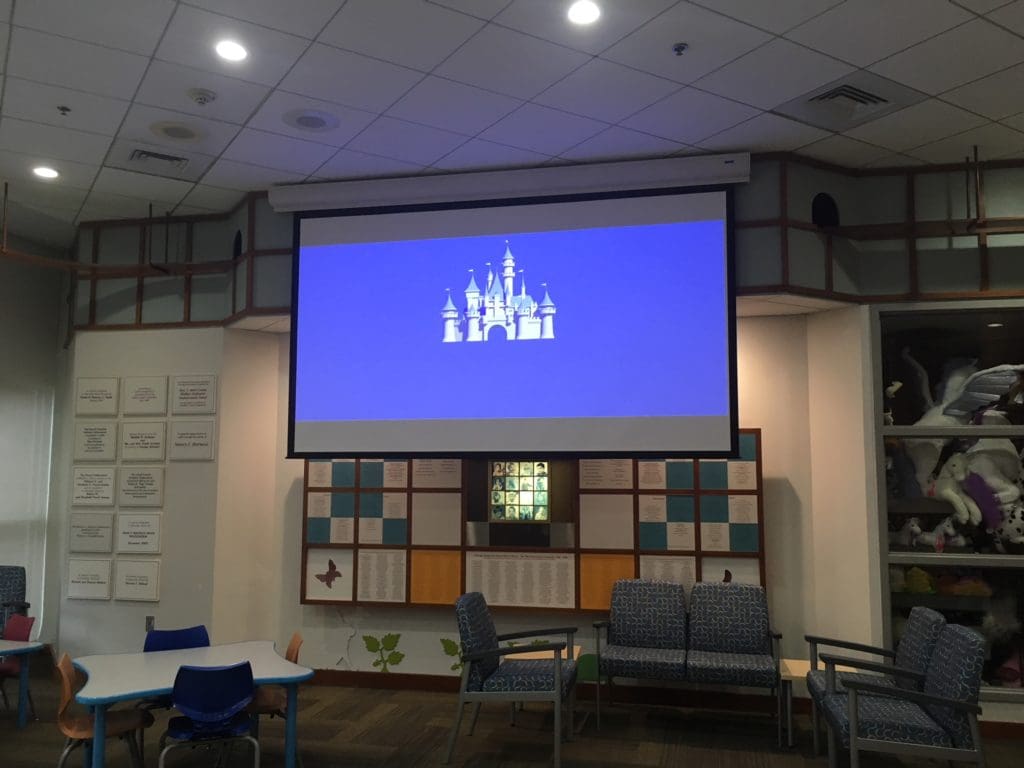 The installation—even though (or maybe because) it was done for no charge—wasn't without its challenges, though.
"When you're doing something with a philanthropic bent for an organization of that size, there's a whole process you have to go through," says Mullen. "Once they ran it through their legal department, everyone was very happy to accept that gift and has us install it for them.
"It's certainly not a multimillion-dollar project, but it was worth all the effort," he says. The process took about six to eight weeks from beginning to end, including the AV installation, which was done outside of normal business hours to minimize the disruption, says Mullen.
Vistacom's History of Philanthropy
Vistacom has a long history of helping philanthropic organizations and causes in its community. The company started an initiative several years go in which they support one charitable effort every month. That ranges from Red Cross blood drives, food bank collections, Christmas toy giveaways and support for and participation in a local breast cancer 5K run.
"Our founder, Jack Ferlino, really comes from a philanthropic background," says Mullen. "He gives back at age 99 and he always has.
"I really think it's ingrained in our moral fiber here. As an organization, we take the moral high ground and I think that's an important aspect of maintaining a sustainable business model. We give back to the community that has given so much to us," he says.

"Our community over the years has obviously expanded, because now we're a global organization, but we started in Allentown, Pa., and we give back to the community that helped us get where we are," says Mullen.
"It really stems from Jack and Angela and (president and CEO) Jim (Ferlino). That creates a level of sustainability and acceptability for people who are doing business with you. It's an expectation I wish more organizations would embrace," he says.
The staff and the children are especially appreciative of Vistacom's generosity, says Mullen.
"They know and understand completely this wasn't a sales thing," he says. "It was a philanthropic thing that was intended to benefit the kids."
Coming next Monday: The next installment in our Connected to the Community series. If you know about an AV or IT company doing something good, email executive editor Craig MacCormack at craig.maccormack@emeraldx.com.