Check Out This New Tech-Heavy Taco Bell Drive-Thru Concept
Taco Bell is the latest quick-service restaurant reimagining the drive-thru experience with the help of audiovisual technology.
Leave a Comment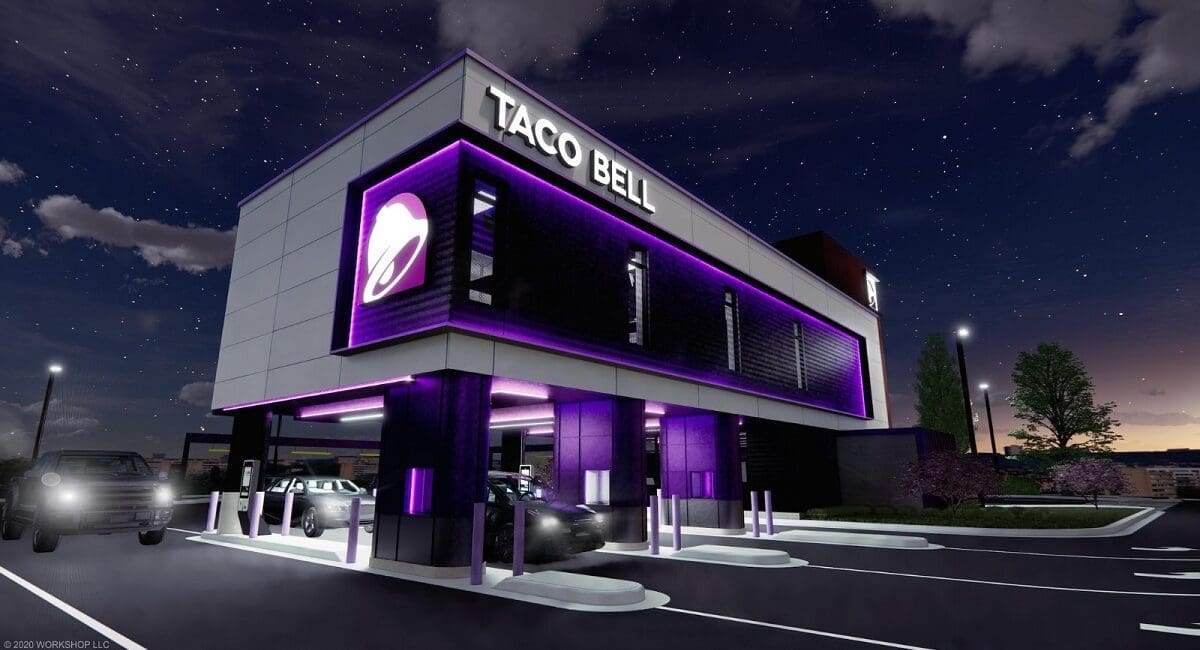 Last May, a few months into the COVID-19 pandemic and lockdown, we wrote about drive-thru technology and how AV integrators who provide services to fast food restaurants' drive-thru lanes were seeing an uptick in business.
With dining rooms closed due to the pandemic, restaurants pivoted to focus on the drive-thru, with operators investing in technology upgrades to improve their quick service operations and make ends meet during the pandemic.
Now, it appears that the fast food industry is doubling down on those drive-thru technology innovations with Taco Bell unveiling plans for a next-generation drive-thru concept at a Minnesota location featuring loads of new technology, including audiovisual.
The company is calling the Brooklyn, Park, Minn. Restaurant Taco Bell Defy. It features two stories, four lanes, three of which are dedicated to mobile or delivery order pickups, digital check-in screens for mobile order pickups via a QR code and a lift system that lowers the order down from the restaurant above.
It also features a two-way audiovisual system that lets customers interact directly with team members above in real time.
The restaurant chain's recent drive-thru innovations began in August 2020 when it launched its anew Go Mobile framework that included new digital and drive-thru experiences for guests, like dual drive-thrus, a dedicated mobile pickup lane, smart kitchen technology, mobile pickup shelves, kiosk ordering and more.
To date, there are 13 such locations, with another 85 in the pipeline, according to a Taco Bell press release.
Mike Grams, Taco Bell's president and global chief operating officer, said in a statement that the Go Mobile concept came to fruition much earlier than anticipated thanks to collaboration with franchisees like Border Foods, which operates locations in the Upper Midwest and is building out the Defy concept.
"Partnering with our franchisees to test new concepts is a huge unlock of learning for us," Grams said. "What we learn from the test of this new Defy concept may help shape future Taco Bell restaurants."
According to some estimates, drive-thru sales accounted for half of the 2020 revenue for quick-service restaurants or limited-service restaurants, and operators are increasingly turning to technology to help improve those operations, including AI voice automation, camera technology, digital menu boards and touchless payment options.
Clearly, there is huge opportunity for AV integrators that have an in in the quick-service restaurant drive-thru space.
If you enjoyed this article and want to receive more valuable industry content like this, click here to sign up for our digital newsletters!