The Hospitality Industry's Great Reset
Restaurants, bars, resorts and other attractions are fighting for customers' money and attention. It's up to integrators to drive home a stellar experience that's worth visiting and returning to.
Leave a Comment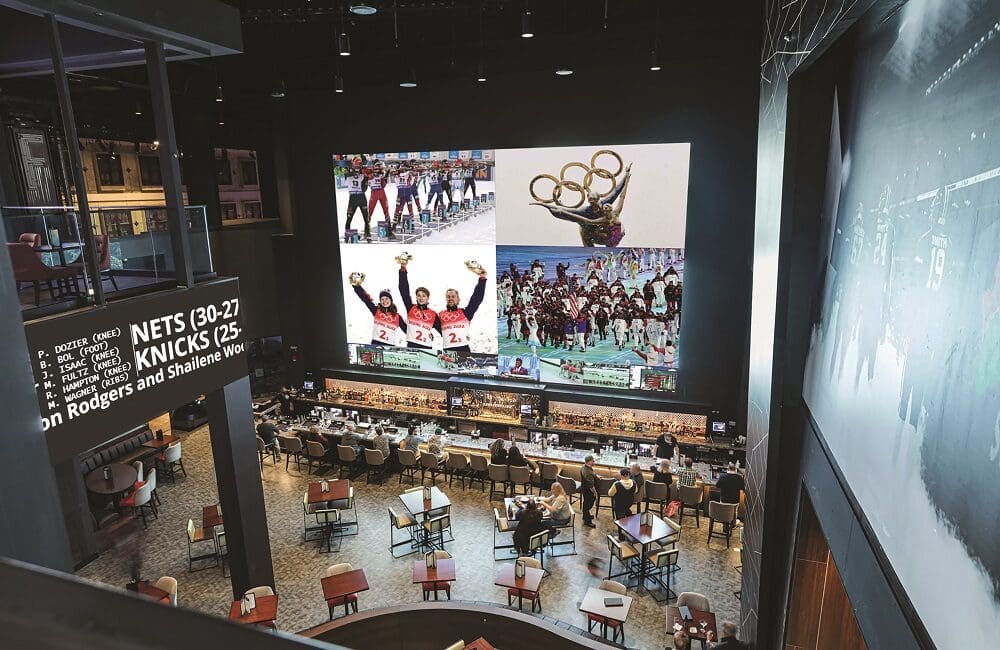 Choosing where and when to spend money on leisure and dining is a lot like going to an all-you-can-eat buffet on an empty stomach — all options sound appetizing. After staying at home during the pandemic, many of us have a strong want and need to go out and have fun again. For others, however, the comforts of home have become so enticing that they've dramatically scaled back their pre-pandemic-level leisure activities. Those in the hospitality industry are fighting both to earn people's money and to grab their attention. The secret to winning centers on the quality of the experience that people have when they go to a place, as well as whether it's the kind of place to which they'd choose to return. 
"The hospitality industry needs to differentiate themselves from their competition more than ever," Ken Newbury, SVP of technology and engineering at nationwide integration firm McCann Systems, declares. "Since we've entered a post-pandemic world, the hospitality industry is faced with the challenge of getting people out of the house and into their venues. With so much engagement available through at-home devices and applications, some folks have become content to stay home." 
"If people can have a better experience in their home watching a sporting event than at a local establishment, what's the point?" Newbury asks rhetorically. "By building ergonomically comfortable spaces that allow for large-format, high-quality viewing experiences, paired with seating that supports groups being together, we can entice people to come and spend their time." 
The Need for Good Audio
Prior to the pandemic, video might have been king. However, if you ask Michael Peveler, VP of sales at Phoenix, Ariz.-based audio manufacturer AtlasIED, music is what really creates the environment. Similar to music when we're at home, in the car or working out, music in hospitality venues reflects the mood. When walking into a resort or casino, customers must be immediately captivated, without being overwhelmed. 
There is substantial demand for distributed audio, especially at resorts, where there are multi-zone environments. In hotel lobbies, for example, there might be one set of music playing — perhaps something calm and nice. And then, there's the bar area, which should be a bit more rocking. And then, the restaurant might be a little calmer, with music to complement an elegant, romantic evening. There might even be an outdoor eating area with firepits and other activities going on. Rather than ideating a separate system for each space, most clients are looking for one easy-to-use audio system that satisfies the needs presented by every space. 
Integrators also need a system that is easy to install, as well as one they can get their hands on in time. Oftentimes, AV integrators and landscapers are the last two parties on a jobsite, Peveler notes. "Integrators need to go in and knock it out quick." 
Don't Cut the Technology Budget
"Project teams always come into the design phase with the best intentions of user experience and all the design elements that surround it," Peveler observes. "Though, as things progress and budgets come in, we often see the technology package getting cut before anything else. While this may be the right choice in certain scenarios, there is a very fine line between creating an amazing venue that people will want to frequent and just missing the mark." 
Distributed audio design is both an art and a science. When decision-makers randomly decide to chop, they run the risk of potentially compromising the experience. In the event that the client proposes something that could be deleterious to the end-user experience, Peveler recommends going back to the design team to see if they can rework the design to lower the cost. In so doing, they can devise a different design that ultimately will still meet client needs. With the right design, integrators can create a positive experience for those who come to spend their money to patronize that hotel, resort, casino or other hospitality venue. 
Words of Wisdom
McCann Systems' Newbury agrees, saying, "I think that the importance of the technology package is something that cannot be marginalized." From his perspective, the current generation of consumers, as well as the next one, only feel engaged and satisfied when they are engulfed constantly in technology. "As soon as you take that away, you're left with 'just another space' that may not be worth a second visit," he declares. 
So, what is Newbury's best advice? "Go bigger, go cooler, add more integration [and] begin to create connections between the physical space you're in and the virtual world you socialize on." Offering a dose of reality, he says that people are becoming harder to impress. "[The hospitality] industry can and will need to grow along with that mentality," Newbury warns. 
Newbury also advises AV integrators and other stakeholders to "…pay attention to what you see and experience as you travel through your day." He adds, "Inspiration is around every corner, as are things that could have been done better. Absorb that and use it to bring value to your clients on the next opportunity." 
As integrators take advice like this and turn it into action, it seems likely that the post-pandemic picture for hospitality and leisure spaces will be increasingly bright.