Elite Multimedia Innovates the Santa Experience for a Safe Holiday Season
Nashville-based Elite Multimedia utilizes its technology capabilities to create virtual and live streaming solution for annual holiday event.
Leave a Comment
It's beginning to look a lot like Christmas, even though it's more than two months until everyone's favorite jolly old elf makes his annual worldwide trek and slides down the chimneys of all the good boys and girls on Christmas Eve.
Certainly, the COVID-19 pandemic has altered the landscape of how we interact with all those around us. This challenging time will be even more magnified during the holiday seaso, when families and friends gather together for their annual visit with Santa Claus.
Needing to find an alternative solution for how these memories can continue to be made, Nashville-based Elite Multimedia Productions has developed an innovative virtual or live-streaming event design for a safe and exciting trip to the North Pole.
"With COVID-19 changing every aspect of social gatherings, we have been looking forward into the holiday season at all the retail and commercial spaces where they host a Santa experience," said Elite Multimedia Productions' Ben Anholzer.
"In the past, Santa could sit on a chair and talk to the kids while then posing for a Holiday photo. With the restrictions currently in place, we can't have that this year, so we've created a unique virtual and live-stream Santa experience which adheres to all social distancing guidelines," he said.
When putting together the concept for a solution to this challenge, the team at Elite Multimedia wanted to offer as many variations as possible.
Knowing that each family might like to embark upon a different journey, the creativity of a custom and dynamic virtual event was an ideal design option.
"With our virtual Santa experience, we would work with each client to build a completely custom, high-resolution playlist of pre-recorded Santa videos," said Anholzer.
Using a technical set-up that includes an LED video wall and an audio package, families can then sign up for a specific time and use an iPad controller to select their desired Santa experience, he said.
Once the video is selected, "a 4-minute escape into a new realm will begin followed by a family photo op with Santa himself," said Anholzer.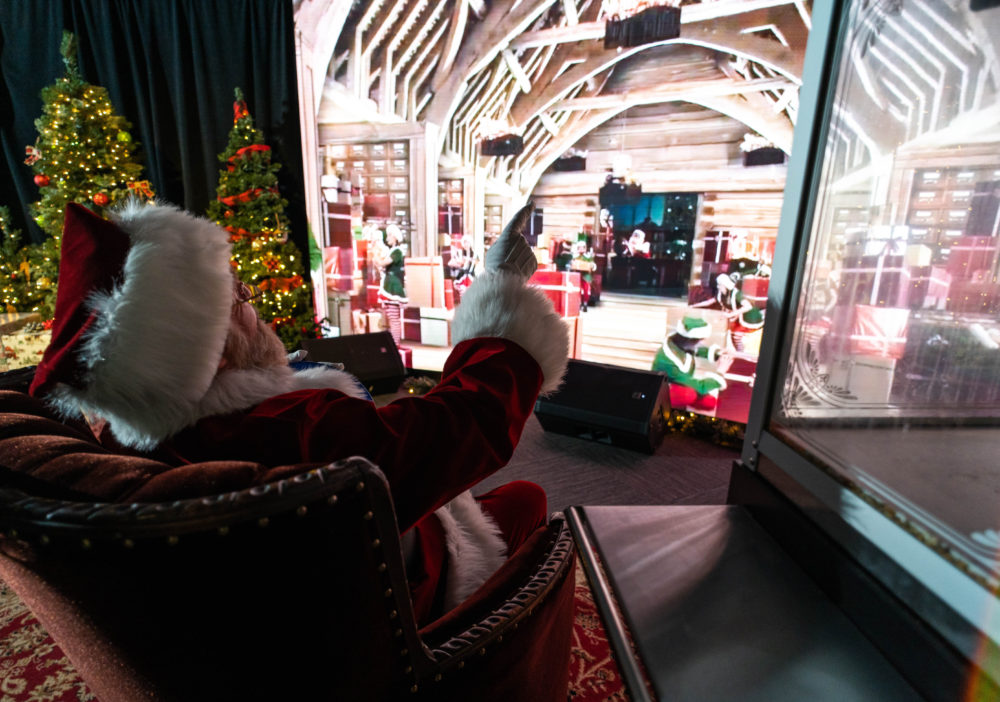 Transforming the Santa Experience
The live-streaming Santa solution allows families who want to speak directly with Santa to safely create a unique holiday moment for themselves. It will feature an LED video and audio package in conjunction with an HD camera set up in Santa's North Pole digs.
This "real-time communication and interaction between Santa and the families" offers what Anholzer calls "a more exciting and personal connection."
While the annual Santa experience is geared towards families making holiday memories, it is also an annual event that is depended upon by retailers nationwide.
Bringing shoppers out of their homes and into the retail locations, the Santa experience is a crucial aspect to the overall annual sales needed to survive.
"We know different companies rely on Q4 Santa events to bring families into retail and many families may choose to shop online if they can't have the Santa interaction in the store," said Anholzer.
Elite Multimedia Productions recently pivoted into the virtual studio realm with live streaming studio broadcasts.
"We wanted to get creative to help bring the magic of the holiday season to everyone at the end of such a strange and awkward year," said Anholzer.
With a virtual or live-streaming Santa experience, retailers can provide both continuous family entertainment and revenue-generating opportunities.
Elite's holiday-themed package also retailers to show a holiday movie for families with socially distant seating when there's not as big of a crowd to visit Santa.
"This also gives the event organizers the ability to feature pre-loaded sponsorship content," said Anholzer.