Sony Reon Pocket Allows Integrators to Wear an Air Conditioner
Sony releases Reon Pocket device that was supposed to debut at 2020 Summer Olympics now after COVID-19 delayed the Games until 2021.
Leave a Comment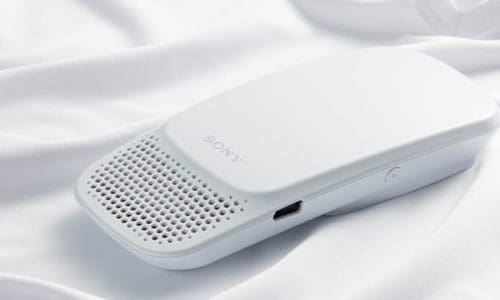 There are wearable devices for just about any part of your body these days and they perform an increasing number of functions, but installers working in cramped spaces on hot summer days might be particularly interested in the Sony Reon Pocket wearable air conditioner.
The Reon Pocket was originally meant to launch at the 2020 Tokyo Olympics, but the product came out on its own when the Games were delayed until next summer because of the coronavirus pandemic.
It's a palm-sized white plastic device that charges over USB-C and connects to your iOS or Android phone with Bluetooth. There's a silicone pad on the back that you can press against your skin and the Reon Pocket uses the Peltier effect to cool or warm itself up by absorbing and releasing heat.
You can use the Reon Pocket as a handheld device or with Sony's special V-neck undershirts with a pocket on the inner back to keep the device resting between your shoulder blades and help to absorb heat from your body to lower your body temperature by up to 23°F.
The Reon Pocket can be set to work automatically or adjusted to match your personal comfort preferences through an app, which gives users direct control over its temperature settings.
There are three levels of cooling or warming, plus an additional boost mode that's limited to two minutes and a control for the speed of the "fan." Users can also set Reon Pocket's automatic modes that kick in whenever you turn the device on with its own power button rather than using the app.
The Sony Reon Pocket lasts around 2-3 hours on a charge, depending on the intensity of your settings. The device also has a warming feature for those who are just as bothered by the cold as the heat.
The Sony Reon Pocket is available through Sony Japan's online store for 13,000 yen, or roughly $120.