Auburn University Tigers Get Center-Hung LED Video Board and Audio System
Auburn Arena will have added AV entertainment value with a Daktronics center-hung video display system and custom indoor sound system.
Leave a Comment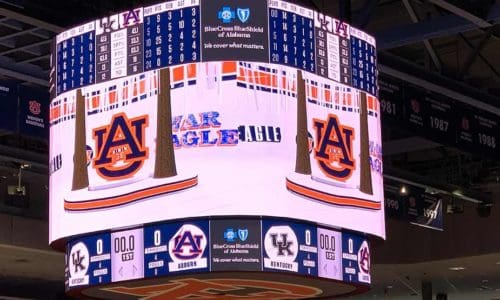 Audiences attending events at Auburn Arena on the campus of Auburn University in Alabama will receive enhanced audiovisual entertainment experience from the new center-hung LED display system and custom audio system designed, manufactured and recently installed by Daktronics.
The project also marks the return of a Daktronics on-site event producer to run events at Auburn facilities.
"The partnership with Daktronics reinforces our commitment to elevate the in-game experience of our fans and student-athletes," said Auburn director of athletics Allen Greene. "The new audiovisual system will bring to life every dunk, 3-pointer, floor routine and volleyball point, making each competition at Auburn Arena even more of a must-see event."
The new center-hung video board features one continuous LED video display that curves around 360-degrees of the suspended structure for a complete experience for every seat. It measures nearly 15 feet tall by 72 feet around.
A lower ring display measures 3 feet tall by 65.5 feet in circumference. These two LED displays feature 5.9-millimeter pixel spacing to bring crisp, clear imagery to audiences at every event.
Related: Daktronics Displays at Atlanta's Mercedes-Benz Stadium Get Worldwide Audience
A custom audio system was included with the installation of the LED centerhung system and is integrated into the overall production system at Auburn Arena.
The new system provides full-range sound reproduction and delivers clear and intelligible speech for a complete audiovisual experience throughout the arena.
"This installation brings Auburn Arena to a complete supersystem including the centerhung, audio system, ribbon display, scorer's tables and scoring system to create the best game-day experience possible for their fans," said Daktronics sales representative Glen Marts.
"We're proud to continue our long-standing partnership with Auburn University and Auburn Athletics with this new installation on campus," he said.
Inside Auburn Arena Installation
The video display on the center-hung is capable of variable content zoning which allows it to show one large image or to be divided into multiple different zones. These zones can show any combination of live videos, instant replays, up-to-the-minute statistics and game information, graphics and animations and sponsorship messages.
The on-site Daktronics event producer will manage the game-day production responsibilities including running the super system at Auburn Arena and LED video displays and audio systems at other venues on campus during live events.
From running live video on the displays to sponsored game-breaks, this person will ensure the show is entertaining and engaging for all those in attendance.