Health Club Competes with Fitbits, Thanks to Interactive Tech from Audio Video Intelligence
Tasked with creating an environment that uses health club technology to entice, Audio Video Intelligence delivers visual focal point & more to Fit Factory.
Leave a Comment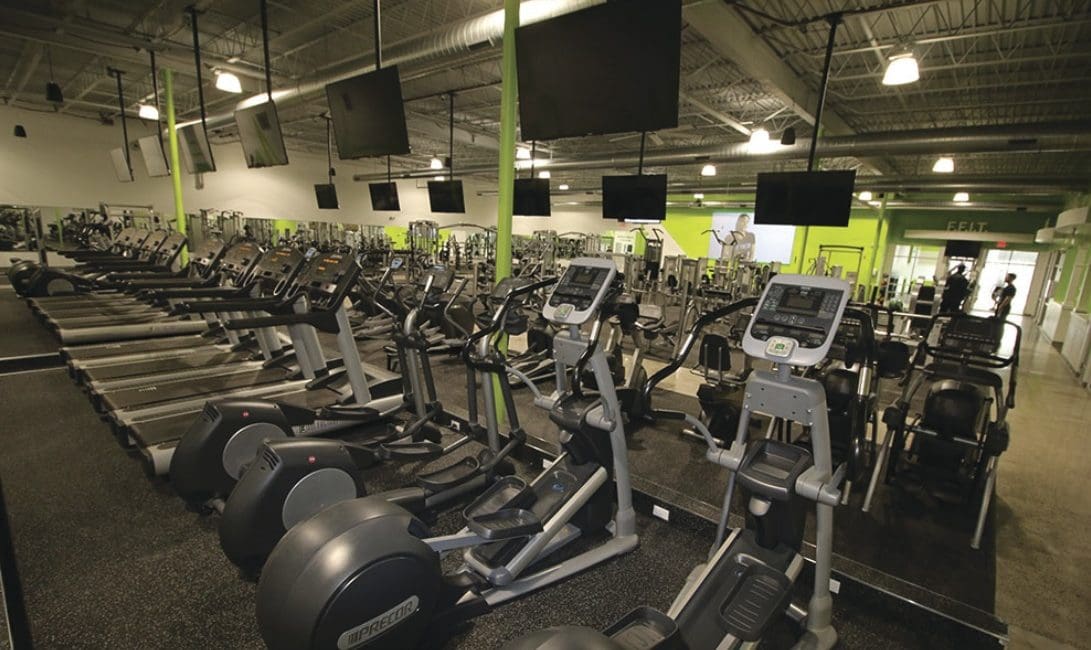 It used to be that health clubs only had to compete with laziness. Now they contend with Fitbits, fitness apps and lifestyle-inspired community workout groups. Smart health clubs use audio and video at the front lines of these battles, leveraging health club technology to entice, entertain and engage customers.
That was the task at hand for integrator Audio Video Intelligence when it worked with Fit Factory, a chain of luxury gym and health clubs with multiple locations across Massachusetts that is continuing to expand.
Audio Video Intelligence was asked to install a complete control system that included audio, video, temperature, fan and security; all automated and controllable in every room of the facility. The goal of this project was to create a healthy environment that entertained as well as encouraged guests to exercise, according to AVI.
Creating a Fitness Strategy
The Easton, Mass.-based integration firm Audio Video Intelligence is no stranger to the fitness space and Fit Factory itself is a return customer.
"Our relationship with the client started when they had taken over a space that we had already worked on," writes AVI.
"The client accessed our information from the landlord and this began the first project we worked together in which we designed and installed the entire audio/video system within an existing space."
This award-winning project is unique in that it began from the ground up.
But Audio Video Intelligence maintains that the previously relationship helped on the design side.
"Now familiar with their vision and being part of the project from the inception, we could design and customize a complete control system including audio/video, climate control, lighting, digital signage and security system," it writes.
"With our cutting-edge solutions, we directly contributed to helping Fit Factory reaching their goal of enhancing their member's experience and maintaining their satisfaction.
"Throughout this process, Audio Video Intelligence has built a great relationship with our client and we look forward to working with them as they expand their company and open more fitness facilities."
Percentage of Fitness Goal Achieved
The project goal was to create an exciting and interactive controlled audio video system that was inviting for members. The mission was to be able to entertain and entice, while also providing a healthy workout environment.
One way AVI achieved that was with a 200-inch interactive display that connects to a multi-view application that combines digital signage, live feed, and web browsing.
While the 200-inch display may be a focal point, throughout the facility it integrates health club technology together with a healthy lifestyle and used technology to aid in fitness goals.
This includes a CrossFit application that allows members to compete with members at other gyms, a touchscreen display for member services, and digital signage throughout the facility to display class schedules.
Audio Video Intelligence says it installed a completely automated solution with Control4 as the platform, automating multiple music streams, video feeds, lighting, temperature, fan control and security within the facility. The music streams can be chosen across eight audio zones.
Each television in Fit Factory has an independent video feed. In the main lobby, there is an ELO touchscreen display for member services. That 200-inch screen with a 4K projector is a centerpiece that allows the facility company branding, live broadcasts and class schedules.
Throughout the facility, there are 24 TVs, 25 speakers that are in-wall and mounted and four digital signage players. An Epson 4K laser projects onto the 200-inch screen connected to a Skreens video wall software platform that allows for company branding, four video inputs and a web browser.
In the end, according to AVI, the project was a success. "The team was very happy with our design and implementation. We are in the process of designing for another facility with the same team."
Health Club Technology Highlights
200-inch Interactive Display with Digital Signage, Live Feed, and Web Browsing
Epson 4K Laser Projector
Control4 Automation
ELO Touchscreen
Skreens video wall management