L-Acoustics K2 Sound System a Home Run for Dodger Stadium
New Dodger Stadium PA system adds 21st-century sound for sports entertainment to classic ballpark for 2020 season.
Leave a Comment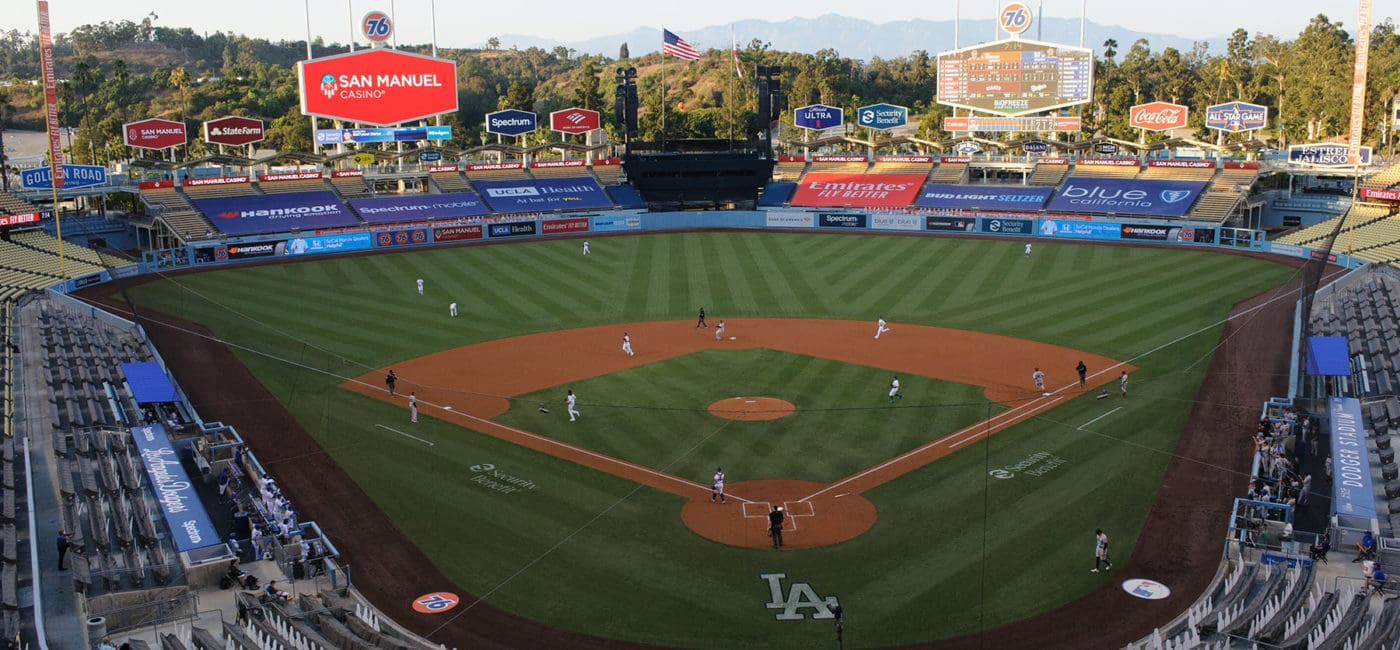 Dodger Stadium has now become one of the best-sounding sports venues in the country thanks to the new L-Acoustics K2 line source array sound system installed this summer as part of a multifaceted renovation of the classic ballpark in Los Angeles.
The new L-Acoustics sound stadium covers the stadium seating and L-Acoustics A15i and X8 speakers cover the new Centerfield Plaza and existing Outfield Pavilion areas. Too bad Dodgers fans will have to wait until the 2021 season to hear it in person for themselves.
Constructed in 1962, Dodger Stadium harkens back to an era when ballparks were designed and built solely to host baseball games.
With the addition of an L-Acoustics K2 system, Dodger Stadium keeps its original look, while updating its feel with a modern, powerful sound system capable of handling any event.
The installation marks the first MLB project for L-Acoustics and one of the most important installations of the manufacturer's systems in the global sports market.
"Our goal was to have a state-of-the-art sound system at the stadium," says Derek O'Hara, director of planning and development for the Los Angeles Dodgers. "Dodger Stadium is designed the way ballparks were at the time it was built, with point-source sound systems that need to throw long distances.
"We wanted to modernize the stadium's sound, allowing it to host many different types of events besides baseball, while keeping the park's architecture as traditional as it has always been," he said.
Inside the Dodger Stadium Installation
The new Dodger Stadium sound system comprises two PA towers supporting a total of 62 K2 loudspeakers: 20 enclosures are flown in both the left and right main arrays, flanked by adjacent side arrays of 11 more K2 per tower.
For low-end reinforcement, 21 SB28 subs are positioned on the right field tower, with three SB28 on the left field side. Twenty coaxial X8 serve as left and right Pavilion delay fills.
To further enhance the fan experience, L-Acoustics A15i and X8 speakers are deployed in the new Centerfield Plaza and Outfield Pavilion areas. The entire system is powered by 32 L-Acoustics LA12X amplified controllers.
Two Milan certified P1 processors for AVB networking and processing reduce cabling, provide atmospheric control and monitoring for temperature and humidity variations, enhance system communication and control and future-proof the sound infrastructure.
O'Hara worked with the L-Acoustics support team and system designer Idibri and integrator Pro Media Audio & Video to keep as much of the sound within the stadium—including the powerful low end coming from the ballpark's new SB28 subwoofers.
"The subwoofers are arranged in an endfire configuration, which provides some critical directionality to the low end, keeping it from escaping the stadium walls and keeping the impact on the seating," said O'Hara.
"We feel we now have the best sound system in major-league baseball, and we're excited about it," he said.
Related: Replace Virtual MLB Fans and Fake Crowd Noise with Mic'd Up Players and Catcher Cam
Ryan Knox, senior consultant for Idibri on the Dodger Stadium project, says new stadium architectural configurations modified the spectator seating and standing areas in the outfield section, posing a coverage challenge.
That was resolved using L-Acoustics Soundvision modeling software, which helped finalize the placement of the speaker-support towers. That was a two-to three-month process itself, said Knox.
Putting systems of this scale into the Los Angeles area comes with its own unique requirements.
"In addition to keeping the sound system installation's look consistent with the architecture of this iconic stadium, we also had to meet Southern California's seismic requirements," said Demetrius Palavos, project executive Pro Media Audio & Video.
To secure the structural-engineering certification of the sound installation, Pro Media and L-Acoustics engineers worked together to upgrade the standard K2 external rigging hardware with a new exoskeleton devised by Pro Media and L-Acoustics engineers.
"We then built a mockup of that in the L-Acoustics Los Angeles warehouse to verify and validate the modifications that we made before we went to fabrication," says Palavos. "It had to take in a number of critical points, such as soil composition and rigging heights and weights."
Although Dodgers fans will have to wait a bit more to experience the upgraded stadium and the premium sound in person due to the ongoing pandemic, players and announcers are already enjoying their new sound system during the season that started July 23.
In the meantime, Dodgers fans watching the telecasts at home are still able to enjoy stadium sounds through virtual crowd configurations.