Audinate's Dante Domain Manager: Enterprise Management for Audio Networks
Complete network management solution for Dante systems
Content from our Sponsor
Leave a Comment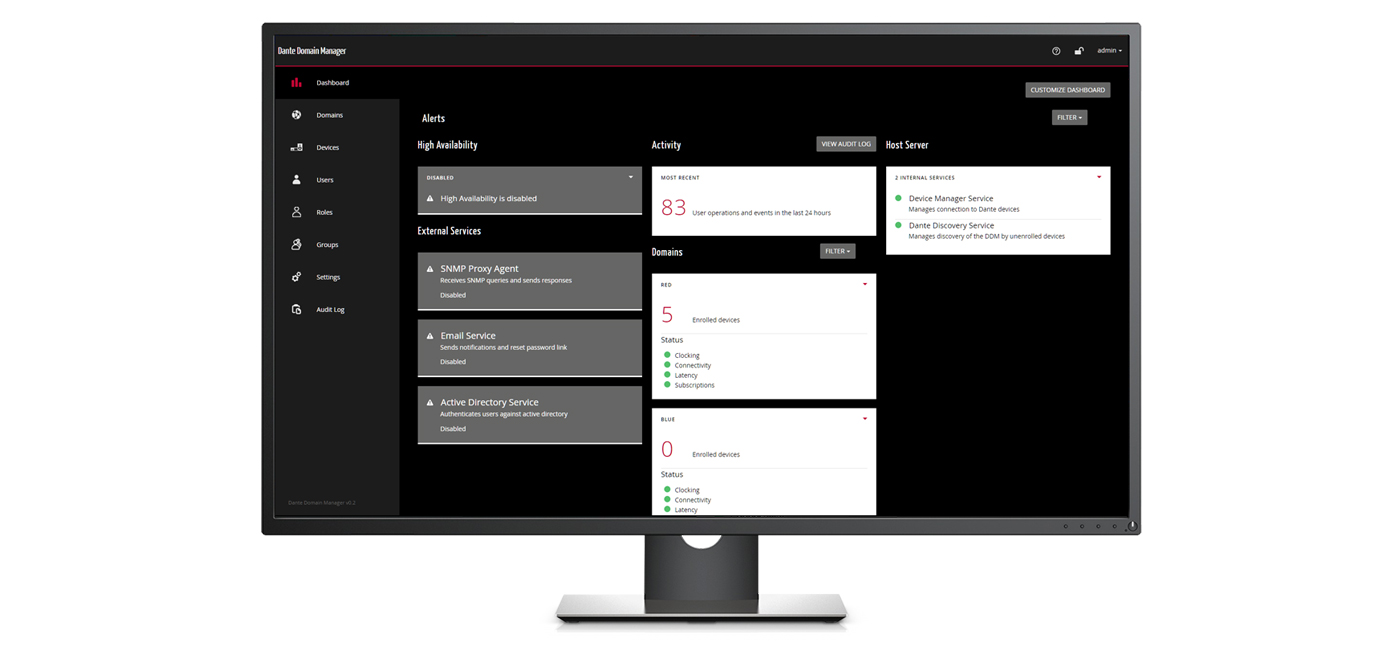 Technology is constantly evolving, leading us to adapt and find better, more efficient ways to use it. AV components used to be standalone devices and systems, but now they've become powerful networks that include AV, IT, IP and other connected systems. The biggest challenge is ensuring all connected systems integrate and function seamlessly with each other.
Whether it's a large enterprise with hundreds of end points or a small house of worship with a handful of end points, the strength, scale and capabilities of a network are crucial for any installation. With these in mind, Audinate has changed the way that audio works.
Dante Domain Manager is Audinate's award-winning network management solution that brings enterprise-grade system administration to the AV world. It provides user authentication, role-based security and audit capabilities, making audio networking more secure, scalable and manageable than ever before.
"Networked audio systems are commonly being delivered over standard IT data networks," said Josh Rush, Vice President of Marketing at Audinate. "Dante Domain Manager provides AV and IT professionals with a scalable and secure network solution that can build upon existing and new installations of Dante-enabled products. It puts more control in the hands of the system integrator, delivering enterprise-level network management and security."
Integrated systems and digital domains are becoming the norm and the days full of audio cables are slowly fading away. With Dante Domain Manager, system users can securely connect devices to one management system and easily keep tabs on devices and any user-made changes with at-a-glance reports, audit trails and SNMP-driven alerts.
This game-changing technology provides AV and IT professionals with the ability to define specific AV device groupings by room, building and site, through the creation of independent domains – a concept pioneered by the IT industry. Each domain has multiple access levels to improve network security and enables scalability by allowing audio routing across multiple IP subnets. By applying this same approach, AV professionals and end-users can manage multiple private networks within the same infrastructure while customizing features to fit their unique needs.
Dante Domain Manager is available in three editions – Silver, Gold and Platinum – each one providing the scalable and customizable solution for networks of any size. All editions enable the creation of Dante domains to isolate and organize audio devices, permission-driven user accounts and powerful administrative features to monitor actions and systems in key areas.

If you enjoyed this article and want to receive more valuable industry content like this, click here to sign up for our digital newsletters!