Dante Domain Manager Supports Hands-On Learning at Denmark's Sonic College
The next generation of audio professionals are being trained in a one-of-a-kind facility with the help of Audinate's Dante Domain Manager.
Leave a Comment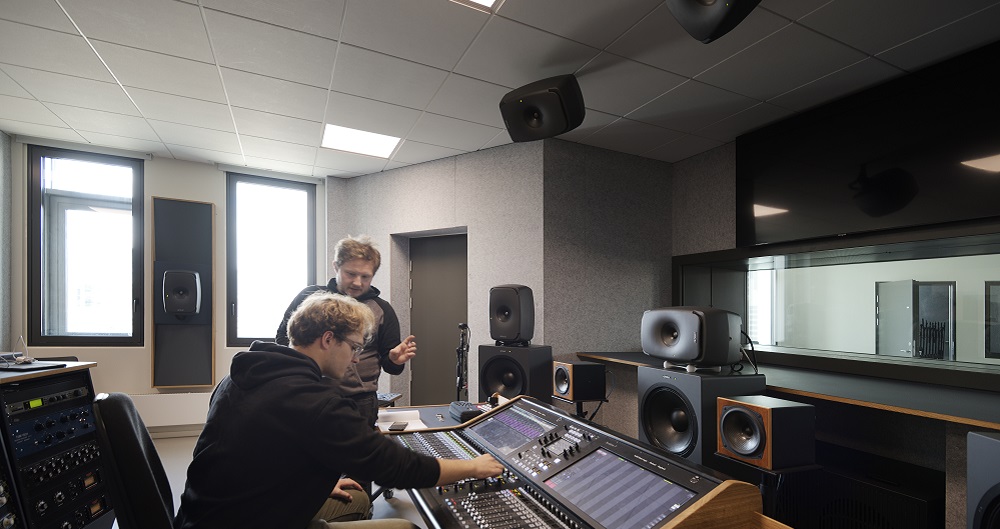 Photos & Slideshow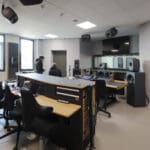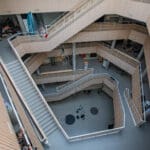 ---
The town of Kolding, Denmark, is home to Sonic College. The college is famous for its innovative approaches to audio design and instruction. Here, students learn how to shape audio production for films, gaming, music, podcasting and more. When the college built a new facility, the staff implemented Audinate's Dante transport protocol. The team thus routed all audio throughout the building.
According to the team, it appeared to be no small undertaking. Here, staff had to interconnect many spaces. This included multiple stereo studios and their companion mastering suites, a foley stage, and immersive recording studio, Dolby Atmos mastering suite and theatrical mix stage. It also had to connect a colossal 187-channel, AVB-based Meyer Sound Spacemap Go spatial sound system located in the five-story atrium. And all via Dante (with a little help from AVB-to-Dante conversion cards).
Easy, Flexible Routing
Lars Tirsbæk, a lecturer at Sonic College, became instrumental in setting up the new facility. He also helped deciding what spaces would be most beneficial to students and essential to delivering a good grounding in sound design. "[Building the new facility] was an opportunity to start from scratch," he says. "Our infrastructure needed to not only fit the demands of the space(s). [It] also [had to] provide learning opportunities for our students and give them practical experience working with real-world technologies like Dante."
"We didn't have the Dante network in our old facility," says Tirsbæk. He then counts off a long list of benefits. "Now you can do a mix then easily route it through to the cinema to listen. You can take a stage box anywhere in the building and still communicate back to the control room."
Also Read: Dante AV Elevates HIT Productions' New Post-Production Studio
Using Dante Domain Manager
Dante Domain Manager allows college staff to manage the large Dante network effectively. With its granular user access control levels, administrators can lock down certain network areas and functionality. At the same time, it still allows students room to experiment within boundaries set by teaching staff and network managers. In this type of educational environment, segmenting domains emerged as a critical feature.
"Students definitely need to know how audio-over-IP works. That's the way all audio infrastructure will be implemented in the coming years," Tirsbæk comments. "When our students learn to use Dante, they recognize the inherent flexibility of being able to just move AV hardware around without affecting the network."
A range of spaces and studios offer students the perfect sonic playground complete with cutting-edge products. As a result, they have a hands-on experience with the top AV, broadcast and studio tools and technologies in commercial use.
"This was a complex project," says Tirsbæk. "With so many adjacent studios and performance spaces, we had to consider how to isolate parts of the network to prevent unexpected issues from occurring during live performances. Dante Domain Manager's user authentication and role definition, in combination with its ability to create separate Dante Domains, was essential to our success in managing such an intricate system. In fact, I'm pretty sure we wouldn't have [had success] had it not been for Dante Domain Manager."
Click on "View Slideshow" for additional images of Sonic College.
If you enjoyed this article and want to receive more valuable industry content like this, click here to sign up for our digital newsletters!