Ocean Matrix Equipped with the Global Standard: HDBaseT
Signal Extension, Power & Control Over a Single Cat5e/6/6a/7 Cable with the Power of HDBaseT
Content from our Sponsor
Leave a Comment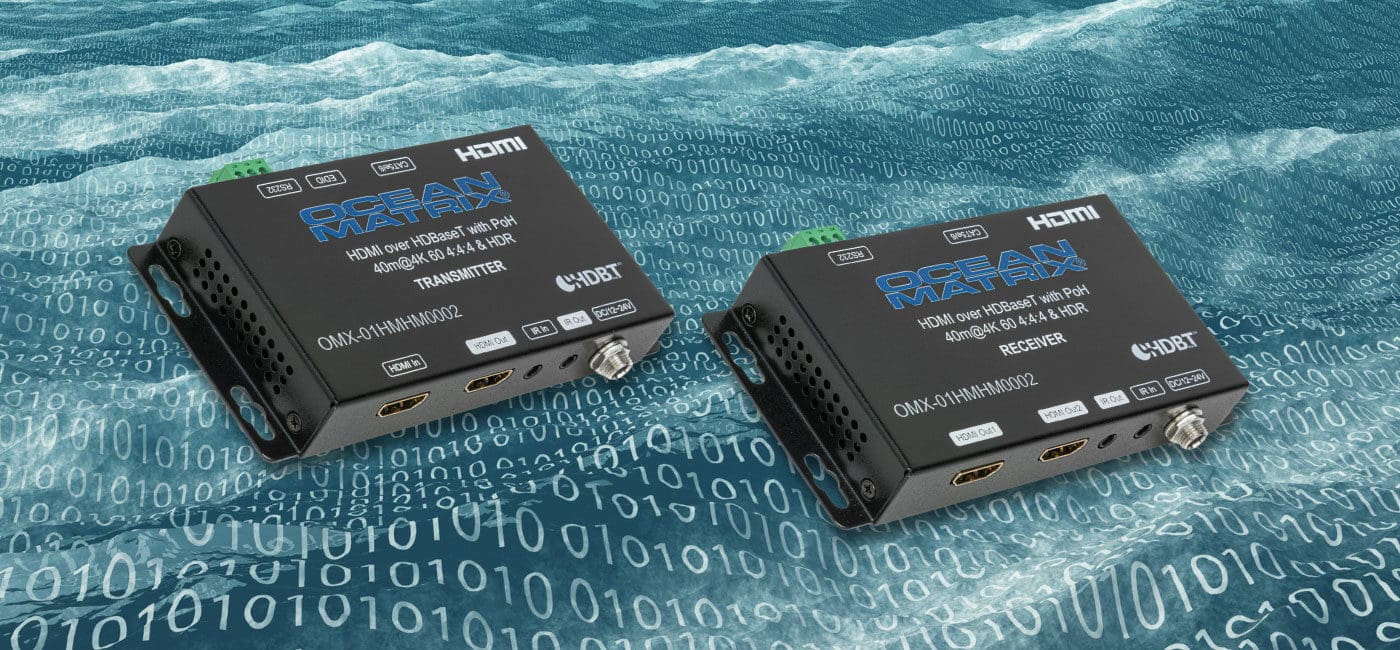 Ocean Matrix is a proud member of the HDBaseT Alliance. HDBaseT, per their website, has revolutionized the audiovisual market by offering more features, increased reach, and better performance than existing solutions. At the heart of this game-changing technology is the 5Play feature set, the combined delivery of uncompressed ultra-high-definition digital video and audio, Ethernet, control signals, USB 2.0, and up to 100W of power through a single, 100m/328ft Category cable.
HDBaseT has become the technology of choice for a variety of AV applications, such as digital signage and video walls, projectors, corporate conference rooms, educational lecture centers, and more. It has been deployed in different verticals, from enterprises, hospitality, retail, education, government, and more. HDBaseT Audiovisual is the ultimate choice for any scenario where there is a need to transmit high-throughput content over long distances.
Some features you will experience with HDBaseT powered Ocean Matrix products include:
HDBaseT 5Play technology supports HD Video and Audio, Ethernet, Control, USB, and Power Over a single Category Cable
The unmatched 5Play feature set allows the industry to deploy ultra-HD systems that are cheaper, increasingly flexible, highly reliable, and capable of dealing with future demand and requirements
5Play is a term that best explains the 5 key signal elements that HDBaseT 3.0 is capable of transmitting over a single Category 5,6 or 7 cable, they are:
Audio-Video: HDMI 2.0 4K60 4:4:4, including eARC, HDR+ & HDR10+
Ethernet: Supporting up to 1Gbps
USB2.0 Support
Various Control Signals
Power Over Cable up to 100W
Transmitting uncompressed UHD 4K Video up to 328 feet and 1080p up to 3000 feet
Compatibility with all HDMI Formats
Supports Standard Audio Formats including Dolby Digital, DTS, Dolby TrueHD, & DTS HD-Master Audio
Supports 100Mb Ethernet
Power Over HDBaseT Simplifies Installation and Creates a Streamlined Setup
Based on IEEE 802.3at (PoE Power over Ethernet) Standard
Networked IP Enabled Devices
Pictured above, the Ocean Matrix OMX-01HMHM0002 HDMI extender meets HDBaseT standards for 4K video and HD audio transmission over a single Ethernet CAT5e/CAT6 cable up to 131 feet. This extender supports video resolutions up to 4K@60Hz (4:4:4) and features two-way IR & RS232, and 24V PoH — all over a single Category cable. The Power over HDBaseT feature makes system installation easier and allows for streamlined setups.
Ocean Matrix has many models with multiple features to meet all your systems requirements! Including EDID (Extended Display Identification Data), KVM (Keyboard Video Mouse), ARC (Audio Return Channel), and CEC (Consumer Electronics Control) support, depending on the model.
Our mission is to provide rugged, easy-to-use tools featuring the current technology. The Ocean Matrix toolbox consists of distribution amplifiers, extenders, converters, hum eliminators, and video switchers that are proven problem-solving devices. Explore our website and discover which products you need to add to your toolbox.
Click here to see our new HDBaseT product video!
Click here to learn more about Ocean Matrix

If you enjoyed this article and want to receive more valuable industry content like this, click here to sign up for our digital newsletters!